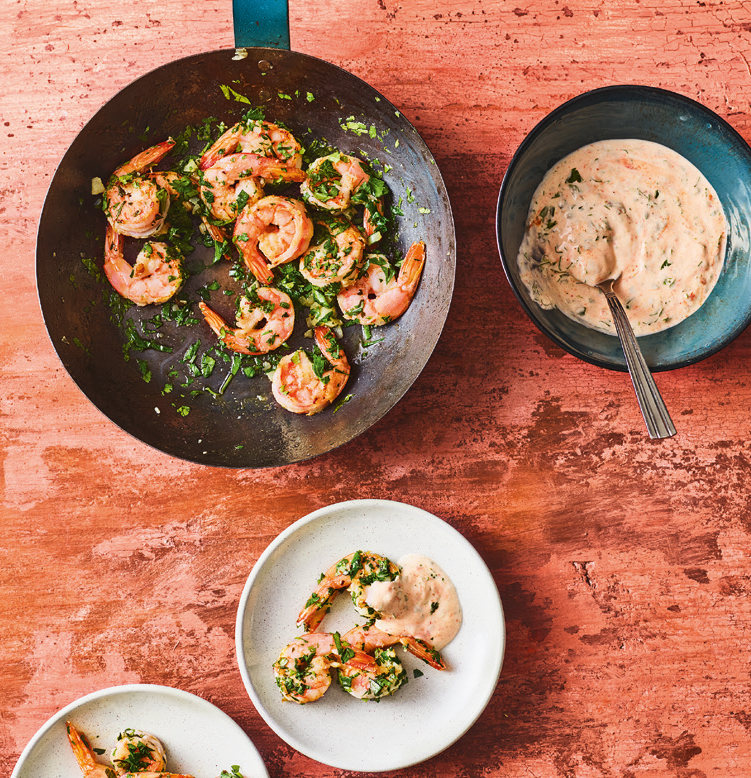 Recipes
Coriander pawns with harissa dip
The fiery hot Harrisa dip gives this shrimp recipe that certain extra. Rounded off with coriander, this dish will be the highlight of the next cooking!
Preparation:
2 organic limes
200g full-fat Greek yoghurt
100g mayonnaise
1 tsp harissa
1/2 tsp ground coriander
salt, pepper
2 small bunches fresh coriander
10 stems parsley
750g peeled raw prawns (with tails on if possible; ready to cook; or frozen)
6 garlic cloves
4 tbsp olive oil
4 pinches chilli flakes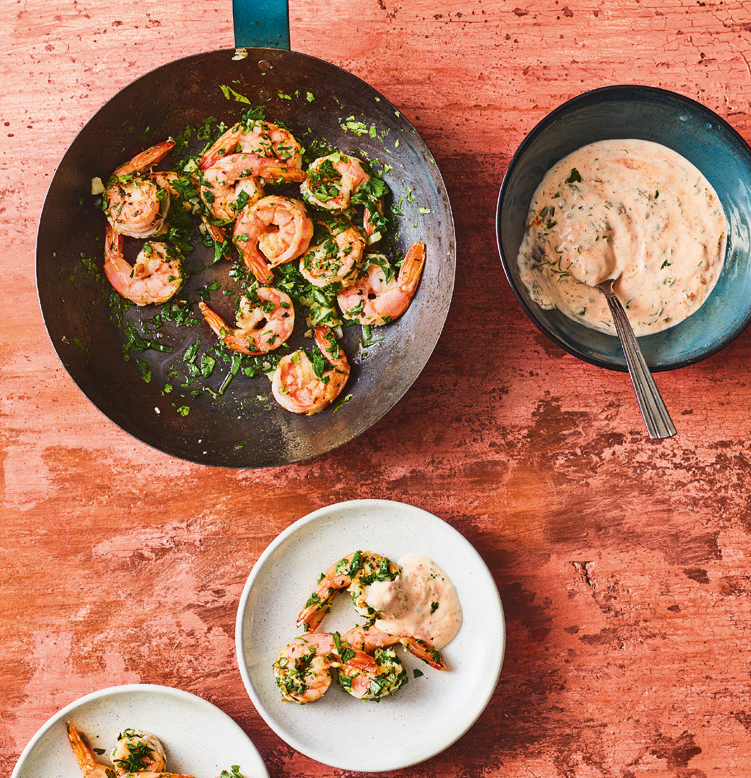 Preparation:
Wash the lime under hot water, pat dry. Grate off 2 pinches of zest, squeeze out the juice. Put the yoghurt into a bowl and stir in 1 tsp lime juice, the mayonnaise, harissa and ground coriander, season with salt and pepper. Wash and shake dry the herbs, pull off the leaves, chop separately. Stir half the coriander into the harissa dip.
Rinse the prawns under cold water and pat dry. Peel and finely chop the garlic. Heat the oil in a non-stick pan and lightly sauté the garlic over medium heat to flavour the oil without it turning brown and bitter. Remove the garlic and set aside.
Reheat the oil and fry the prawns over medium heat for 2–3 minutes, until they turn pink and are starting to brown in places. Towards the end of cooking time, sprinkle with the chilli flakes, reduce the heat and season with salt and pepper. Add the remaining lime juice and the garlic and heat through over low heat for 1–2 minutes. Take off the heat, stir in the remaining coriander and parsley. Briefly leave the prawns to draw flavour, then serve with the harissa dip.
We wish you a lot of fun making it!