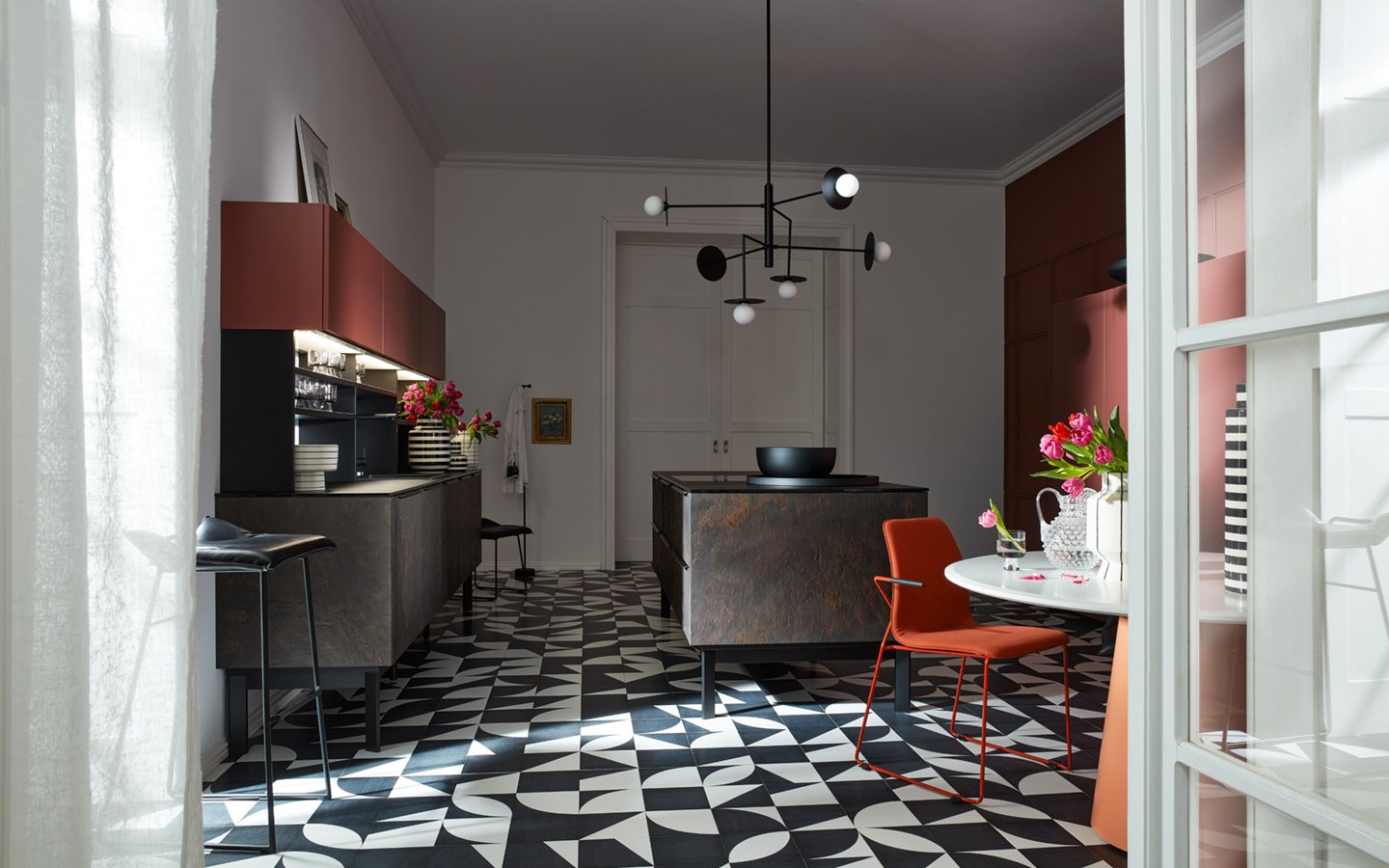 Tips & Tricks
The perfect colour for every kitchen – Tips & ideas
Which colour goes best with your kitchen? Let us tell you about trends and designs that bring out colour in your kitchen.
What makes choosing colour in the kitchen so important
The kitchen is a place where the senses meet. A place that brings us together and helps us enjoy life to the full. A place that sets the pace of life and gives everyday routine structure and guidance. But also a place for reflection, relaxation and creativity. This makes it all the more important to consider the question of what colour – or colours – your kitchen should be finished in. Because a room's colouring not only conjures atmosphere, it also plays a key part in determining the size a space is felt to be. This is none too insignificant – particularly when the kitchen is used as a space for eating in.


Ambience and mood in the kitchen
Whatever colour you choose to decorate a room in is always a matter of personal taste. After all, you need to feel at ease in it. But every colour has an impact of its own when it comes to the atmosphere it creates in a space. Different shades create different moods, as colour psychology has discovered. Colours we term as warm (such as orange, red, beige, yellow, sand colours) create a completely different ambience in a room than a colour taken from the cold colour spectrum (such as white, grey, blue, green).


Impact of colour on the size and brightness of a space
Colours and wall finishes not only impact the atmosphere of a space but also its perceived size as well as level of light in a room. This, of course, applies to the kitchen as well. The basic rule: the lighter the colour, the larger a space is seen to be. Conversely, this means it's not necessarily advisable to design a small kitchen in dark colours since black and dark brown shades make an already small space look even smaller. The darker the colour, the more light it swallows up. In a particularly bright space, dark colours can prevent glare and conjure contrasts that benefit a space.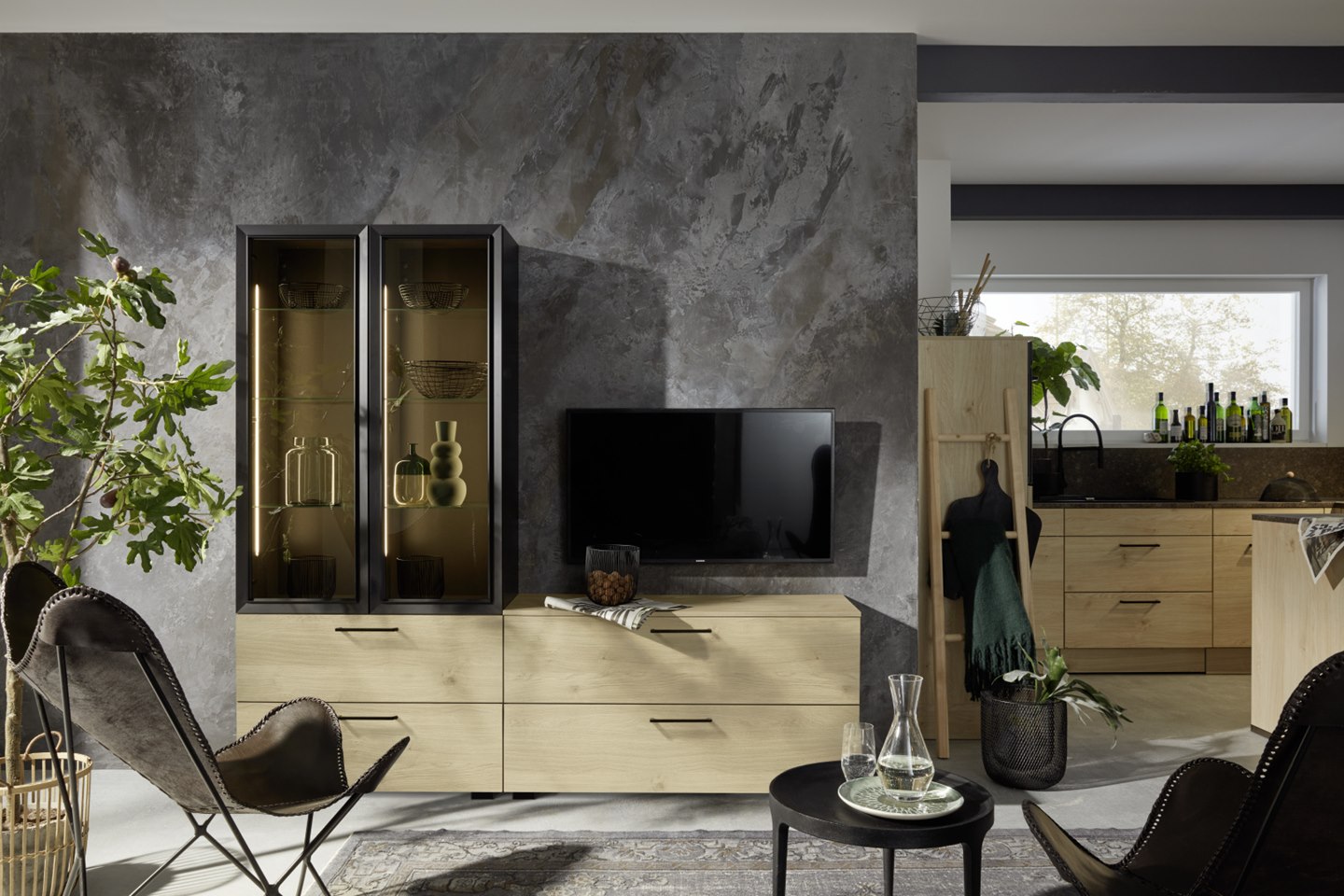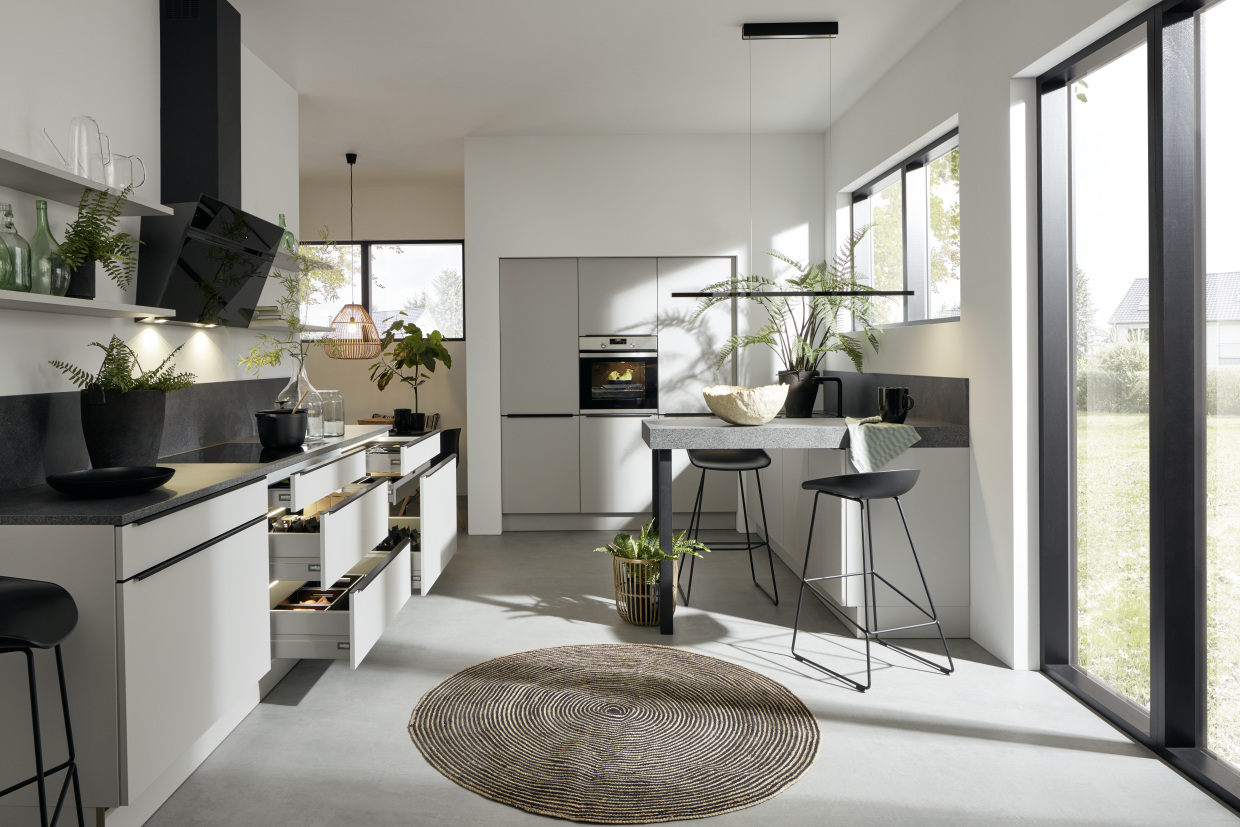 Popular colour shades for the kitchen wall
Cream, orange to reddish tones, brown, green or blue? Or something more classic, like white, grey or black? All popular wall colours for your kitchen. But a soft pink, a subtle magenta in combination with elements in white, or a light blue are also popular colour choices for the kitchen wall. Below, discover the impact specific colours can have on your kitchen.


White: timeless, bright and inviting
Unquestionably the classic kitchen colour. White kitchen walls and white units make a small kitchen look larger. Although white looks cool, it has the advantage of being a wonderful option for combining with other shades, such as wood-coloured worktops or a grey dining table. Added to this, white kitchen walls extend an invitation to display decorative items on shelves or hang colourful pictures. This lets you conjure amazing contrasts and create an ambience that lives from openness.


Grey: elegant and modern
Grey or anthracite creates a look of its own, clean and without any fuss. Kitchen walls finished in these shades look elegant and modern, even more so than a kitchen finished in white. Combining various anthracite shades gives your kitchen a very individual and classy look. Classic, yet right on trend. Combining grey and natural surfaces, like wood, gives your kitchen so many vibrant-looking facets.


Blue: calming yet so refreshing
Colour psychology attests this colour a calming effect. The smaller the kitchen, the lighter the shade of blue should be to prevent the space from looking more confined than it really is. You can create a refreshingly lovely yet restrained contrast by combining the opal blue shade with light-coloured furniture. Dark furniture doesn't always go with pale blue as the contrast might be too overwhelming. The worktop, on the other hand, beckons a dark timber finish, such as walnut or oak barrique.


Green: relaxing and natural
Typifying spring, this colour spellbinds us. Exuding life, it makes the kitchen a vibrant place that still lets us relax. And who would say no to a calm atmosphere when cooking or eating? Here to, designing a small kitchen in light green additionally detracts attention from any perceived lack of space. It's better to avoid gaudy shades of green as they disturb harmony and tend to look unnatural. Light-coloured cupboards and pale wooden elements complement light green. By contrast, if you already have dark shaded elements - such as a dining table or chairs - in your kitchen, and they are large enough, a darker green can also create a wonderful colour statement too. In this case, though, it's advisable to paint only one of the kitchen walls in dark green.


Accent colours: add colour and make a statement
Some kitchens also call out for other colours, like yellow, orange or red. With a strong orange or a radiant red each having a very dominant character, a modicum of restraint is called for with kitchen colours from this colour palette. Excessive use of these colours can quickly dominate your kitchen's ambience. All the same, these shades make ideal accent colours. Using them selectively in your kitchen, you can emphasise features and make lovely statements. Accent colour like these look magical when combined with a kitchen that's predominantly white or anthracite, which makes for amazing contrasts. A vibrant violet shade too looks stunning as an accent colour.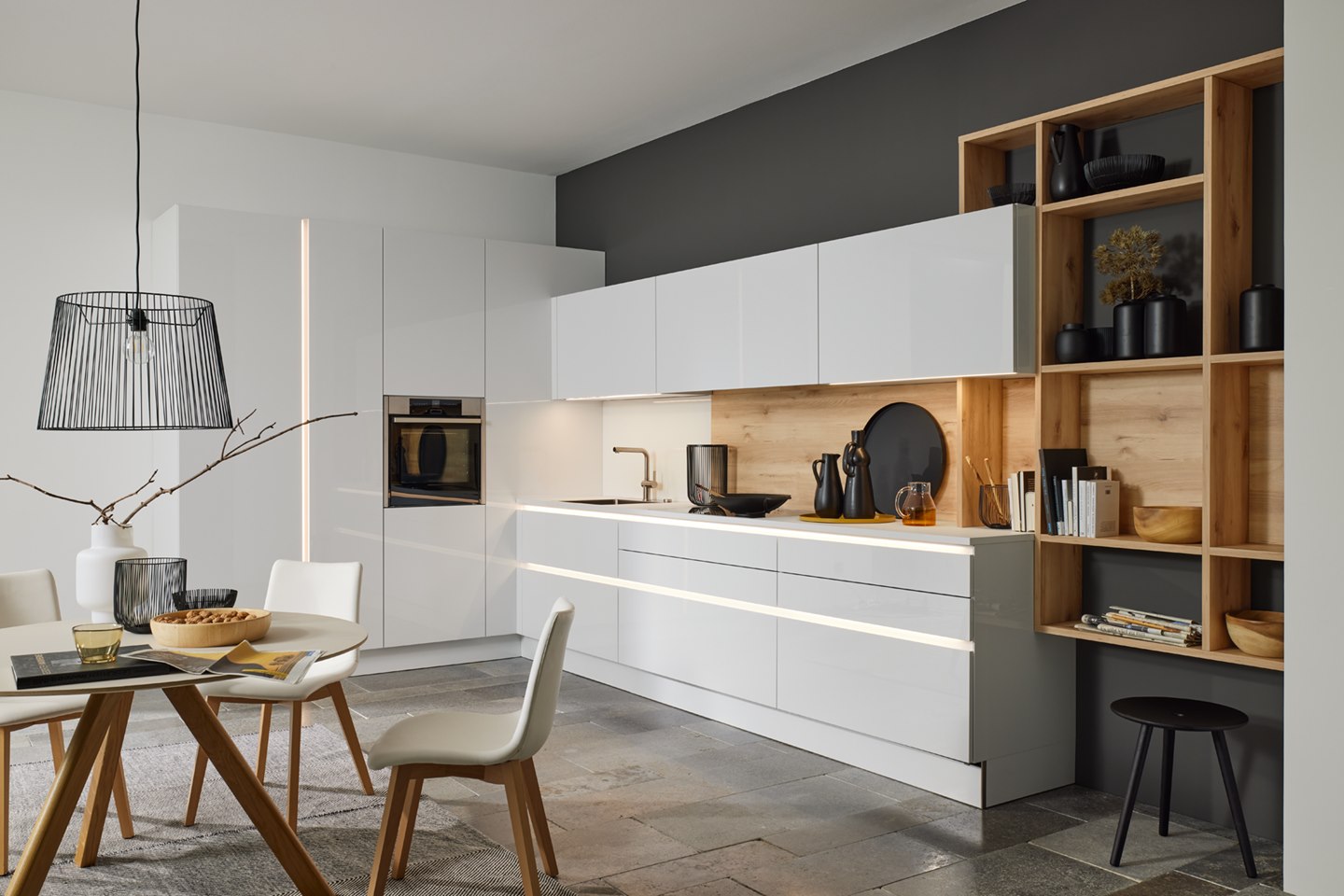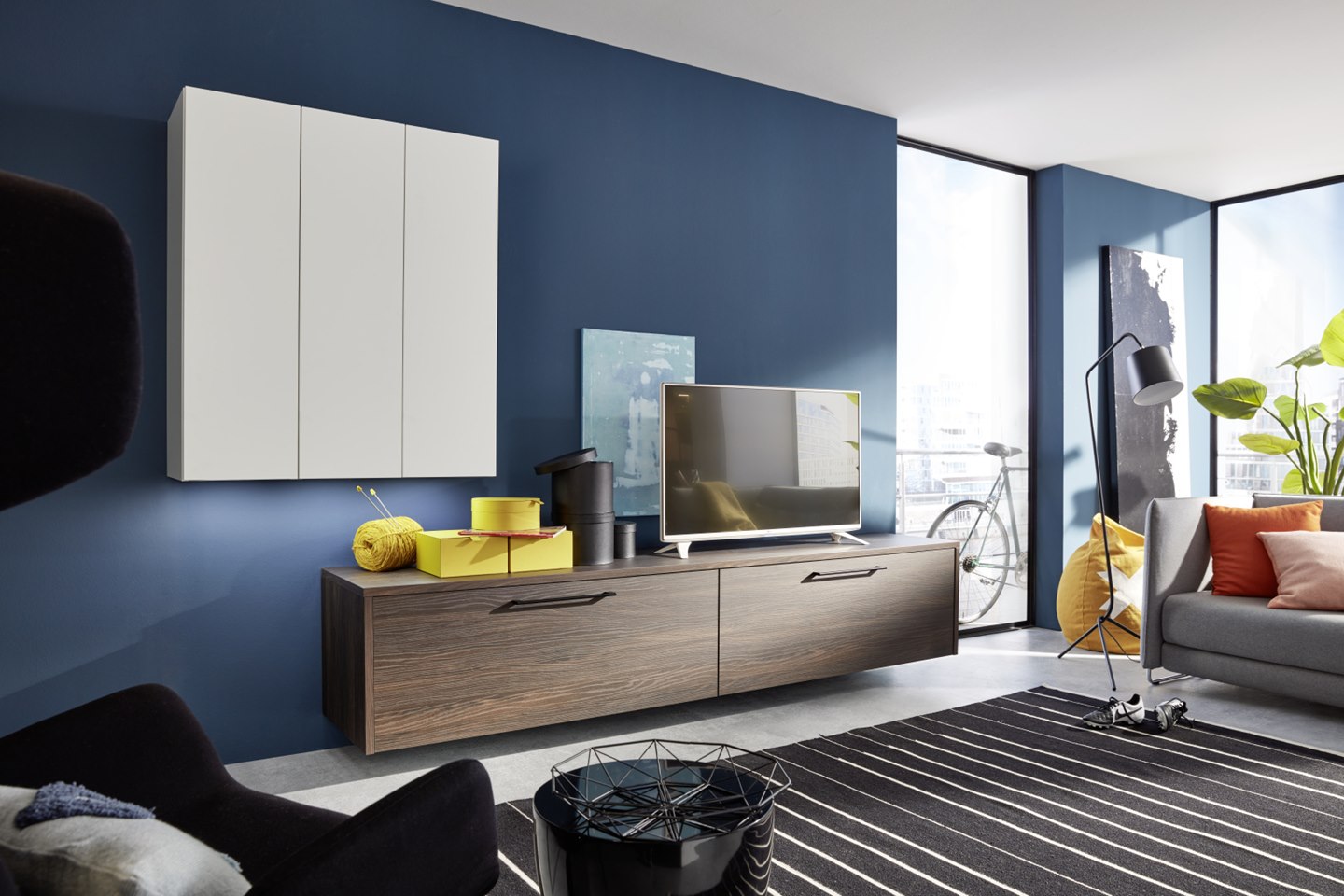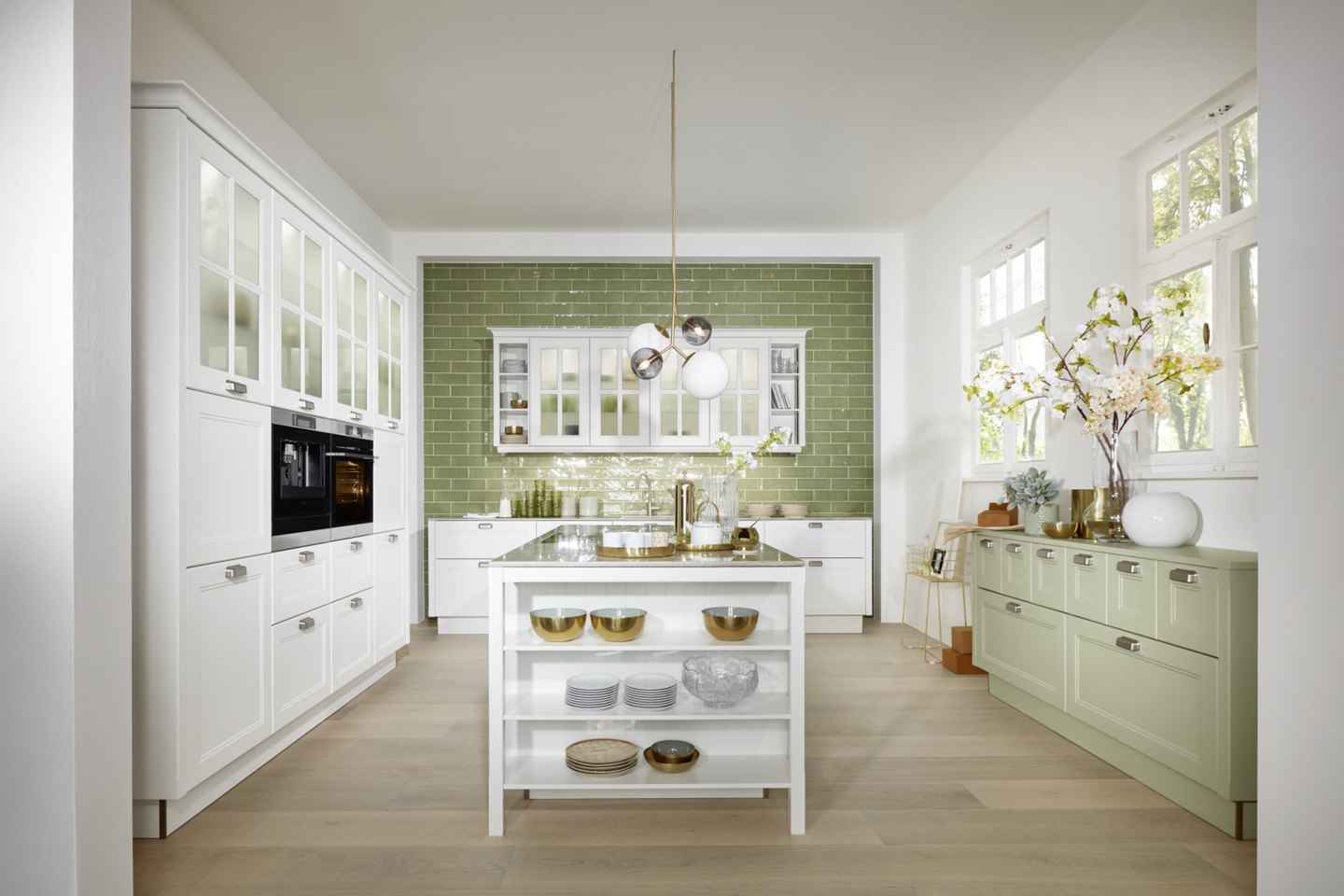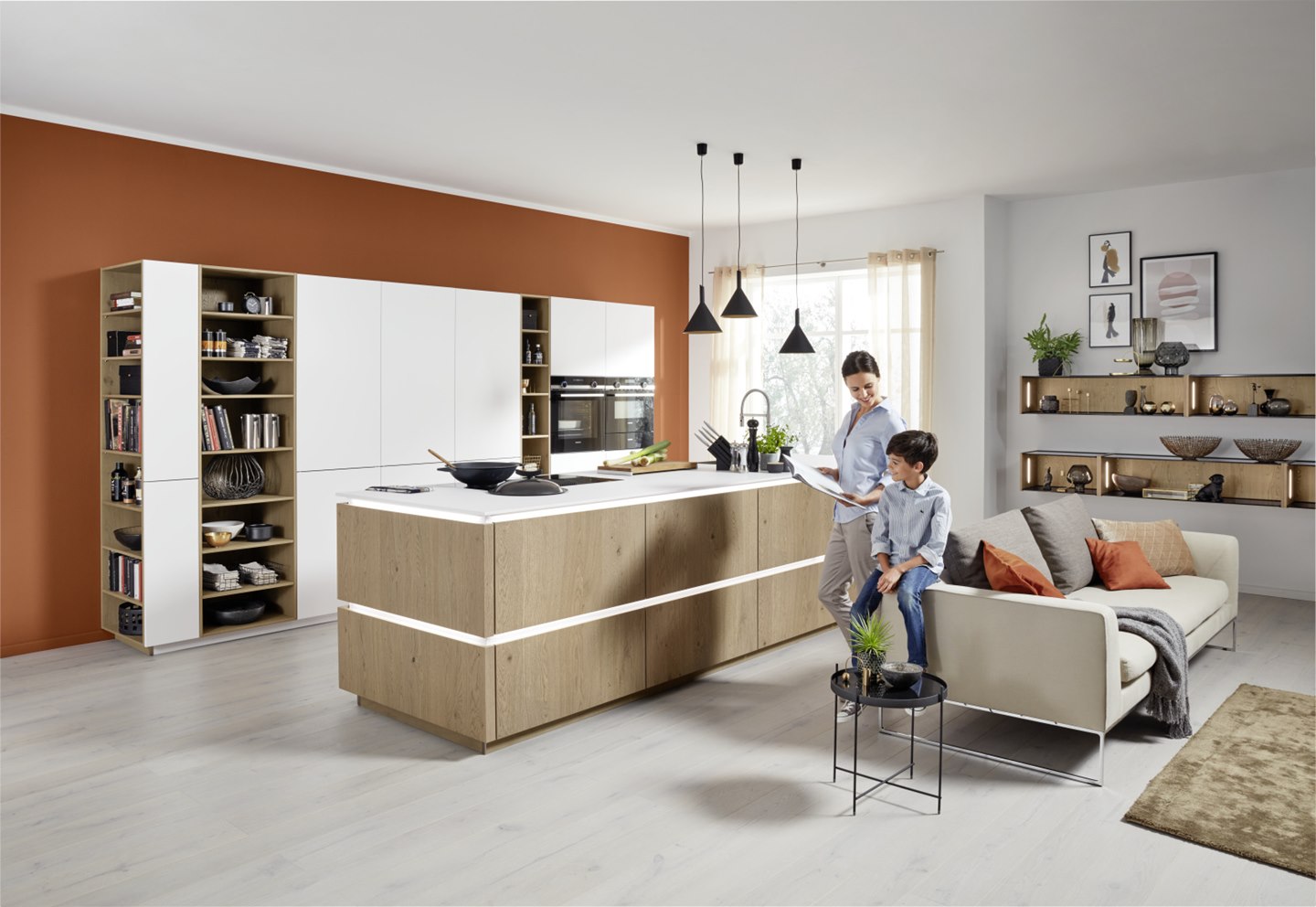 Trends and designs in styling lovely kitchens
Anthracite and black – both feature strongly among the longer-term on-trend colours in kitchen design. Needless to say, it's important to bear in mind how large your kitchen is and, say, what impact black would make as a dominating backdrop. Anthracite grey, on the other hand, is more of a timeless, elegant option. When it comes to choosing colours for your kitchen, it's generally true to say you shouldn't ultimately rely on personal taste.
Kitchen trends and matching colours
Today's
kitchen trends
too tend to lean towards darker colours, with grey and black kitchens dominating the scene, as in previous years. Yet white tones still attract most people's favour. If you want more colourful look: rich greens and dark reds are also right on trend, with the preferred option currently tending towards darker shades of greens. The trend is moving towards moss and coniferous forest, in other words towards natural colours.
As shown above, dark green
is the preferred choice for larger-style kitchens; going for this colourway for smaller kitchens, on the other hand, tends to leave them looking somewhat less spacious.
Colour combinations and patterns
At the end of the day, any pattern and colour combination goes. Yet when it comes to painting walls in the kitchen, it can usually be said less is more. Combining too many colours can quickly create a look that's out of balance. On the other hand, opting for a narrow colour palette lets you play with nuances and shades within any chosen colour family - by combining various shades of blue, for instance. This creates fewer contrasts. Contrasts themselves needn't necessarily be a bad thing as such, but too many of them create a mood that's far from balanced.
Materials and surface textures
Wooden doors, fronts
and worktops are still very much in demand, with walnut and oak in particular featuring as the favoured choice for 2023. But there are also alternatives that are borrowed from nature too. With a spectacular variety of colour shades, the mat lacquer concept is reinventing itself in every home. Reproduction timber finishes lend particular aesthetic appeal. Leaving their mat finish to create a timeless and natural look.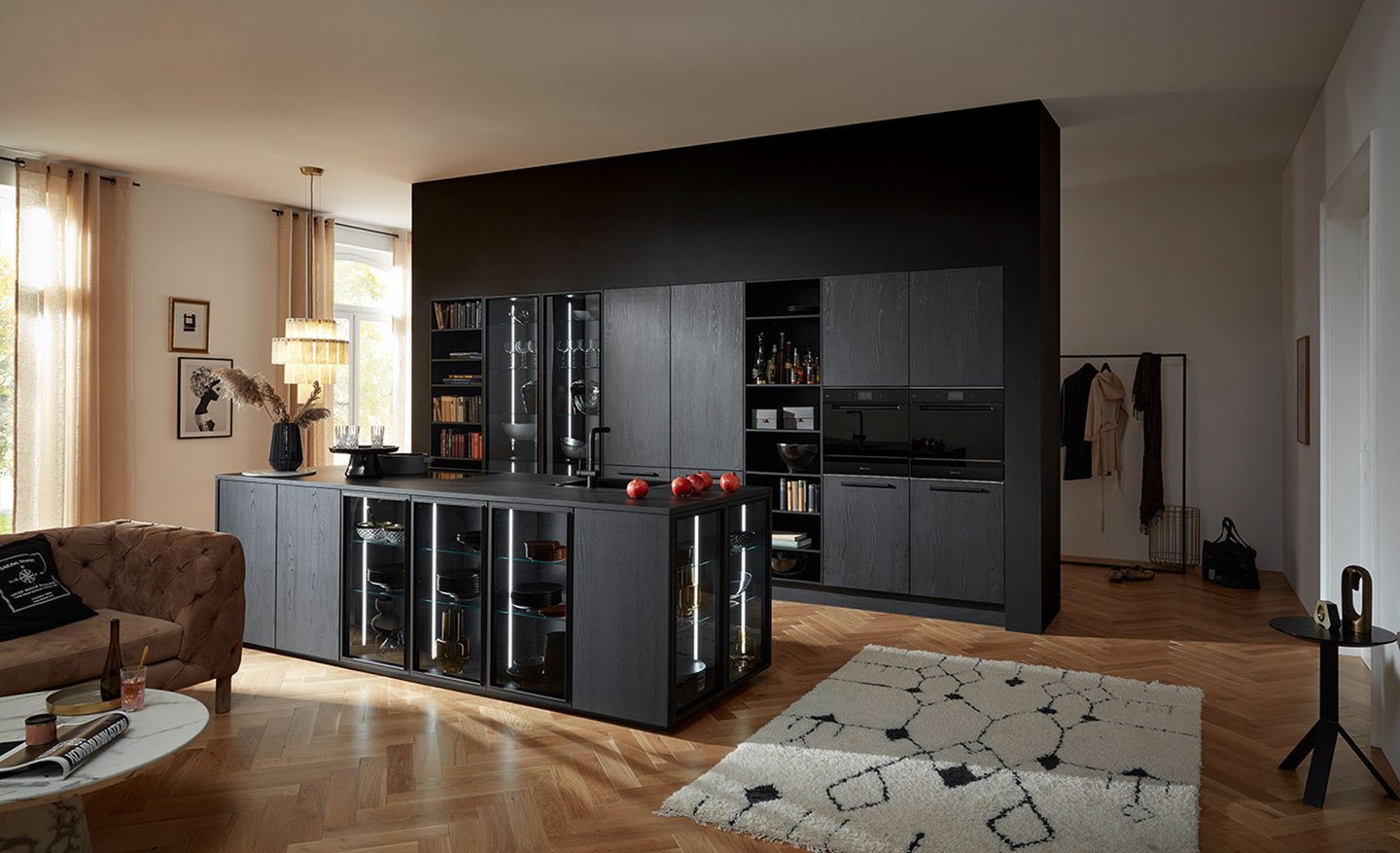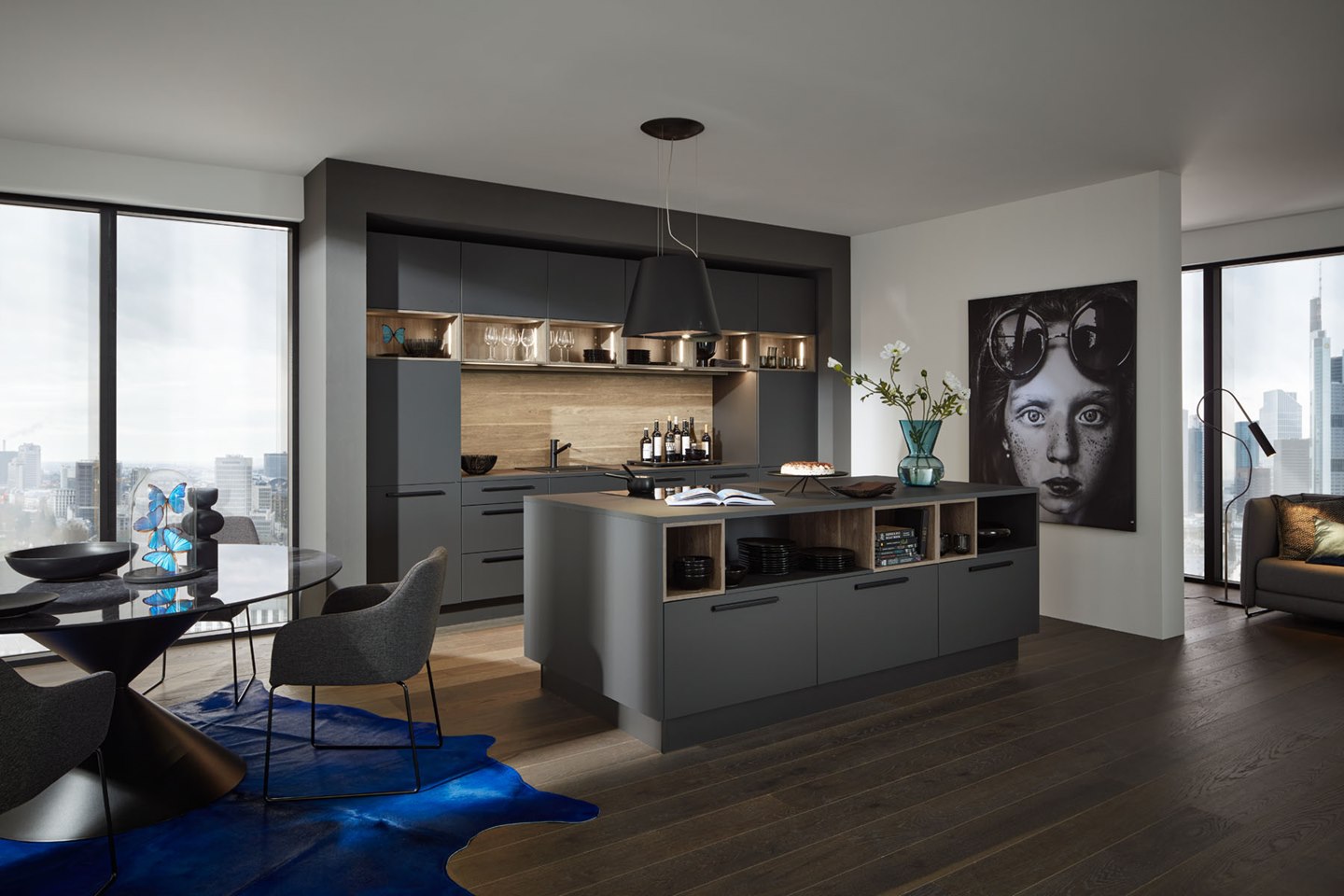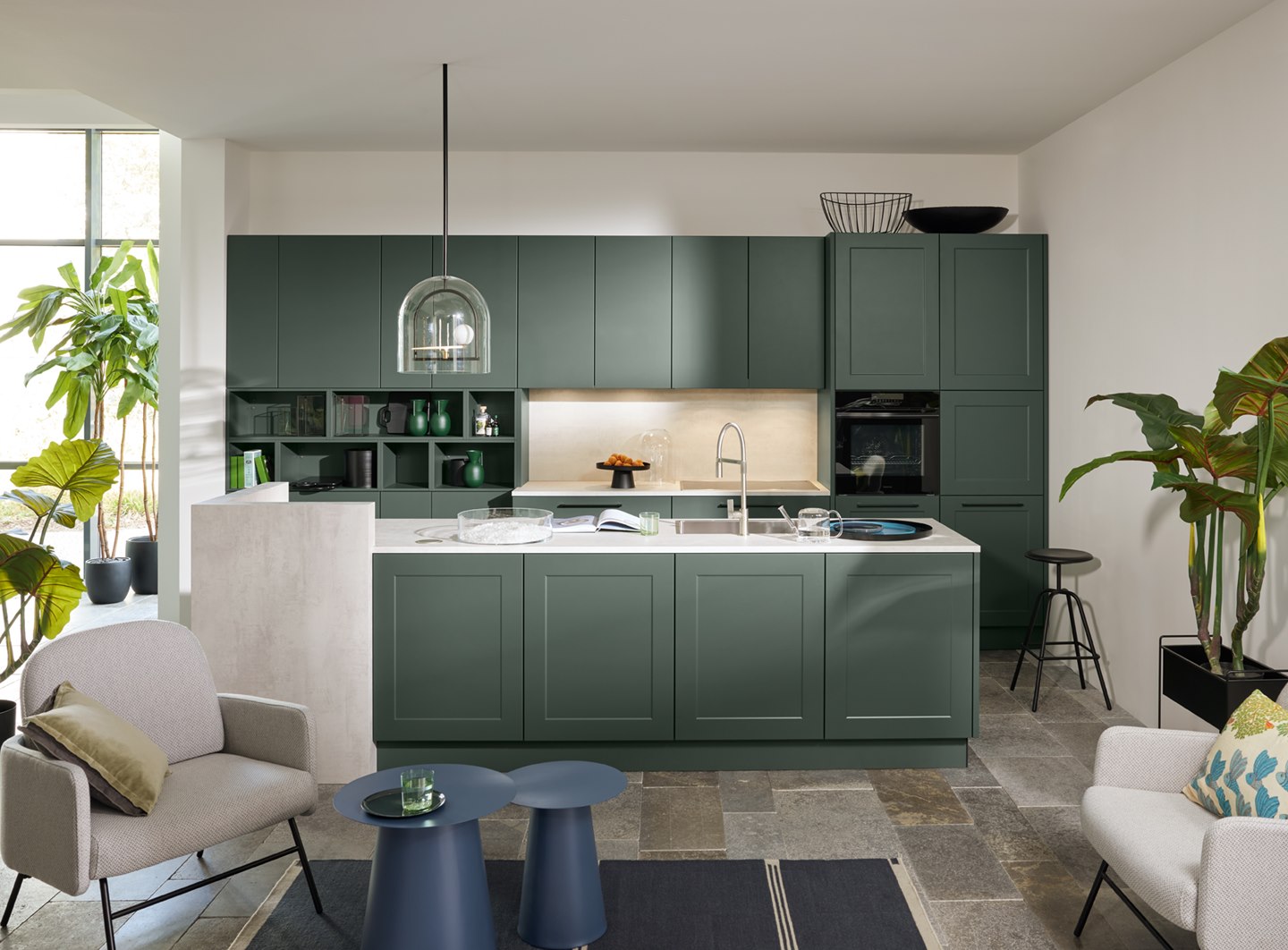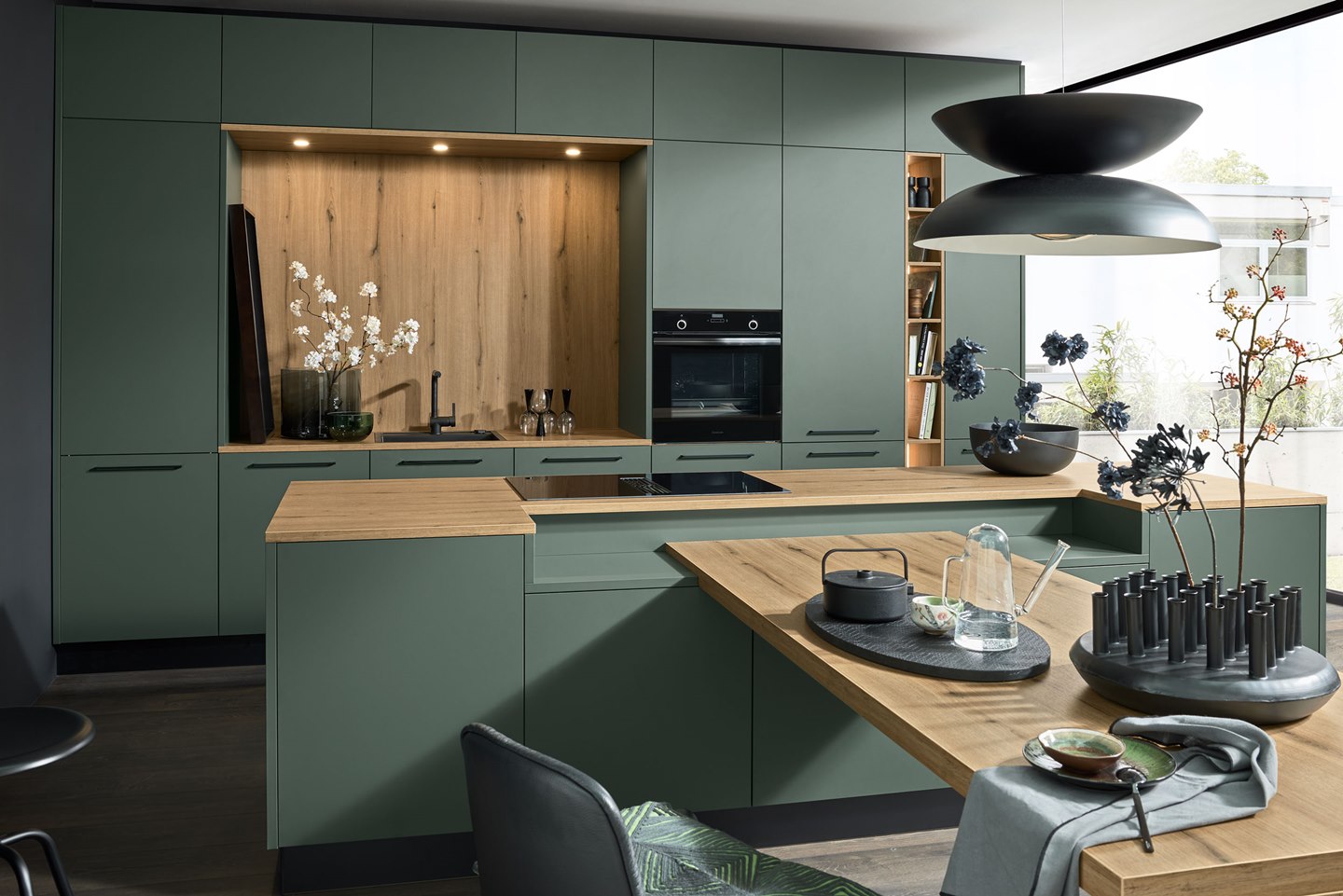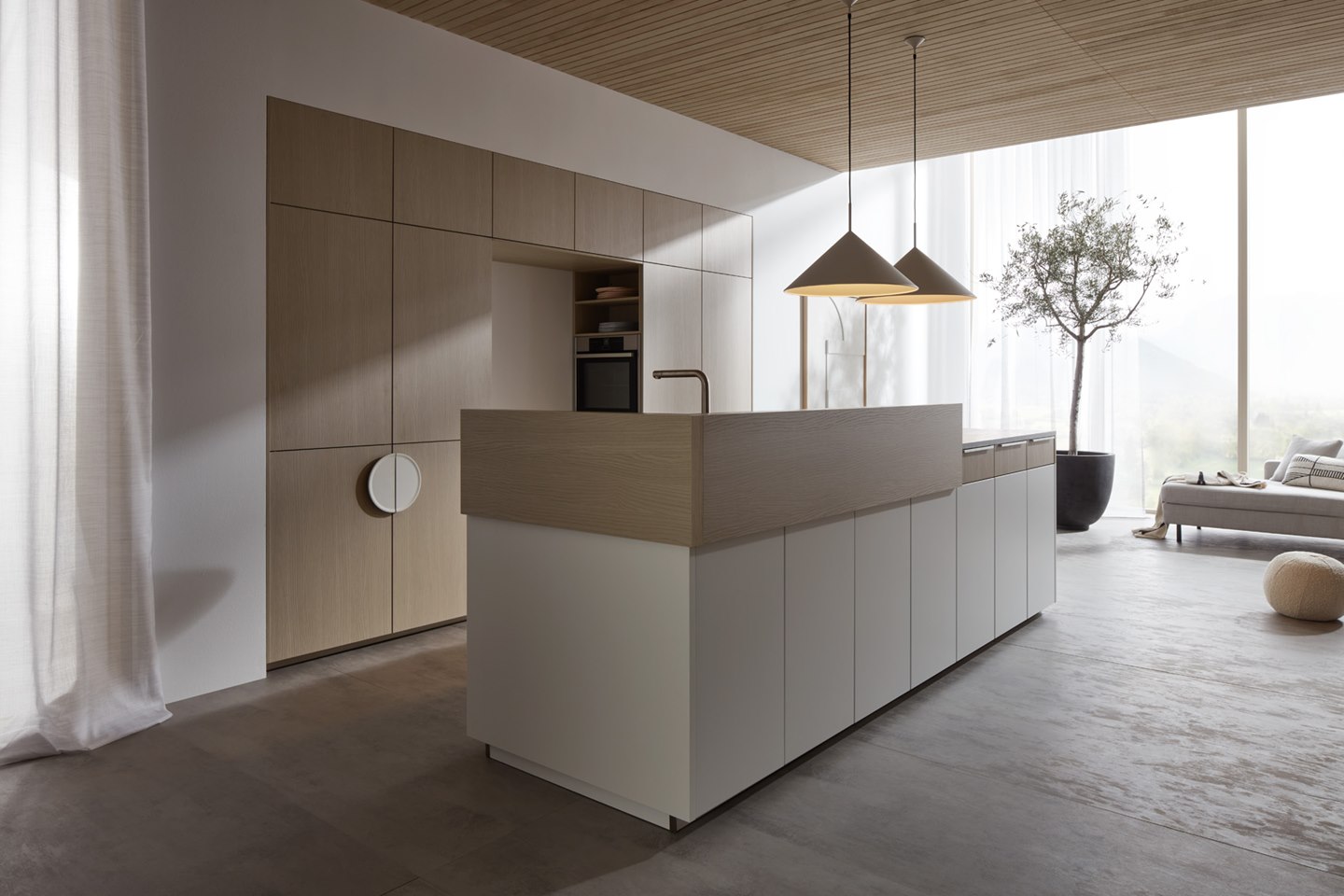 The right colour or wall colour for your kitchen
The impact of colour, patterns, colour combinations and accent colours on the ambience and
mood of a kitchen is
one thing. But that's not all that determines the right wall colour for your kitchen.
Following kitchen style and furnishing
Re-colouring a kitchen comes with its very own kitchen style and cabinetry (including any elements crossing over into the rest of the home. So, the question is whether you want to stay true to that style or dare to make a deliberate break with the existing design. If your kitchen is country-style featuring a lot of light-coloured wood, an attractive wall colour can emphasise a wonderful style break. Let's say with a subtle light green or light blue, that would be ideal - or go for a rich aubergine hue. If you ever get the feeling a colour scheme's not likely to tick your boxes long term, always go for a colour palette that matches your kitchen's underlying style and - in this case - learn to love white walls. This, in turn, will open up other options, such as experimenting with accent colours to creating eye-catching statements.
Lighting as an integral part
Lighting not only means artificial lighting in your kitchen, but incident daylight too. Are there any large windows? And if there are, where do they face? All these are aspects you need to consider when planning your kitchen. Good kitchen lighting is made up of various light sources to create an agreeable ambience and provide optimum task lighting. These, say, encompass task lights, accent lighting and backlighting – illuminated drawers and pull-outs inside units make it easier to put your hand on kitchen utensils and also give the kitchen a touch of sophistication. Colour temperature too influences mood in the kitchen environment. Warm white light creates an inviting atmosphere, leaving cool white light the better option for task lighting. So, good lighting, for example, gives you far more flexibility in terms of choosing (wall) colours.
This is where you'll find helpful advice to plan the type of lighting you're looking for
.
Choosing any colour you want
At the end of the day, it's only you who can decide what you want your kitchen to look in the future. You can always follow tips, trends and ideas as a guide, but ultimately the choice of colour you choose for your kitchen is a matter of personal preference. If you have a small kitchen and want to keep it in dark colour tones, that's perfectly fine, of course. Give your kitchen character - underscore your extravagant, personal taste by using bold wall colours and set your very own personal stamp.
Sustainability in the kitchen – eco-friendly lacquers
In the kitchen, sustainability is all important, not only when it comes to cooking. Yet which paints are environmentally friendly and good for the climate we're exposed to indoors? And how can you use them in a way that helps to protect the environment?


Sustainable materials and manufacturing processes
When buying wall paint for the kitchen, go for eco-labelled paints. Many emulsions as well as most clay and lime-based paints are environmentally friendly, and are also produced sustainably, i.e. without preservatives and artificial binders or with only the absolute minimum of such substances. Most conventional paints still contain substances, such as isothialzolinones or even formaldehyde, which is suspected of causing cancer.


Health aspects and indoor climate
This is where limewash paints are unbeatable. They don't repel water vapour from cooking but absorb it, virtually ruling out any condensation. And that's the best way to prevent mould. They also help to create a healthy indoor climate with lasting effect, making them the ideal wall paint for allergy sufferers. The above-mentioned wall paints containing formaldehyde and isothialzolinones often cause respiratory problems or irritate the skin.


Advice on painting walls with a thought for the environment
Needless to say, eco-friendly wall painting starts with buying sustainable paint. This is where buying eco-labelled products is an important criterion, but so too is quantity: only buy as much paint as you actually need. Not only does this save resources but helps to protect the environment too. Masking floors and furniture doesn't necessarily mean using plastic sheeting - waste paper or old bed sheets are just as good. Don't need new brushes either if you've still got some lying around in the cupboard. Got any paint left over, save it for other projects or painting jobs – never flush it down the toilet. If you really do have no use for leftover paint, take it to a recycling centre.
At the end of the day - the right colour for a homely and stylish kitchen
The kitchen's size, the impact of light, the preferred ambience. Added to this, the style of cabinetry, the other surfaces and materials as well as the matter of sustainability or environmental compatibility. Finding the perfect wall colour for the kitchen is no easy game. Or is it?
Tips and ideas at a glance
Maybe not a walk in the park - but finding the right wall colour to paint the walls in for an inviting and stylish kitchen can be a lot of fun. A colour always creates a certain mood and atmosphere, but mustn't be seen in isolation. Because both kitchen size as well as the kitchen's cabinetry are important factors too when it comes to the overall impact your kitchen makes in combination with the colour palette it draws on. In a nutshell: the smaller the kitchen, the lighter the colour should be. This rule of thumb applies all the more wherever the incident of light is not particularly strong. Current kitchen trends are moving towards dark green forest shades; yet anthracite, white and black are also taking centre stage as the long term trend. When buying paint and colouring walls, make sure you go for eco-friendly emulsion and pay attention to the impact wall paint has on the kitchen's climate.
Inspiration to design your very own kitchen
A kitchen is something completely unique. Reason enough for it to meet your personal style and taste in every way. If you want to make changes to your kitchen, yet still get ideas for colour schemes and style, our
Nolte Küchen web planner lets you
configure your kitchen from the comfort of your home. You can find helpful advice and inspiration for furnishing and decorating your particular space on our
mood boards
.