The ordinary gives the world its existence, the extraordinary its value. Oscar Wilde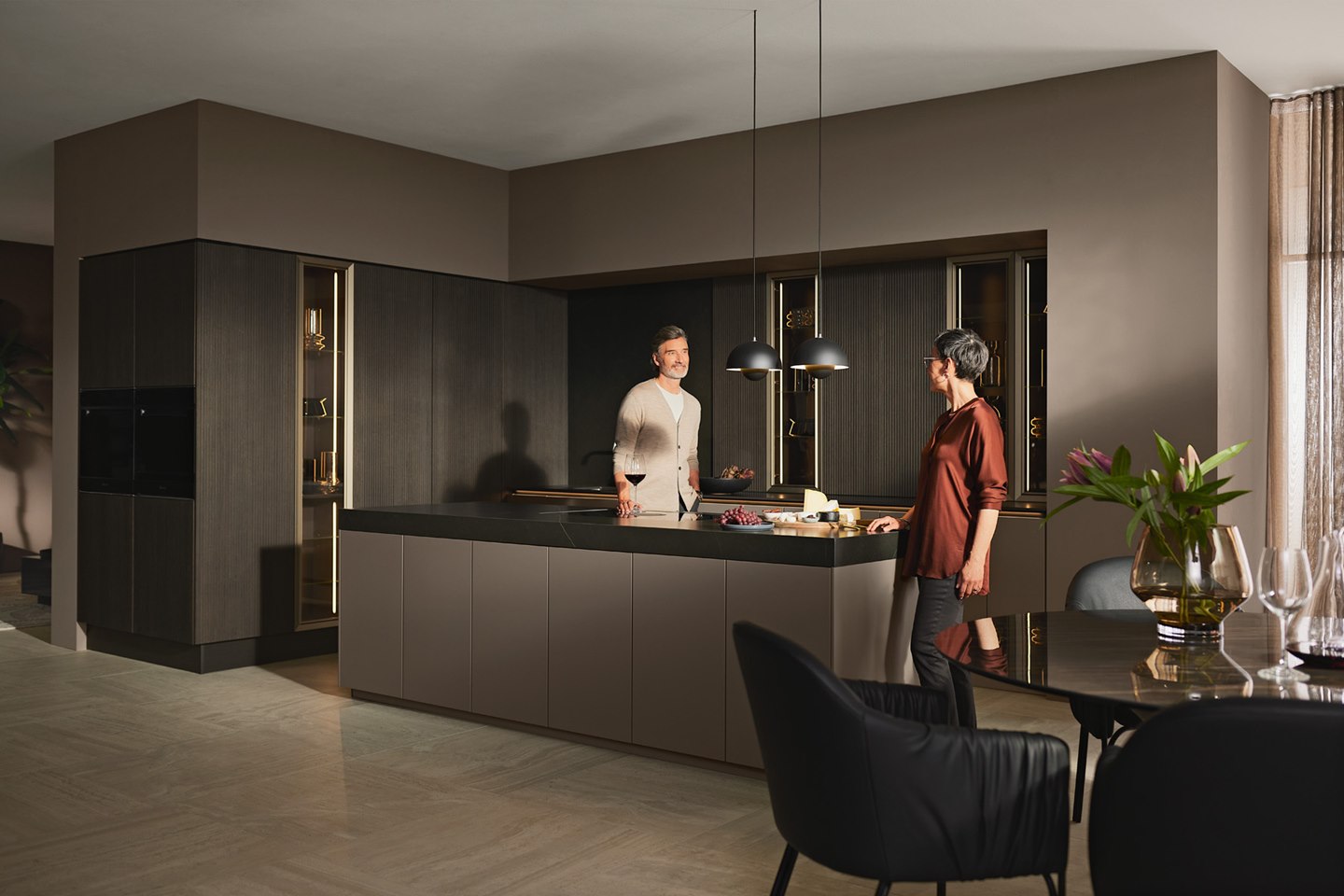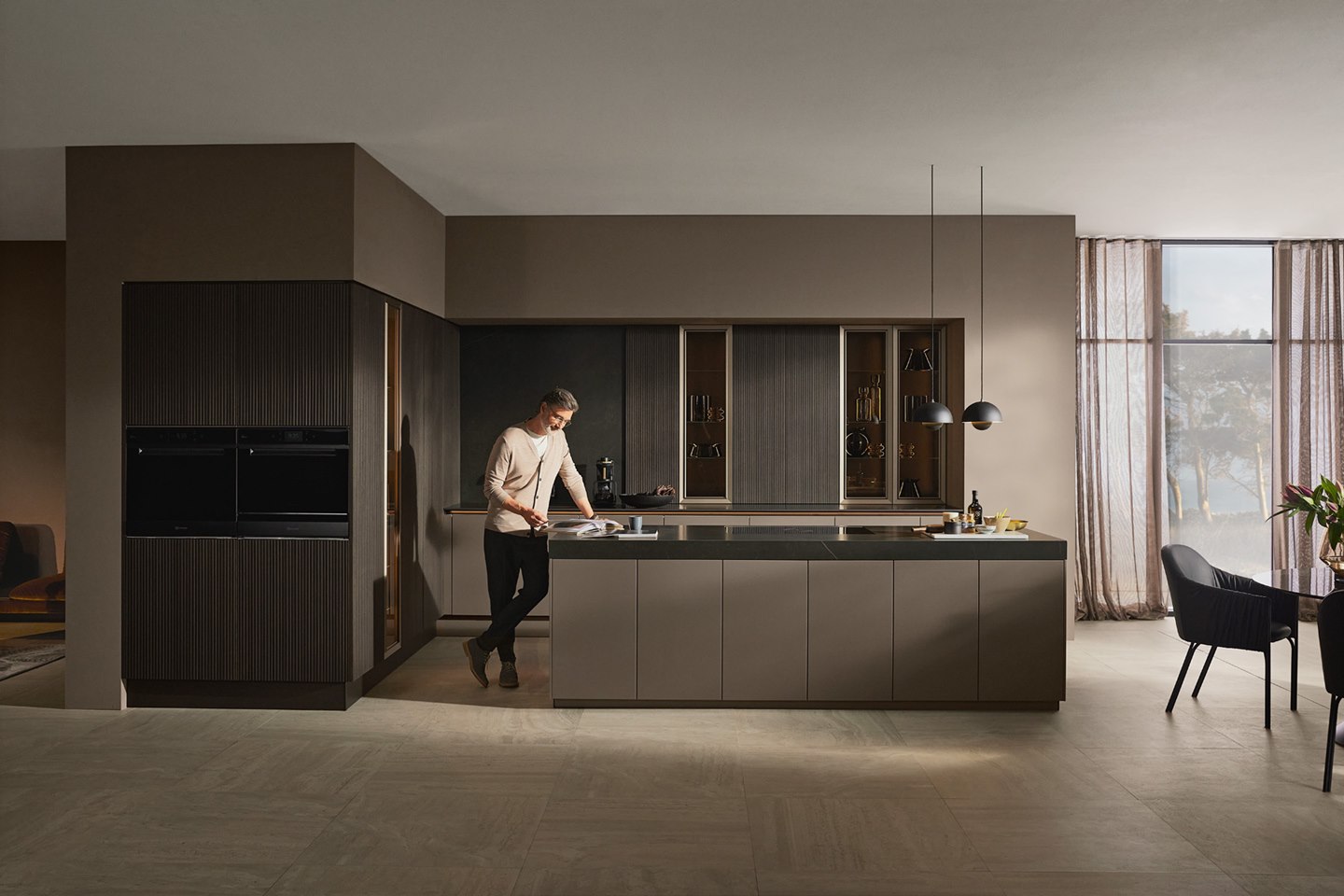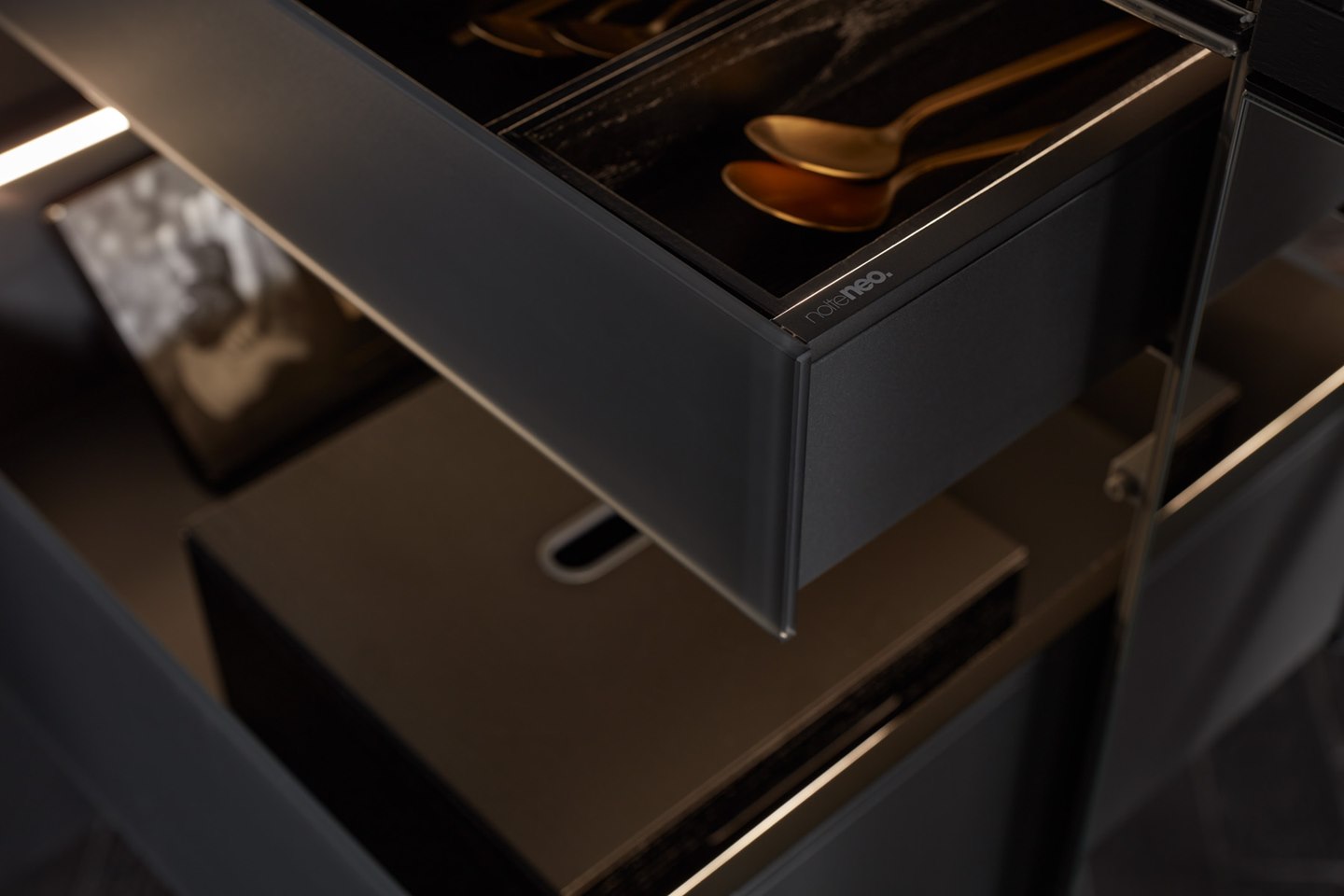 maximum individuality
Discover for yourself! Move the slider to the left or right and discover the update from a great Nolte kitchen to a kitchen of maximum individuality with nolteneo fronts and design elements.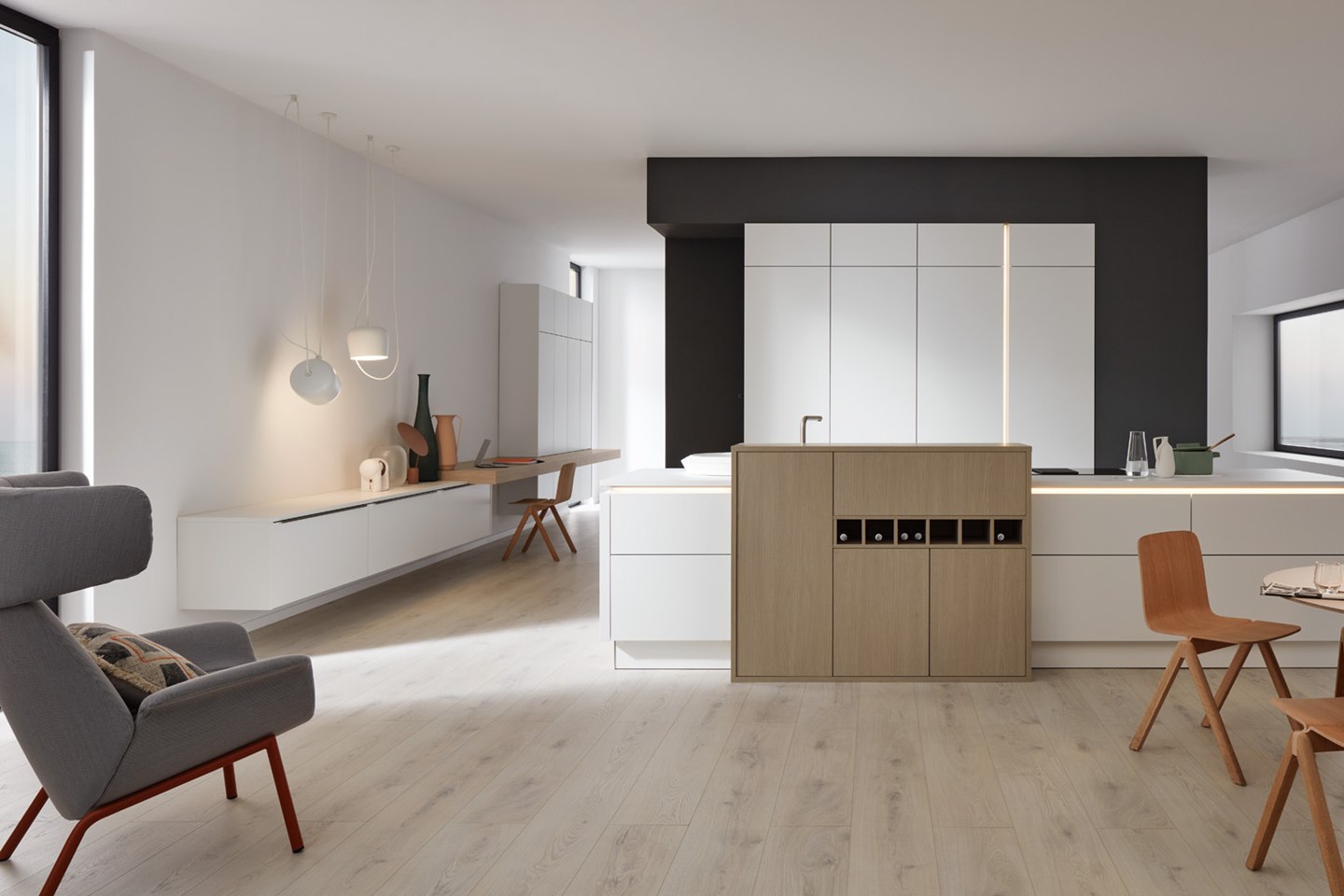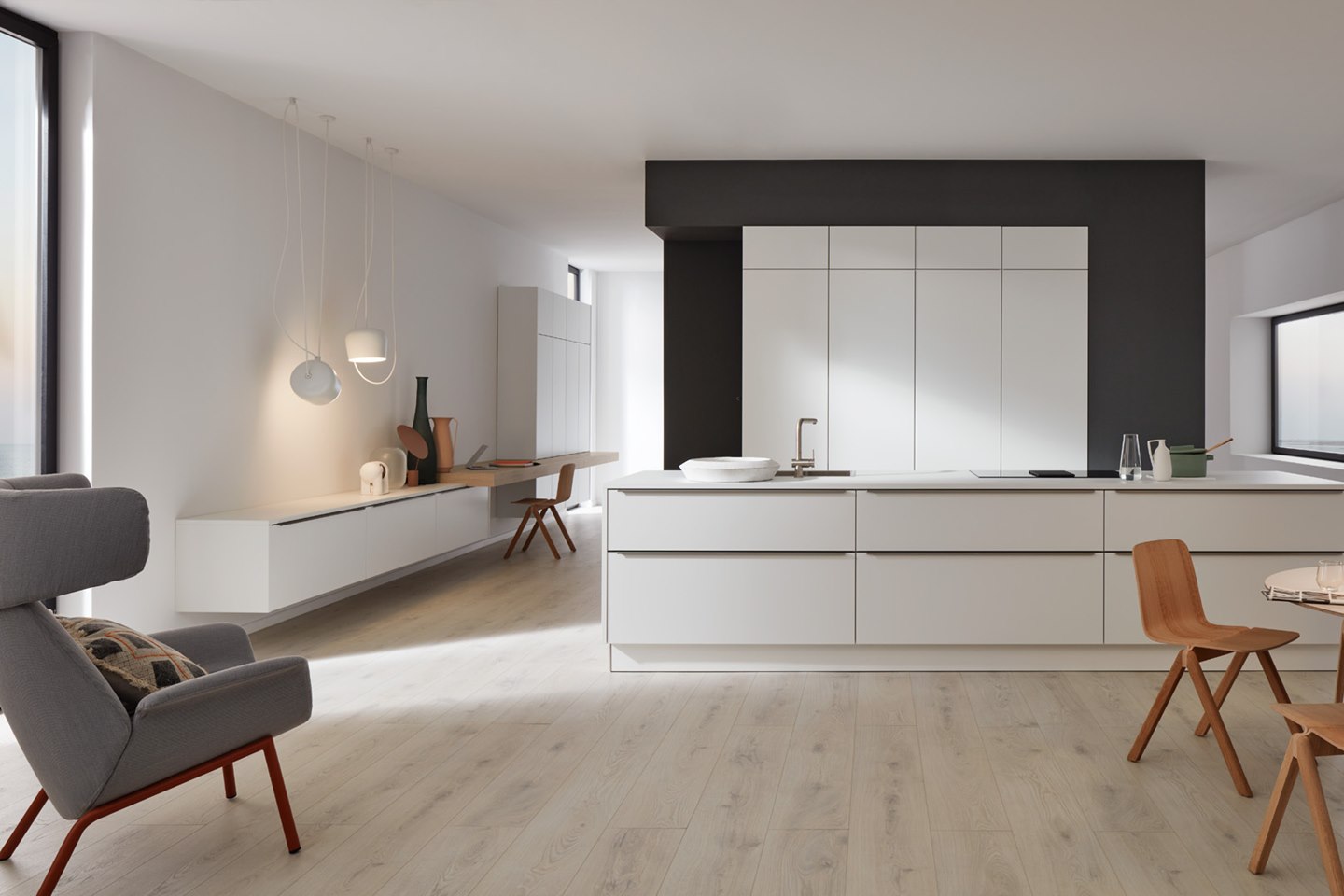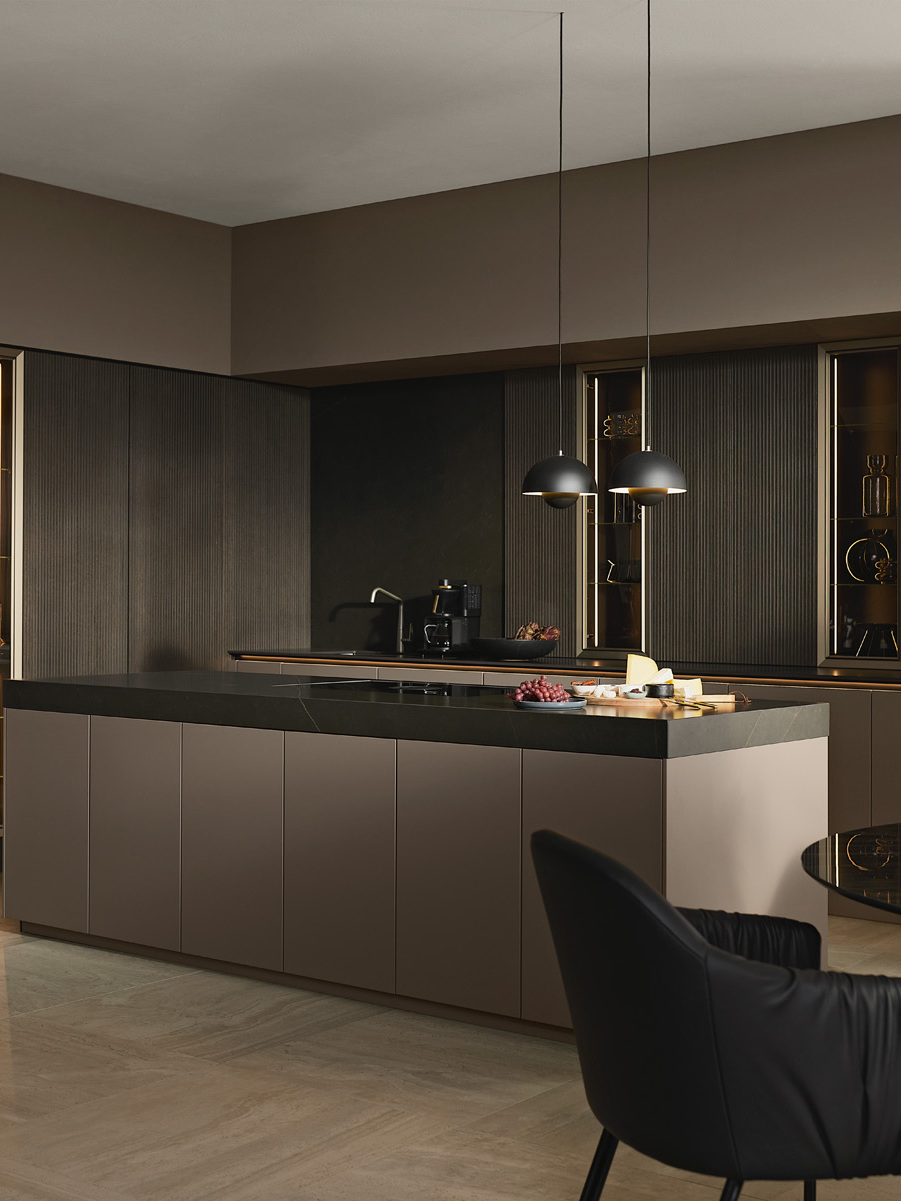 Italian aesthetic
Feel good in exclusive style. The neoLODGE front exudes Italian aesthetic in a way that's second to none. The combination of sleek lines with classy colours and materials is complemented by intelligent detail solutions such as side-fitted ovens or the elegant display units in manganese bronze.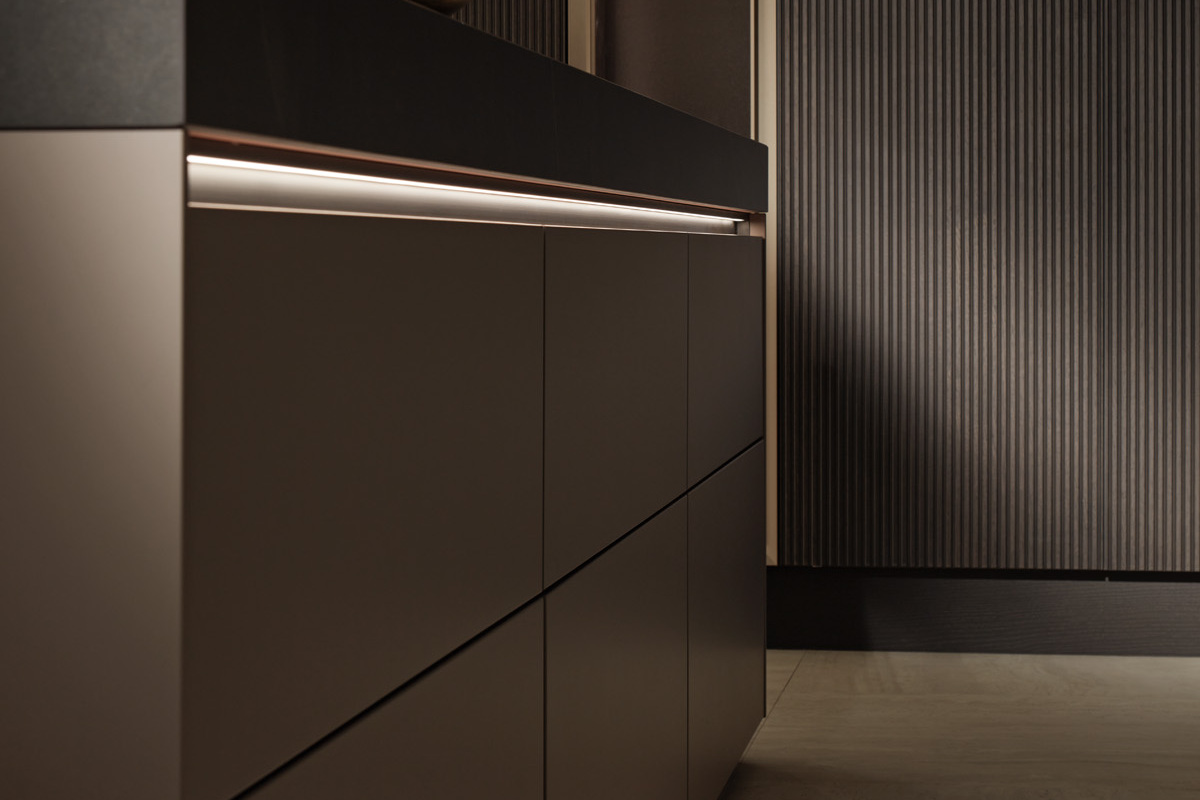 Matrixart one
MatrixArt ONE is the design-focused, handleless kitchen: just one single handle trim profile below the worktop – which, of course, can be illuminated too, creates a particularly neat and graphic look. The top-most front is opened by the handle trim profile, the ones below by the PUSH-TO-OPEN assisted opening function.
neoLODGE front
Clean lines brimming with character – neoLODGE in grooved, blackened oak veneer brings aesthetic appeal to every space.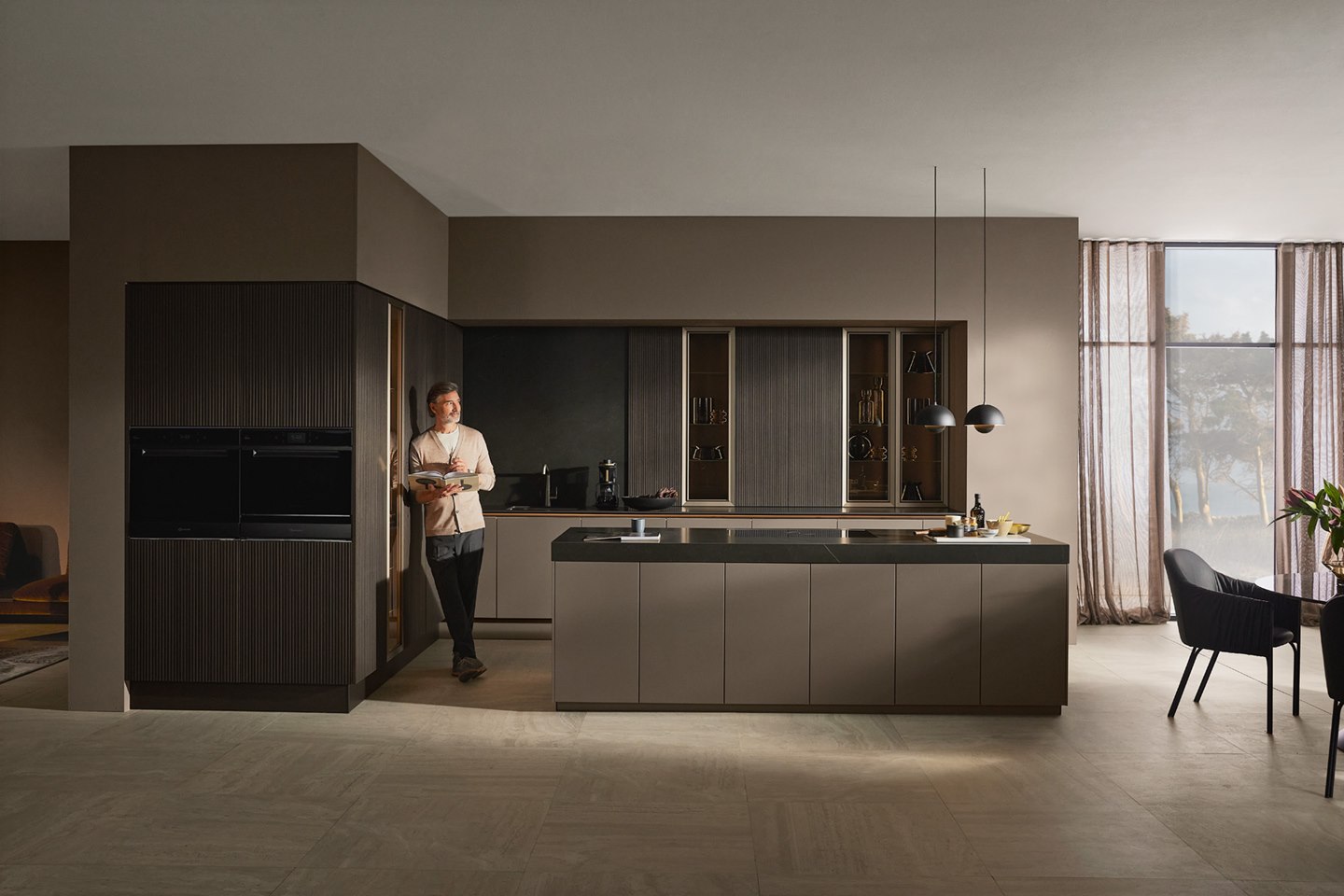 Highlights
neoLODGE front in blackened oak, grooved | MatrixArt ONE with illuminated handle trim | Soft Lack front in magma soft mat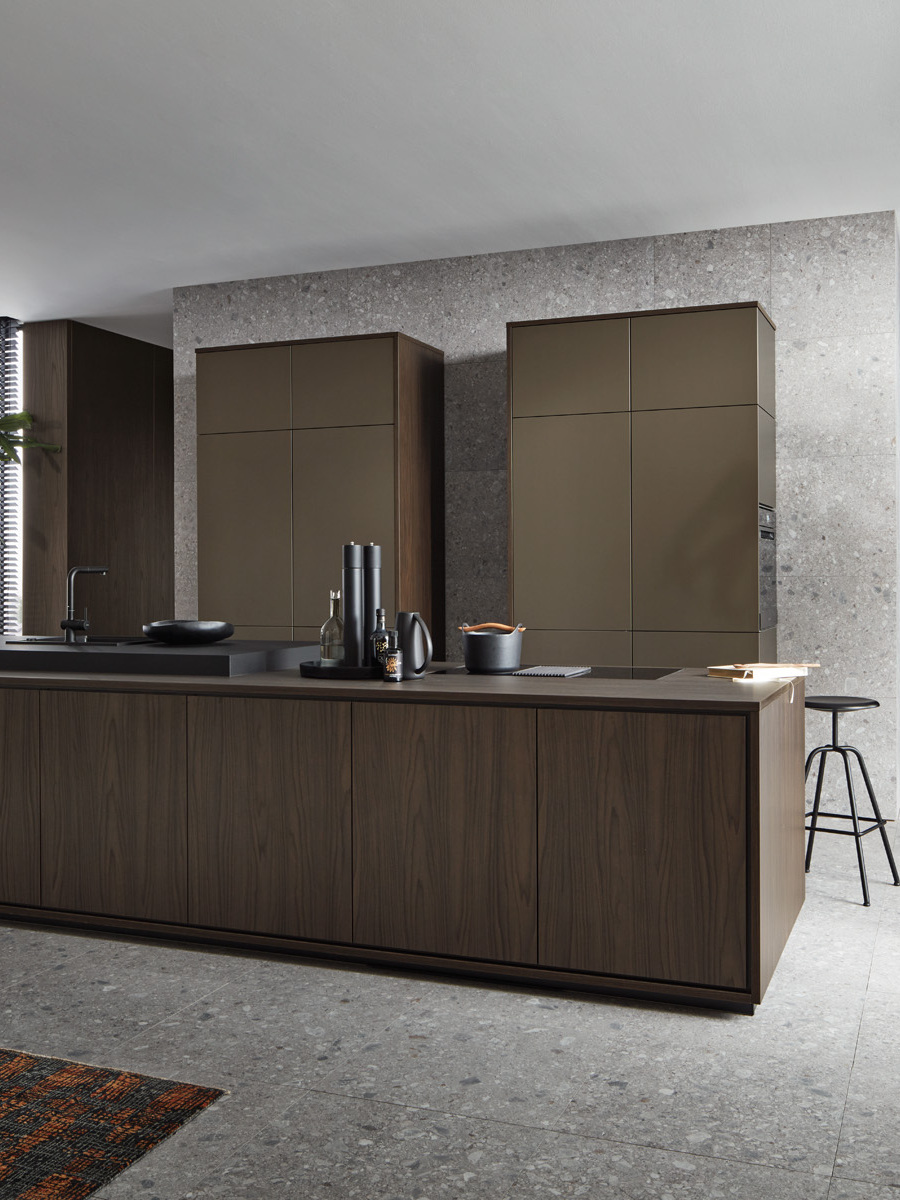 Inventing Purism
Reduced look as the epitomy of elegance. Featured all round, the shadow reveal forms a frame around the high-quality neoLEAF in noce marone, painting a picture that simply charms. Contrasting, the two tall units with neoPURE front in metal bronze rise out above the kitchen block as the peaks of a mountain range, complementing this kitchen's unadulterated aesthetic appeal.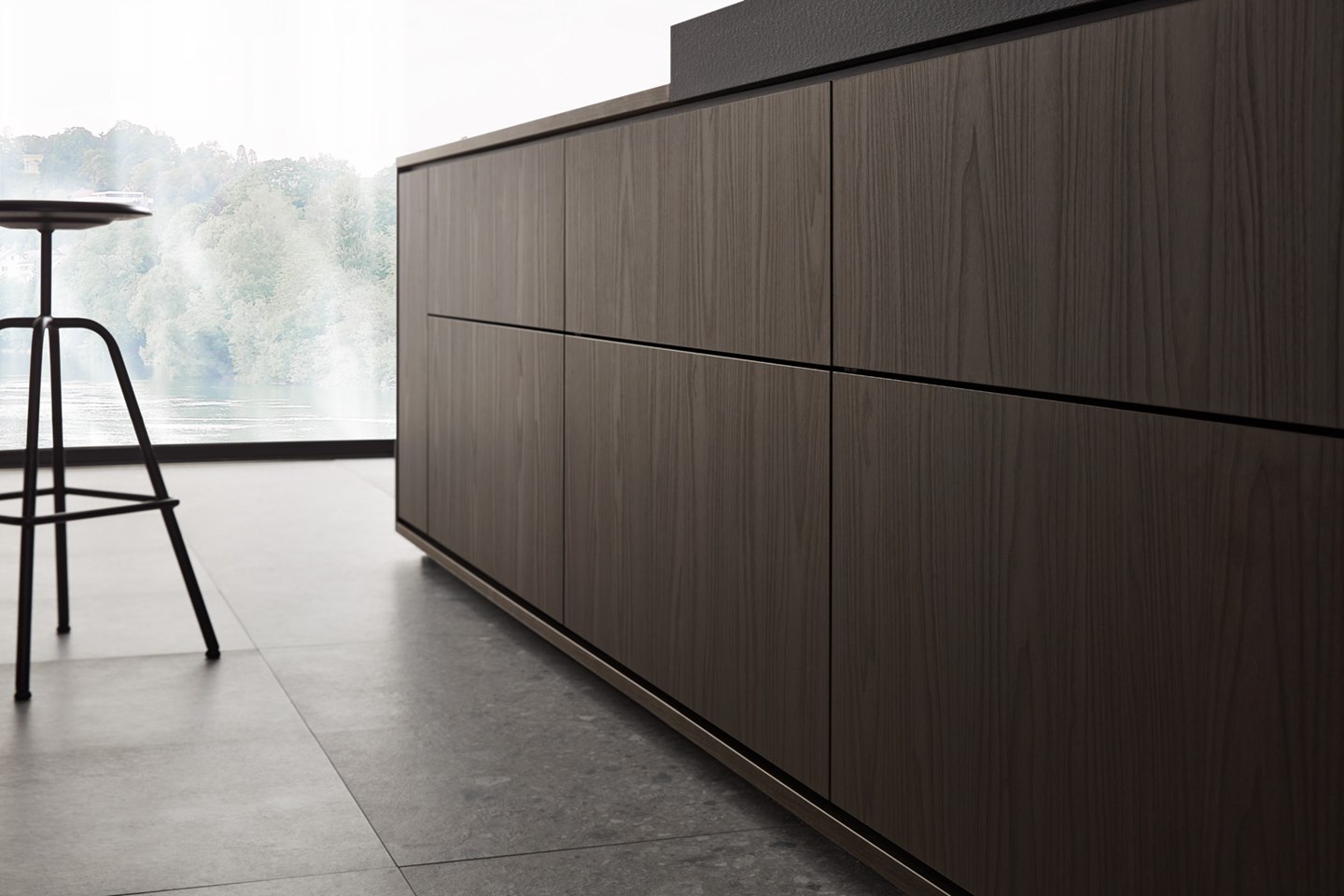 Matrixzero
MatrixZERO perfectly complements the new shadow reveal. In conjunction with the neoBOX, PUSH-TO-OPEN for drawers and pull-outs gives you yet a further option for designing your handleless kitchen.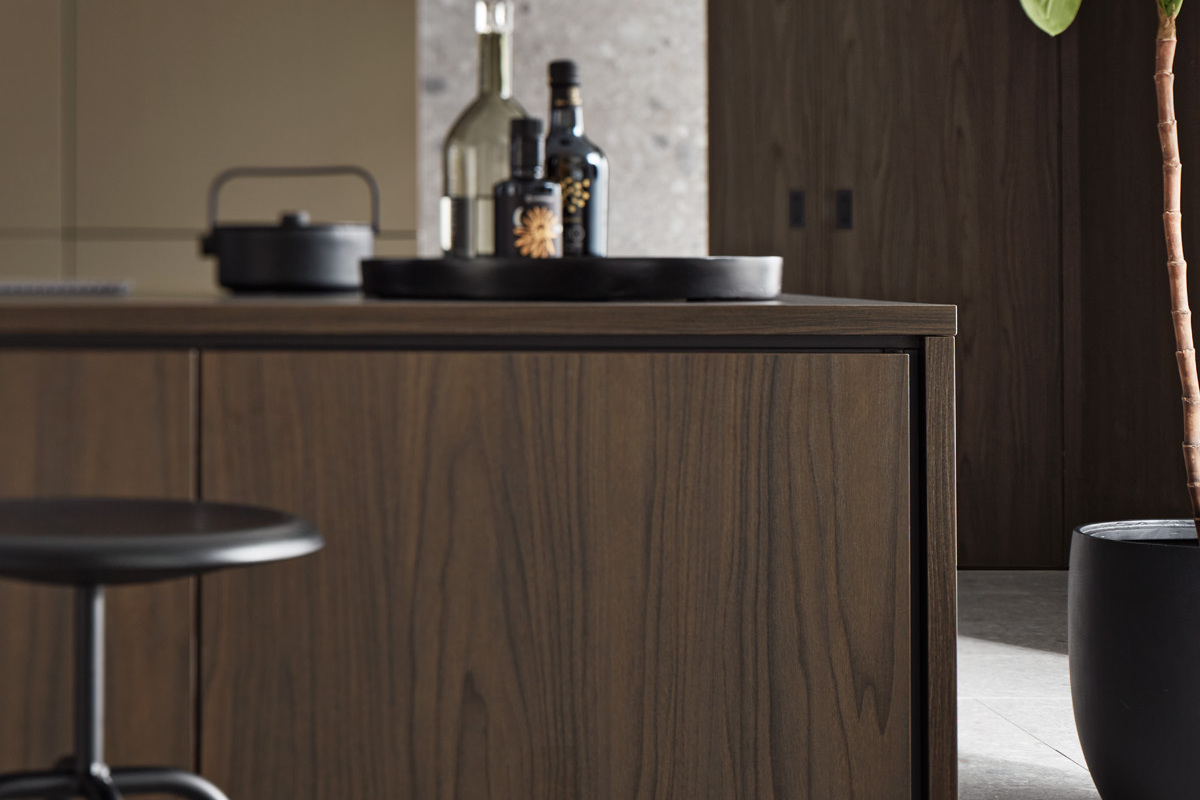 Shadow reveal
New, graphic, different – the 12 mm shadow reveal between front and side panel creates a completely new contour that adds a stylish designer element to every kitchen.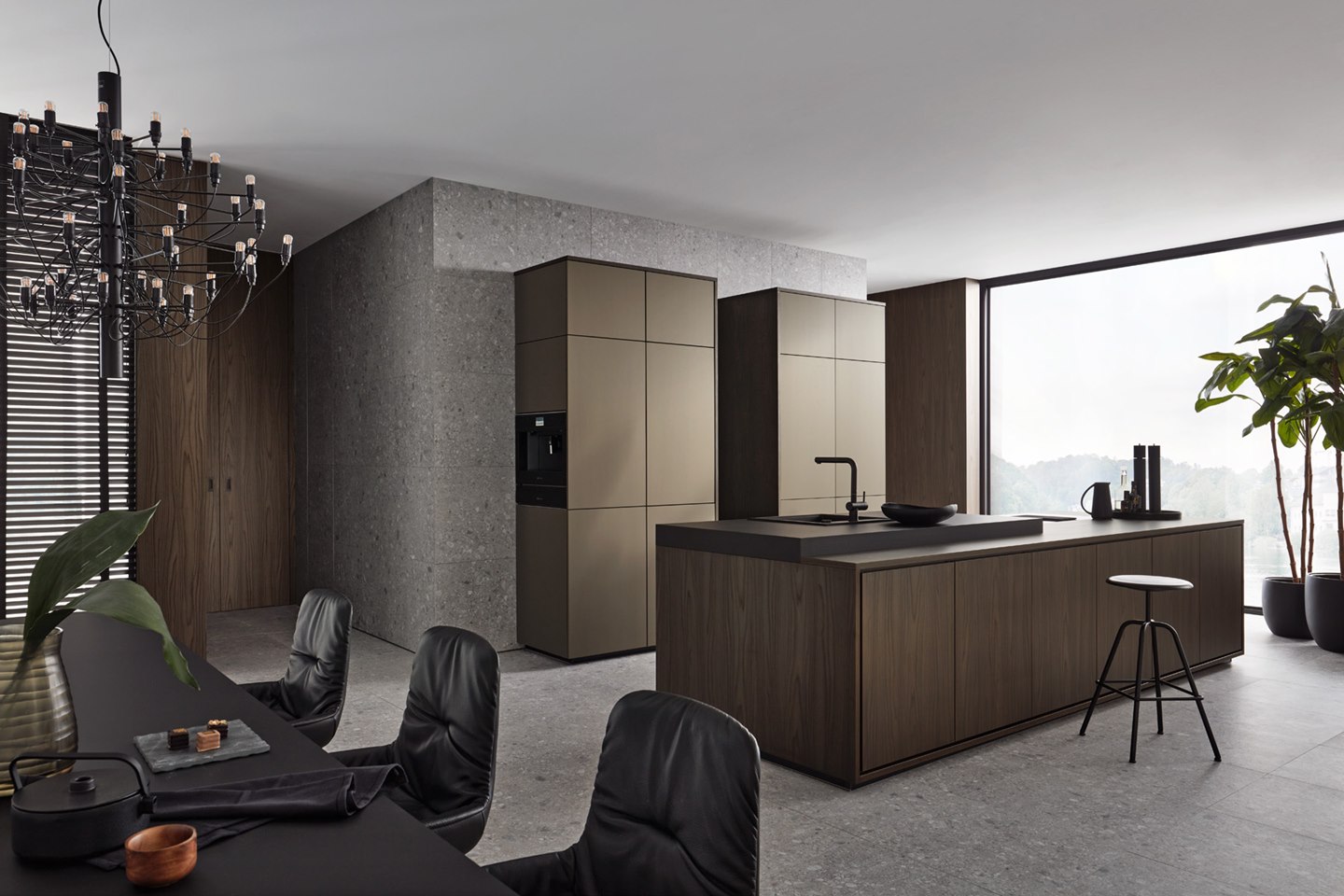 Highlights
neoPURE front in metal bronze | neoLEAF front in noce marone | Shadow reveal all round | MatrixZERO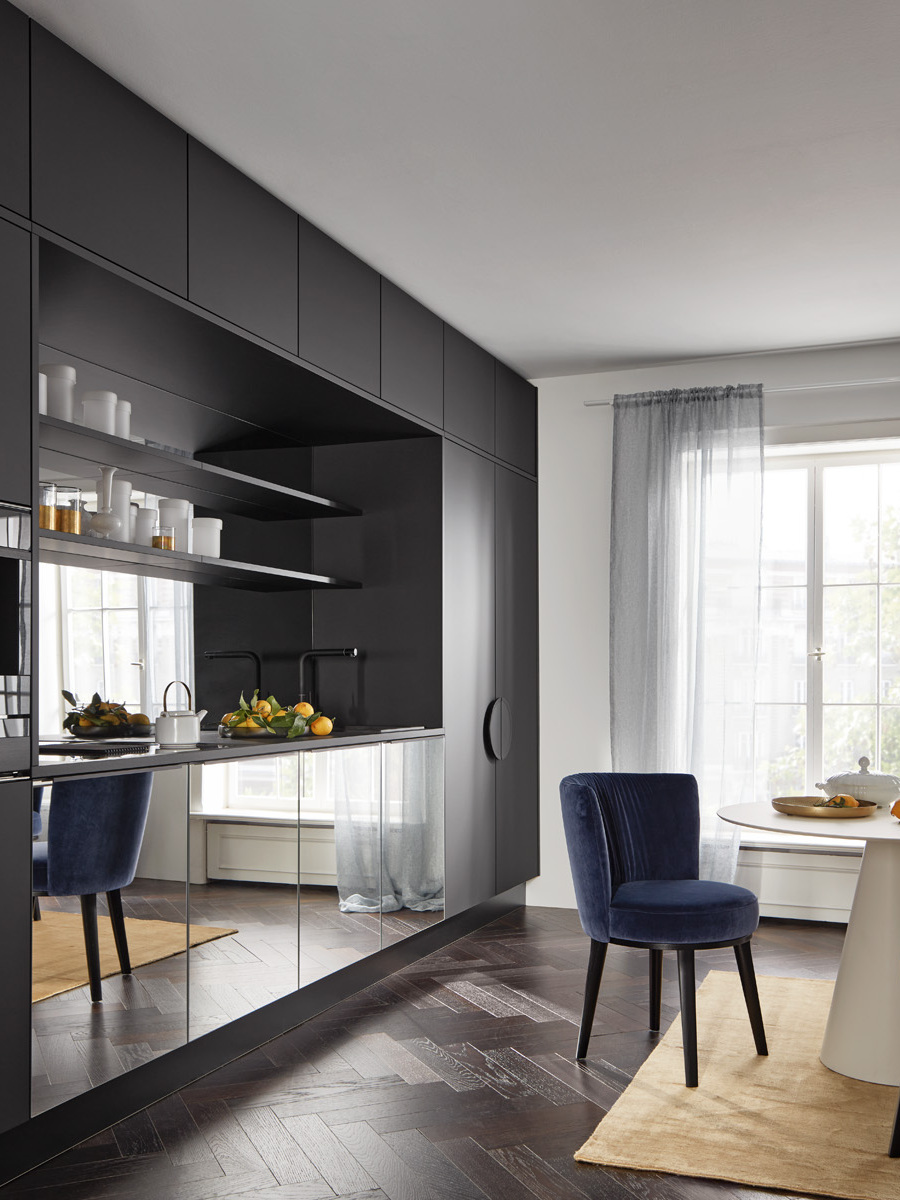 Staged with artistic talent
So inconspicuous you can hardly see it yet so conspicuous that you can't look away either - this kitchen ensemble is a veritable masterpiece that is perfectly integrated into the space, and the perfect example of a small kitchen with all the capabilities of a large one. A particular highlight is the neoMIRROR front which reflects the kitchen's extravagant design, replicating it with artistic competence.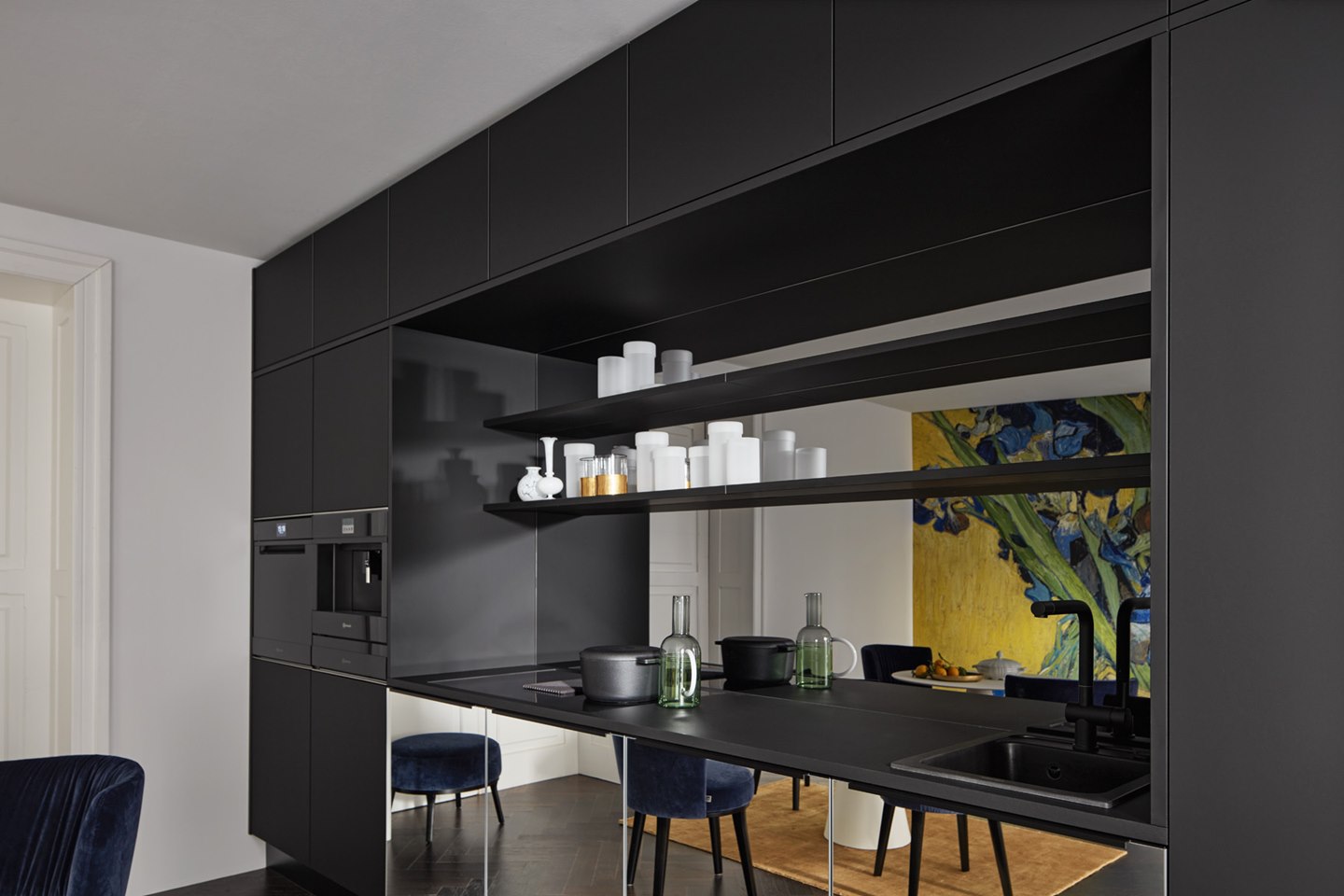 neomirror with mirror glass
The neoMIRROR designer front artistically sets the scene for every kitchen. The mirrored front is something that's truly exceptional. It gives the whole space a new dimension while at the same time making it an attractive focal point. The matching mirror glass splashback adds space to the kitchen and complements the whole composition.
Designer Handle
Above all, nolteneo is synonymous with the many ways of individualising a kitchen. Characteristic of this are exclusive nolteneo products such as the large, semicircular handles which, although discreetly understated in this kitchen, make stylish eye-catchers.
Highlights
neoMIRROR designer front | Splashback panelling with mirror glass  | Designer handle in black mat | Plus front in black soft mat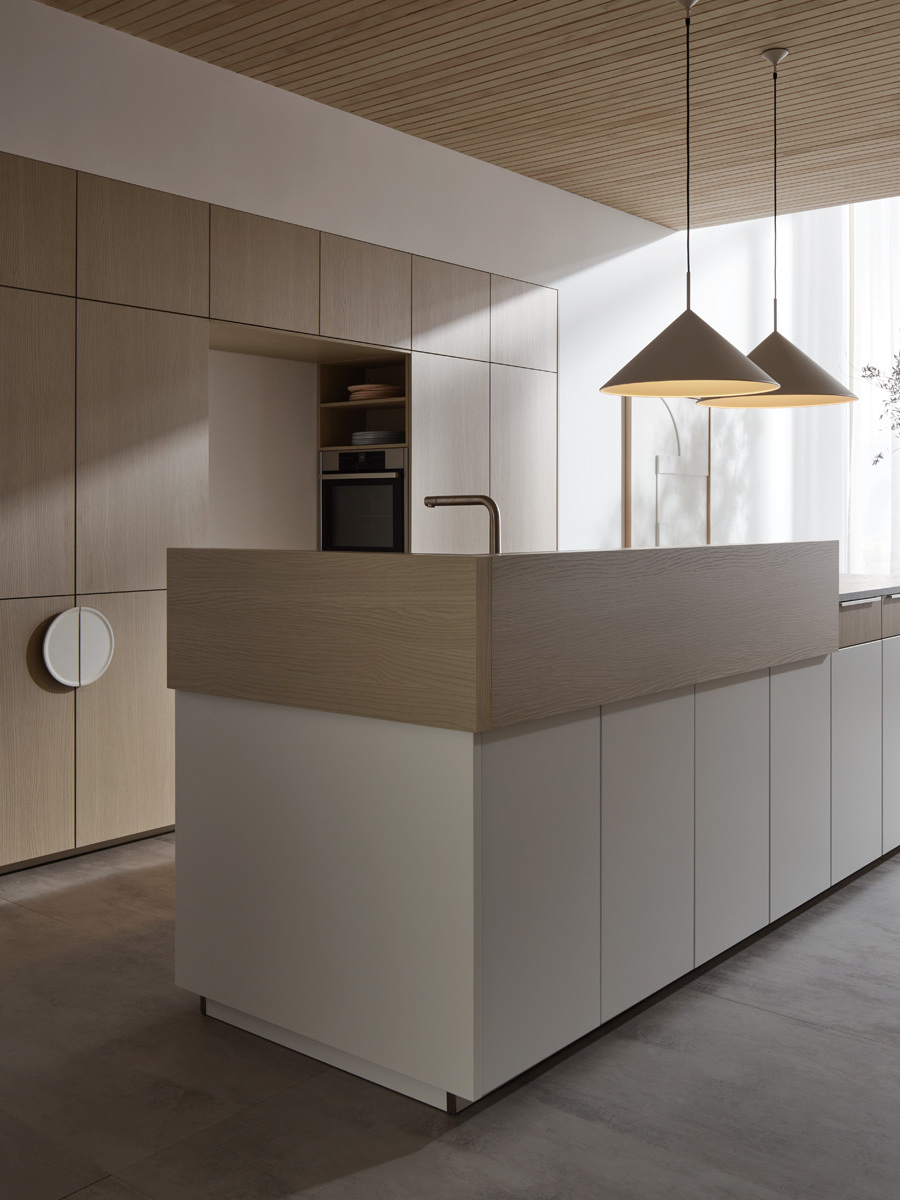 Scandinavian heaven
Designed with a look of openness, this is where white meets light-coloured timber in the form of the neoLEAF front in sand ash. No kitchen is more Scandinavian than this one. Integrated with purist finesse, a homely composition with built-in bench that emphasises this kitchen's flair.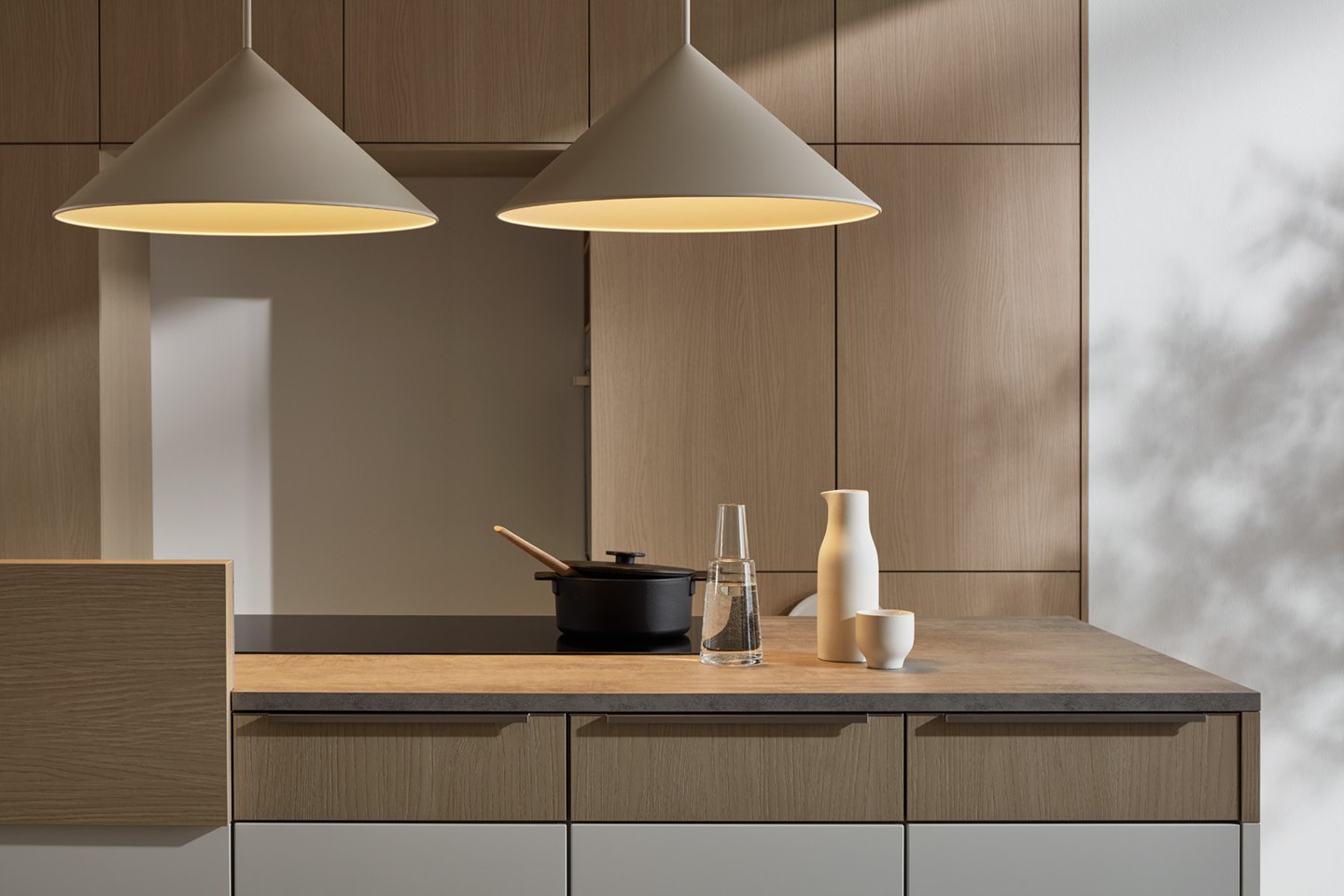 neoLEAF Front
The authentic timber reproduction of neoLEAF in sand ash brings a natural feel to every kitchen! Authentic in graining and texture, the front creates a feel-good atmosphere in every kitchen.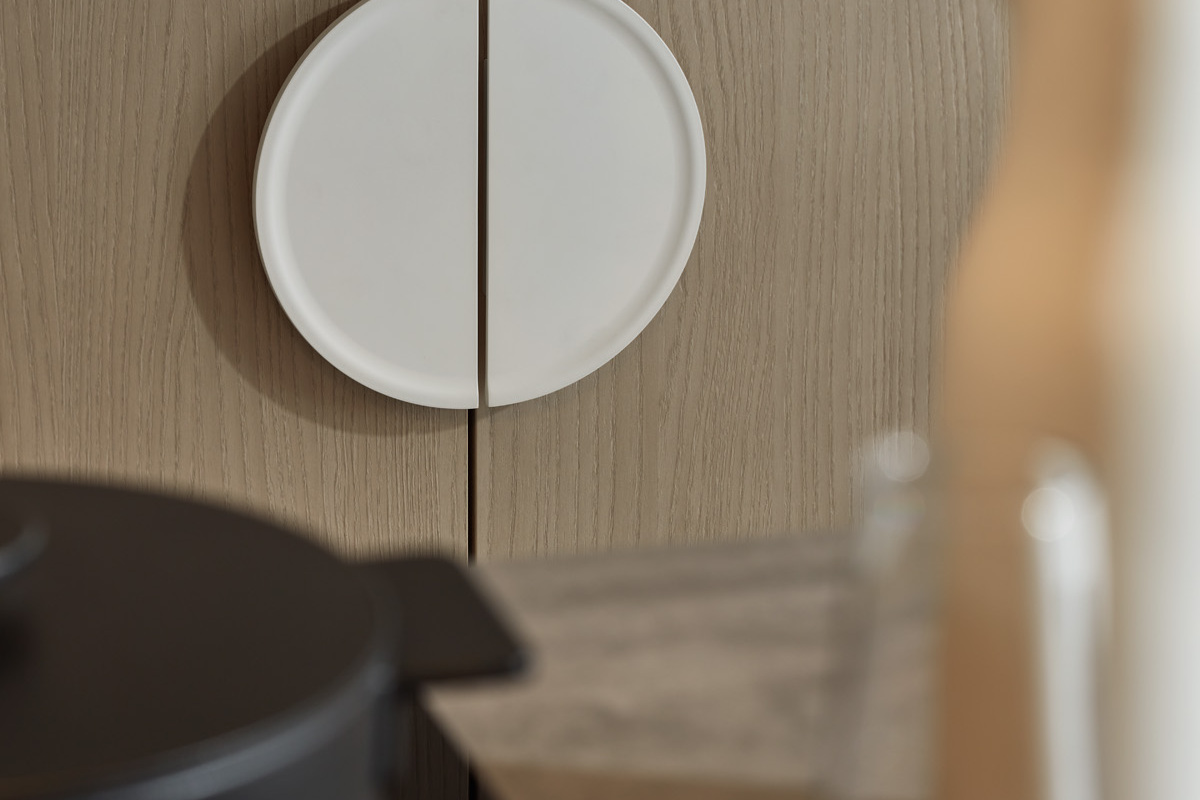 Designer handle
The stylish, decorative handle is available in white or black mat. In an otherwise handleless kitchen with uninterrupted fronts, the large-surface handlemakes a bold, eye-catching statement.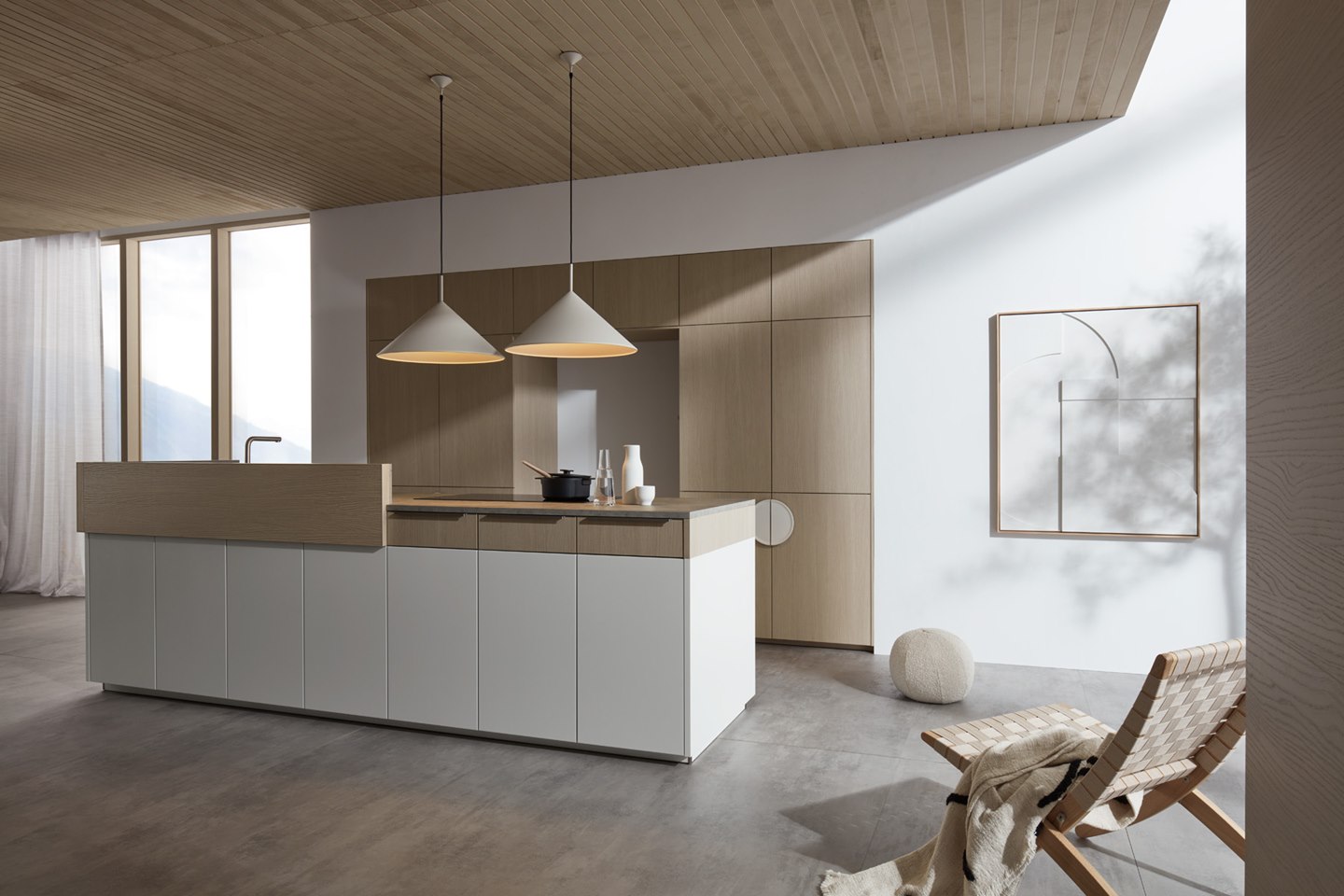 Highlights
neoLEAF front in sand ash | Designer handle in white mat | Soft Lack front in white soft mat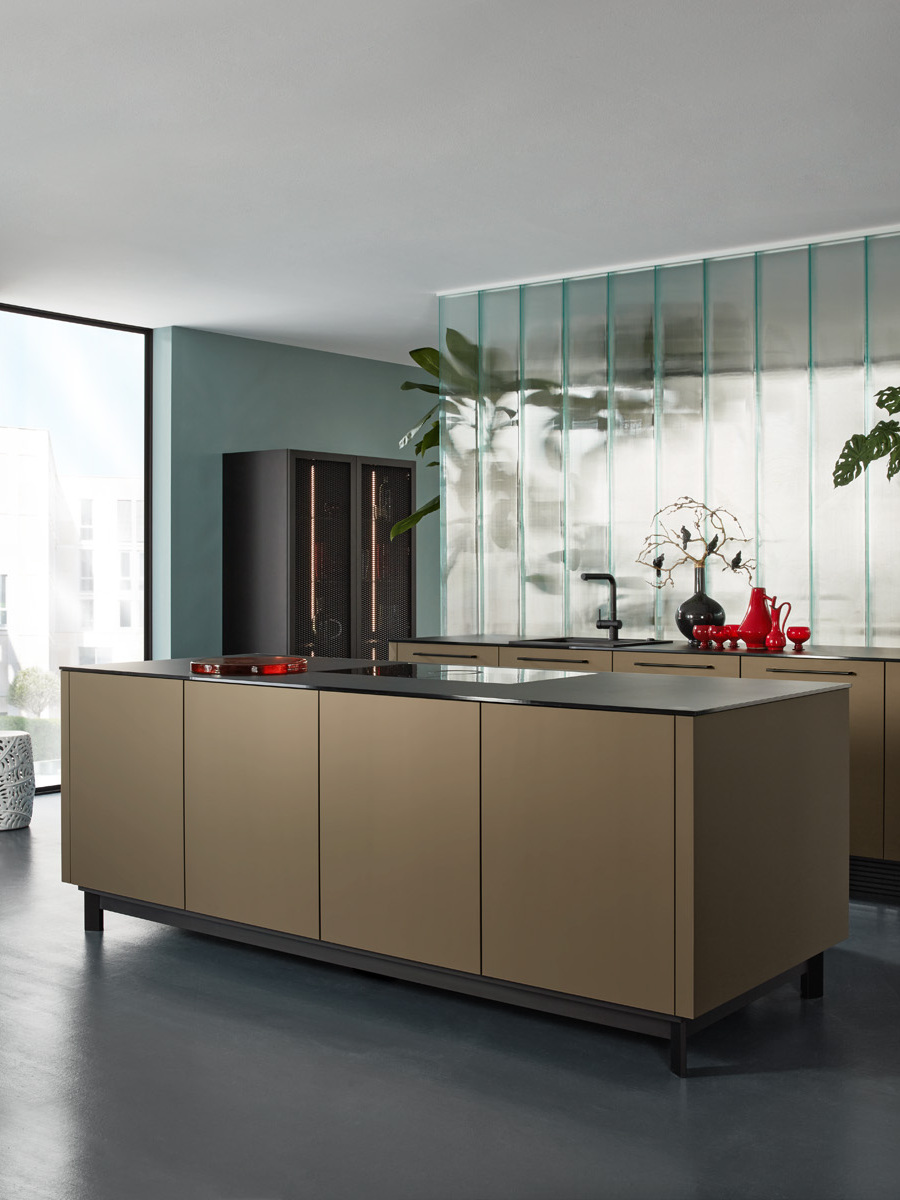 Urban jungle for purists
Entering the scene in a variety of materials, this kitchen appears to be set in an urban jungle environment with artistic mastery. Open styling and the absence of wall units conjure a feeling of freedom and spaciousness. In this scenario, not one but several nolteneo designer-style elements catch the eye. Accompanying the neoGRID tall units and neoLODGE loft-style, the neoPURE front in metal gold creates a warm contrast while at the same time underpinning this kitchen's modern countenance through the cooking island's plinth section.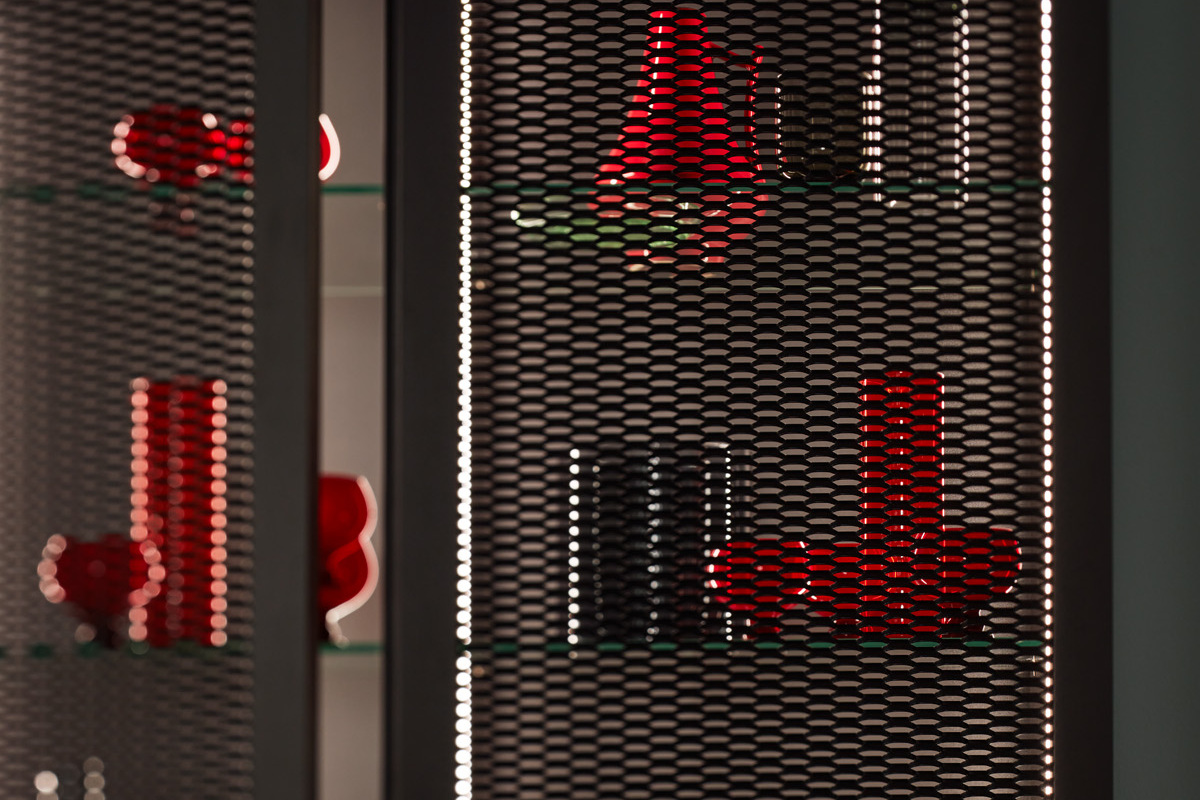 neogrid front
The neoGRID front really is one of a kind and makes a striking design element. This otherwise purist kitchen uses the aluminium frame with expanded metal in black to create a glass display cabinet, not only making it one of the kitchen's elements but also a stylish piece of furniture.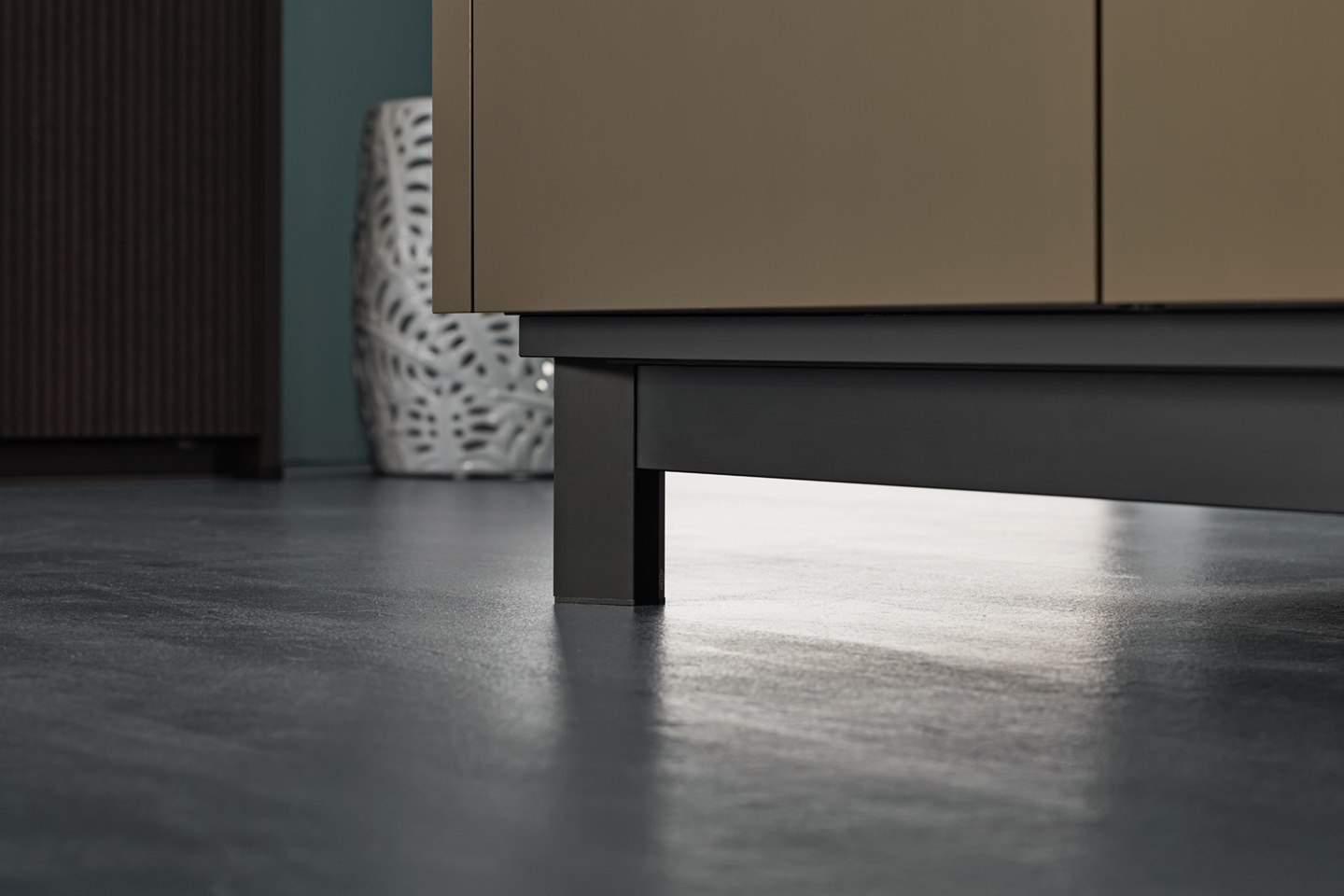 side cladding and plinth support
Side claddings in the same material as the front bring a modern twist to finishing the end of a cabinet row and for islands, an option previously only available for the MatrixArt handleless kitchen. This way, nolteneo lets you create a particularly high-quality and, at the same time, purist, perfectly balanced look. Uninterrupted side claddings in 600, 750 and 900 mm height are available for all nolteneo kitchens. One other distinctive feature is the nolteneo plinth support in black-finished aluminium which makes cabinet rows and islands appear to float. The plinth support is available in a height of 170 or 300 mm.
Highlights
neoLODGE front in blackened oak, grooved | neoPURE front in metal gold | neoGRID designer front frames in aluminium with black expanded metal | Cooking island with plinth support in black aluminium | neoPURE side claddings in metal gold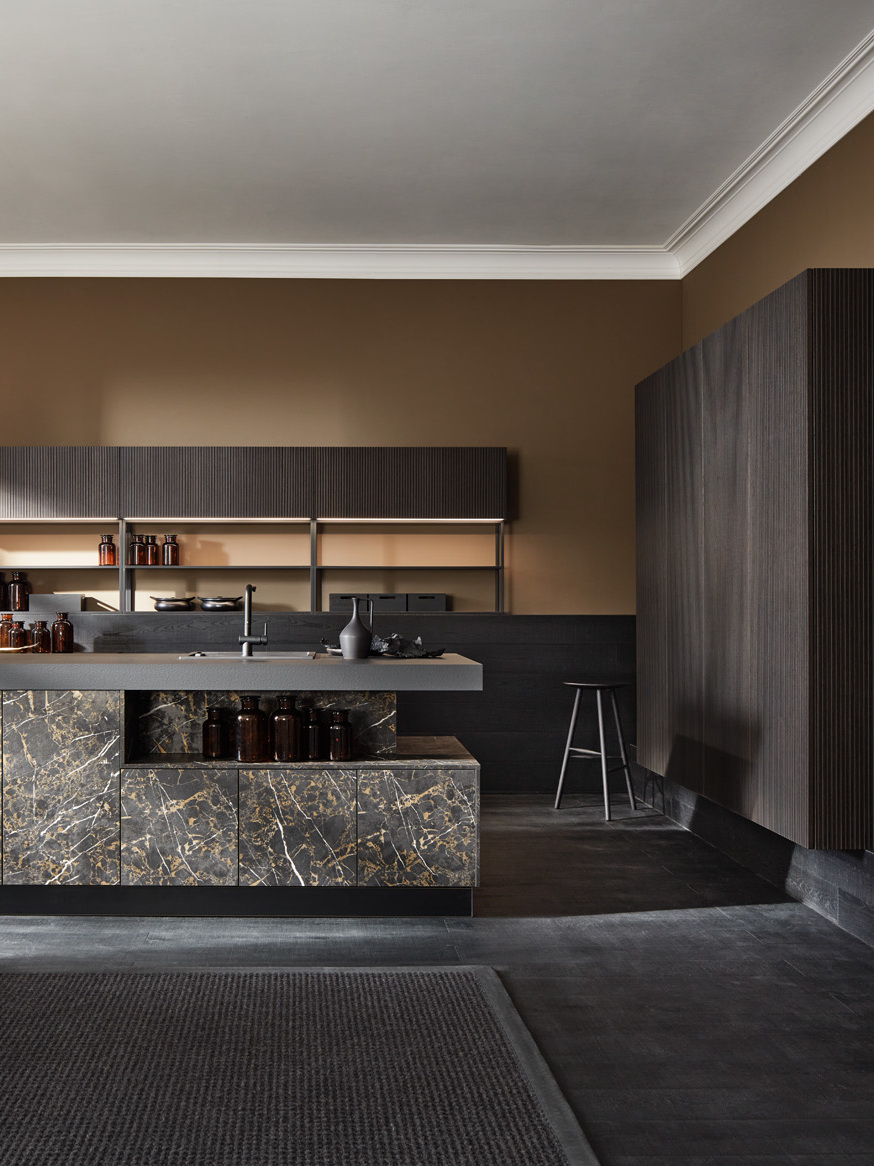 picturesque setting
This kitchen brings Mediterranean lifestyle to your home, turning every day into a holiday in a sunshine world. With its grooved texture, the neoLODGE rustic oak front contrasts wonderfully well with the mottled look of neoMARBLE to create a calm and peaceful ambience – staged with artistic acumen, this kitchen can become the new centrepiece in your home.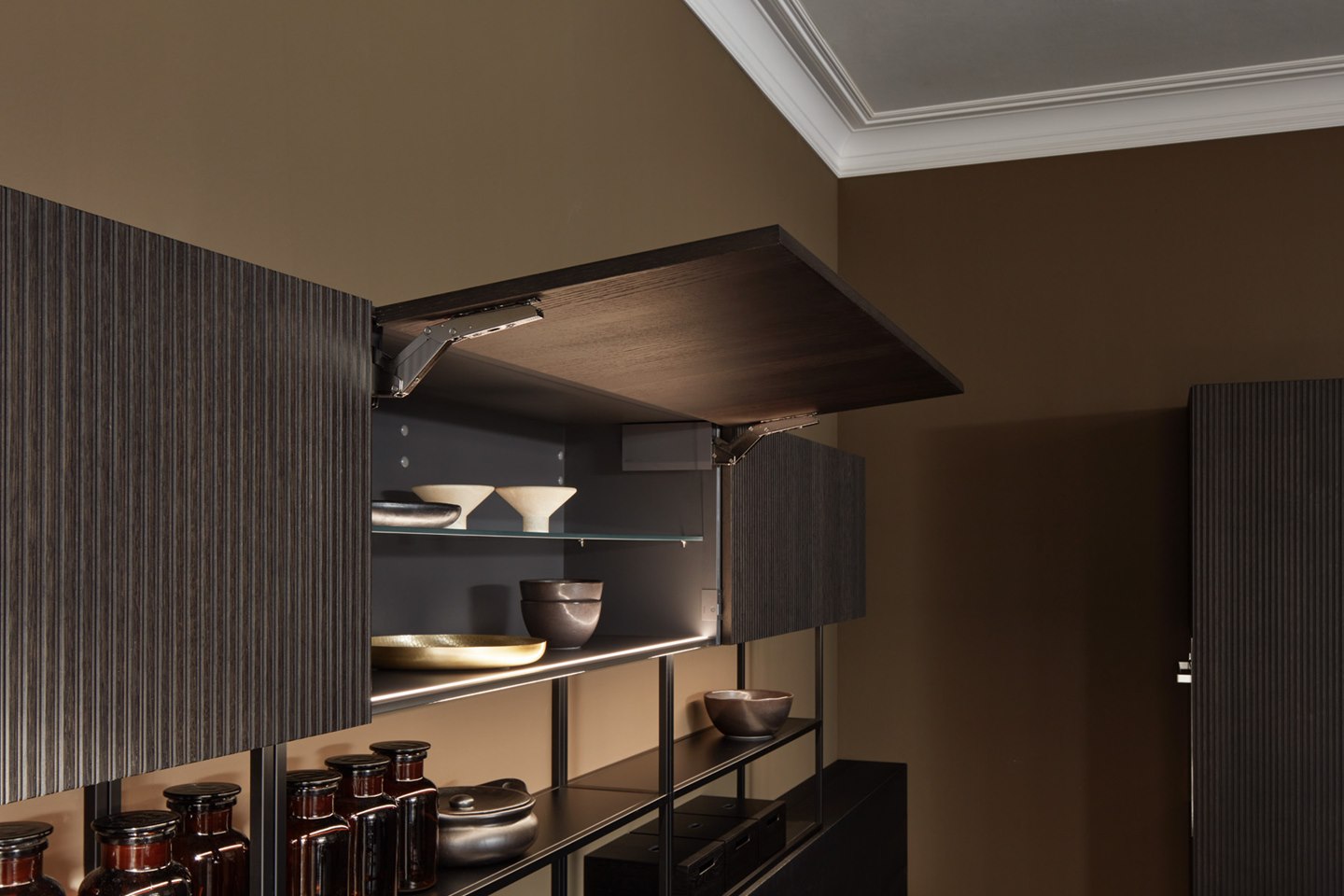 Wall unit
Wall units are a practical way of providing more storage space in a kitchen. In this kitchen ensemble, the classic layout of wall units is dispensed with and takes on a more relaxed look with open shelves. But it is not only worthwhile taking a look on the outside – this kitchen also impresses from the inside: integrated lighting is not only practical, but also creates a warmly lit ambience every time a door is opened. The high-quality adjustable shelves in glass let the light through and make the entire cabinet shine in a wonderful glow. What's more, the cabinet can be opened with PUSH-TO-OPEN electrical assistance.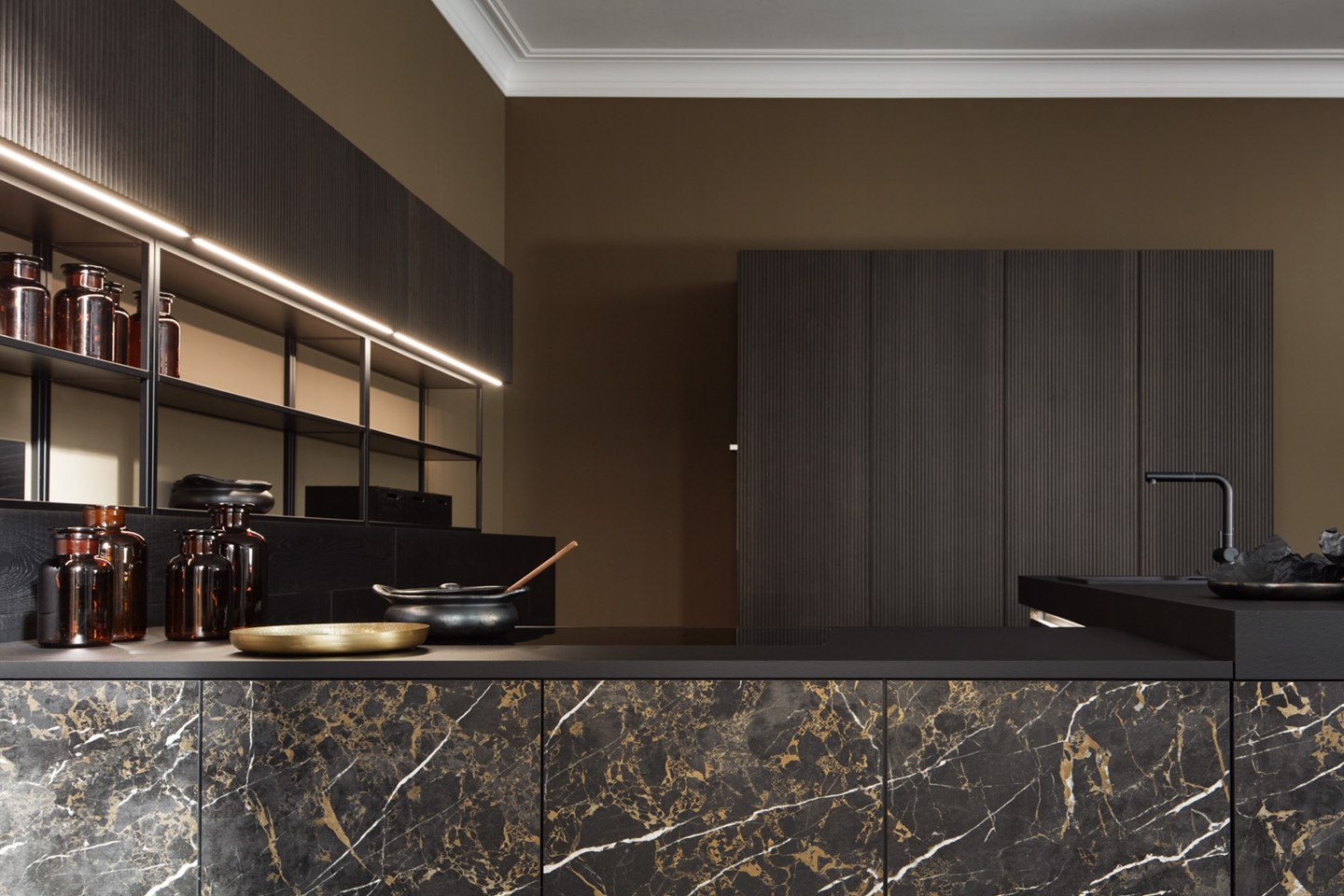 neolodge and neomarble fronts
neoLODGE:  This unusual front in blackened oak captivates with its vertically aligned grooved look. Blackened oak is exceptionally versatile and can be featured on everything from cooking island to wall unit. Its black-brown colouring makes it a contemporary yet modern classic. neoMARBLE: Marble-look finishes have been highly fashionable again for a number of years now. Marble looks elegant and tends to be used to provide accentuation in combination with modern materials. The neoMARBLE front can be combined particularly well with a dark worktop and gives every kitchen that certain something.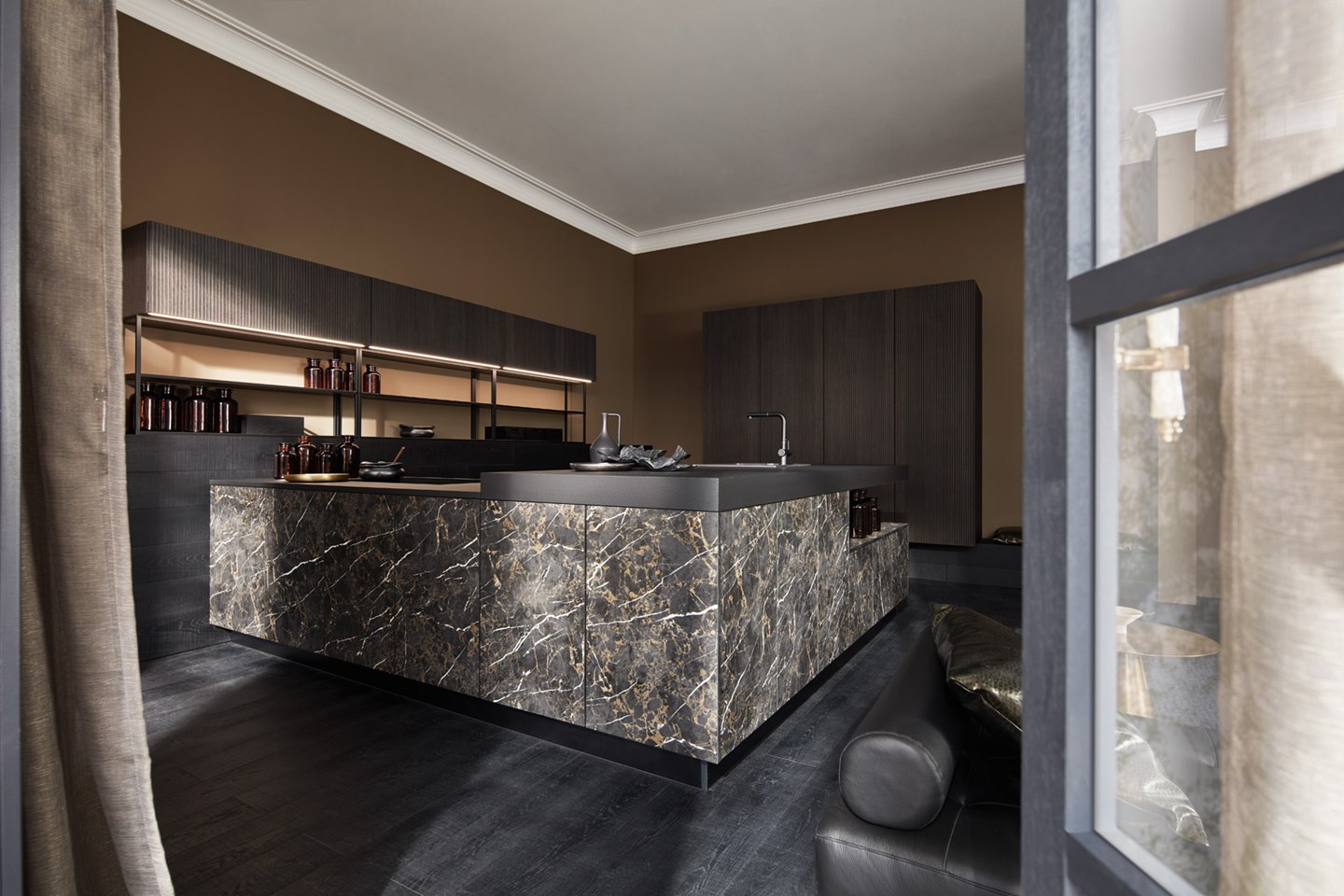 Highlights
neoLODGE front in blackened oak, grooved | neoMARBLE front on black marble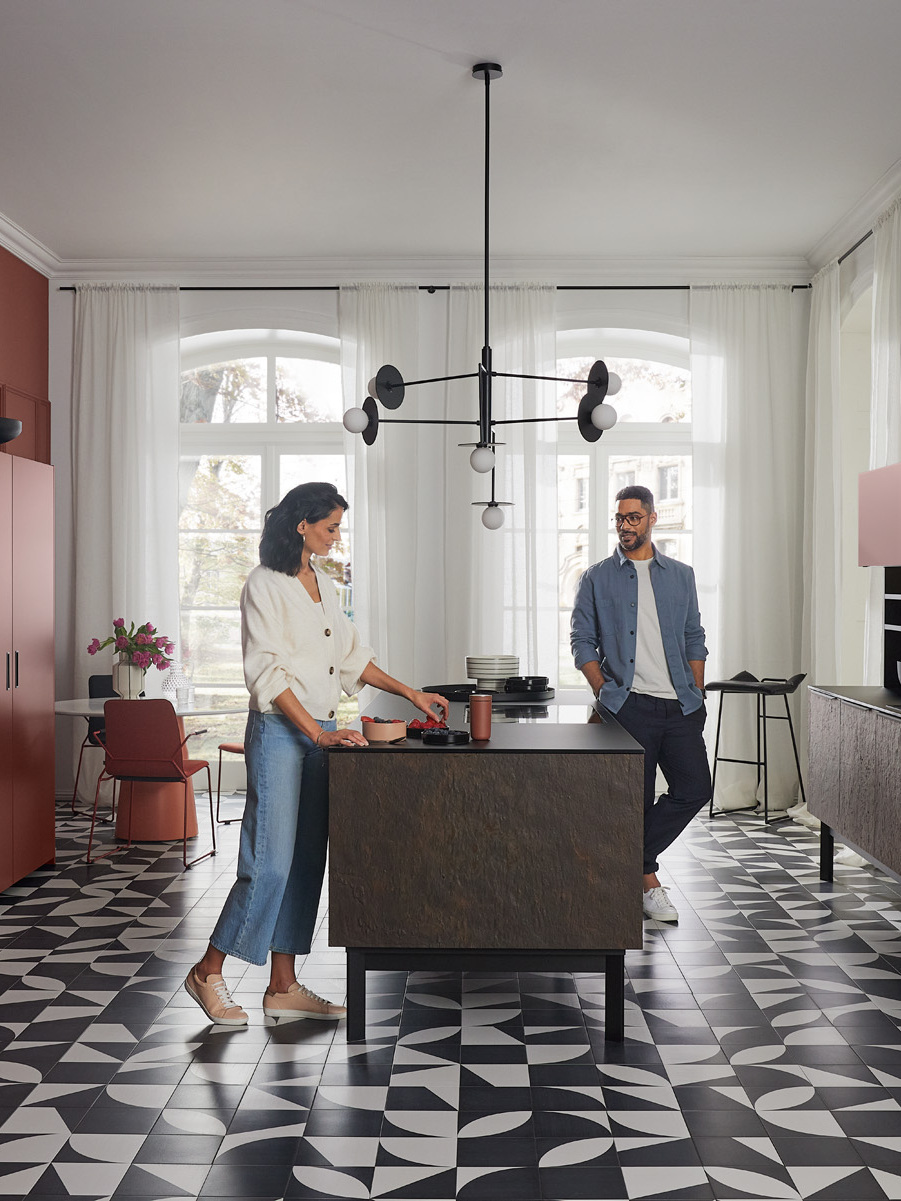 Urban extravagance
High ceilings, rooms flooded with light, ornate coving – old-property charm meets natural stone garnished with urban lifestyle. neoSLATE in black rosato slate makes a bold statement. In combination with the henna red surrounding elements, the stone veneer front is a veritable eye-catcher. A modular design with concealment doors on the one side and, appearing to float on the plinth frame, the island and sink block on the other.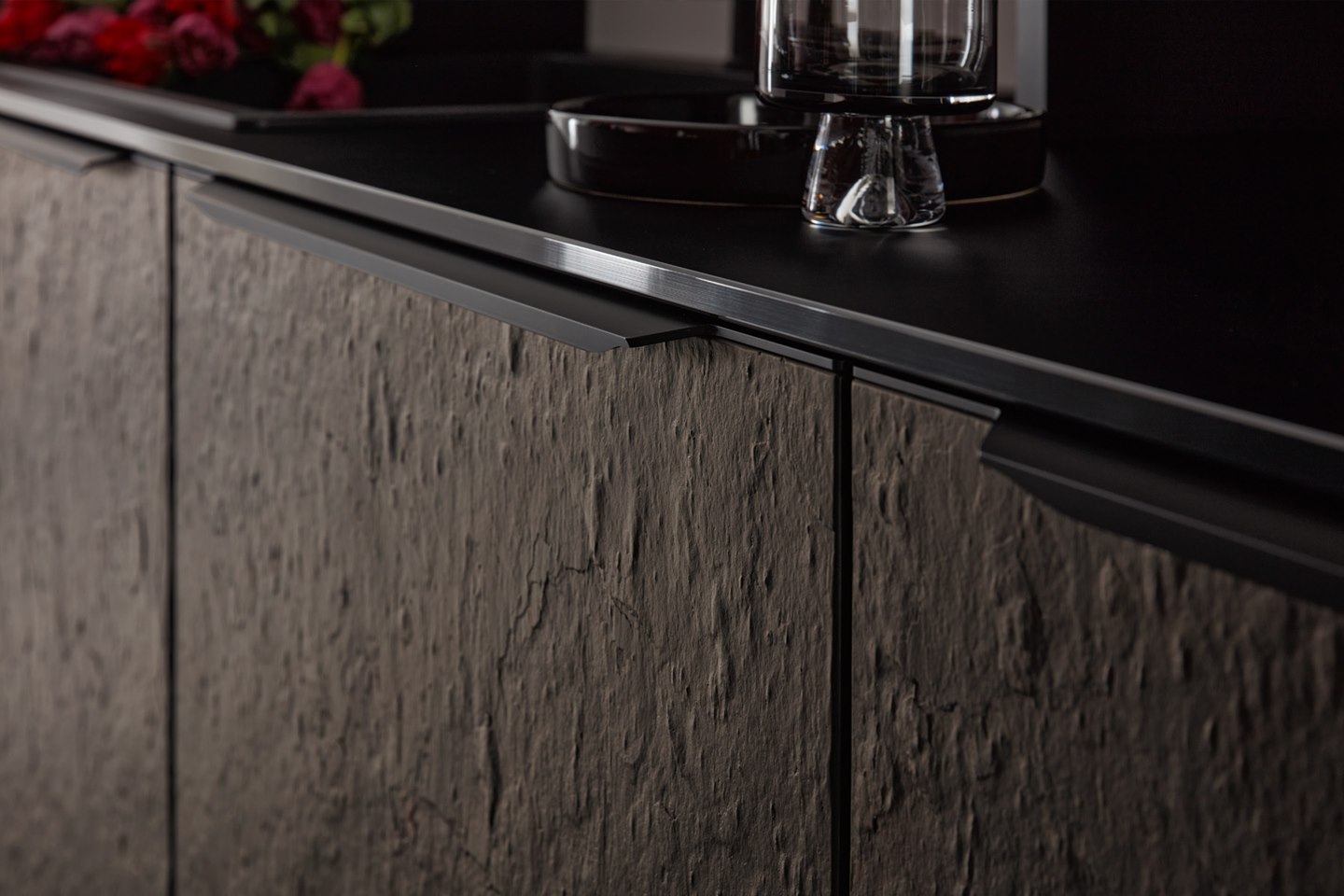 neoslate front
The neoSLATE front is a unique stone front with a three-dimensional slate surface. Looking sonatural, this front comes with very special aesthetic appeal.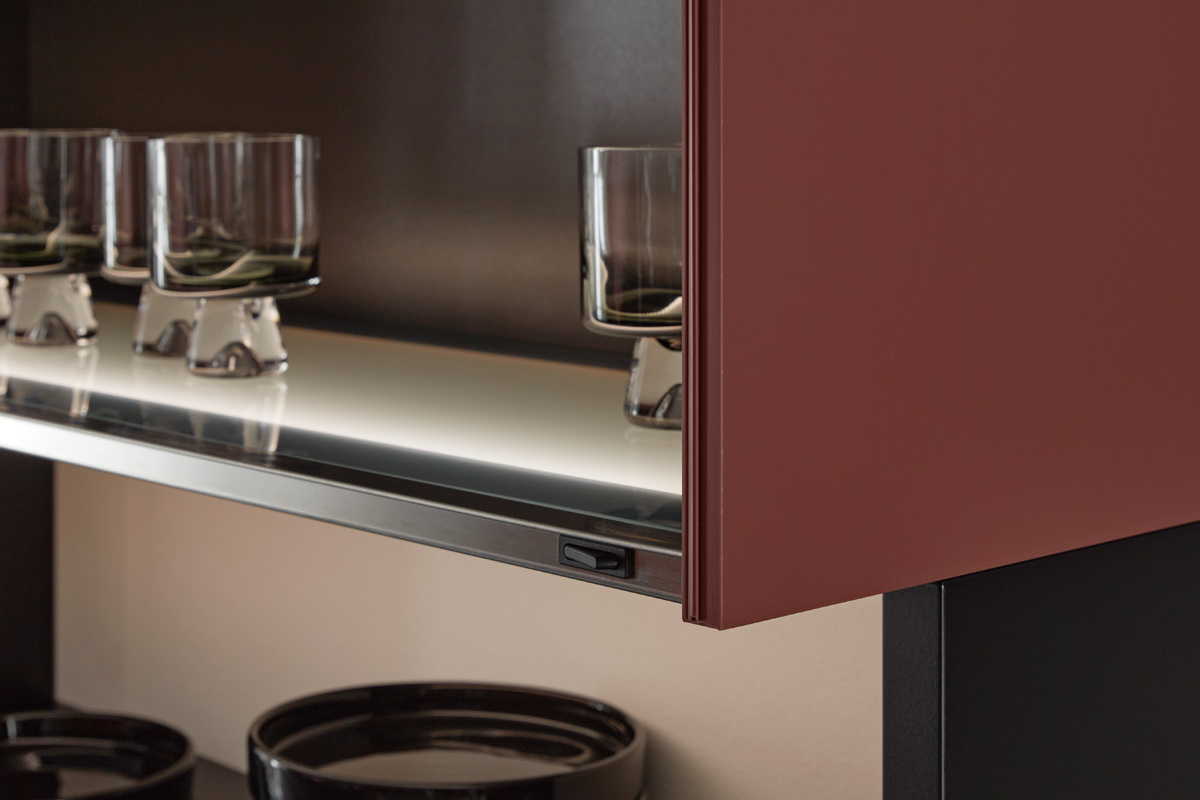 visible sides
One aspect that makes nolteneo kitchens so special is the extensive selection of visible sides in mat lacquer, high-gloss lacquerand veneer on any chosen carcase interior colour. The extended visible sides logic no longer ties you to just one colour for the carcase interior. These can be combined with different fronts in any way to provide a perfect match with your chosen front or to create a striking contrast – entirely to suit your very own particular taste.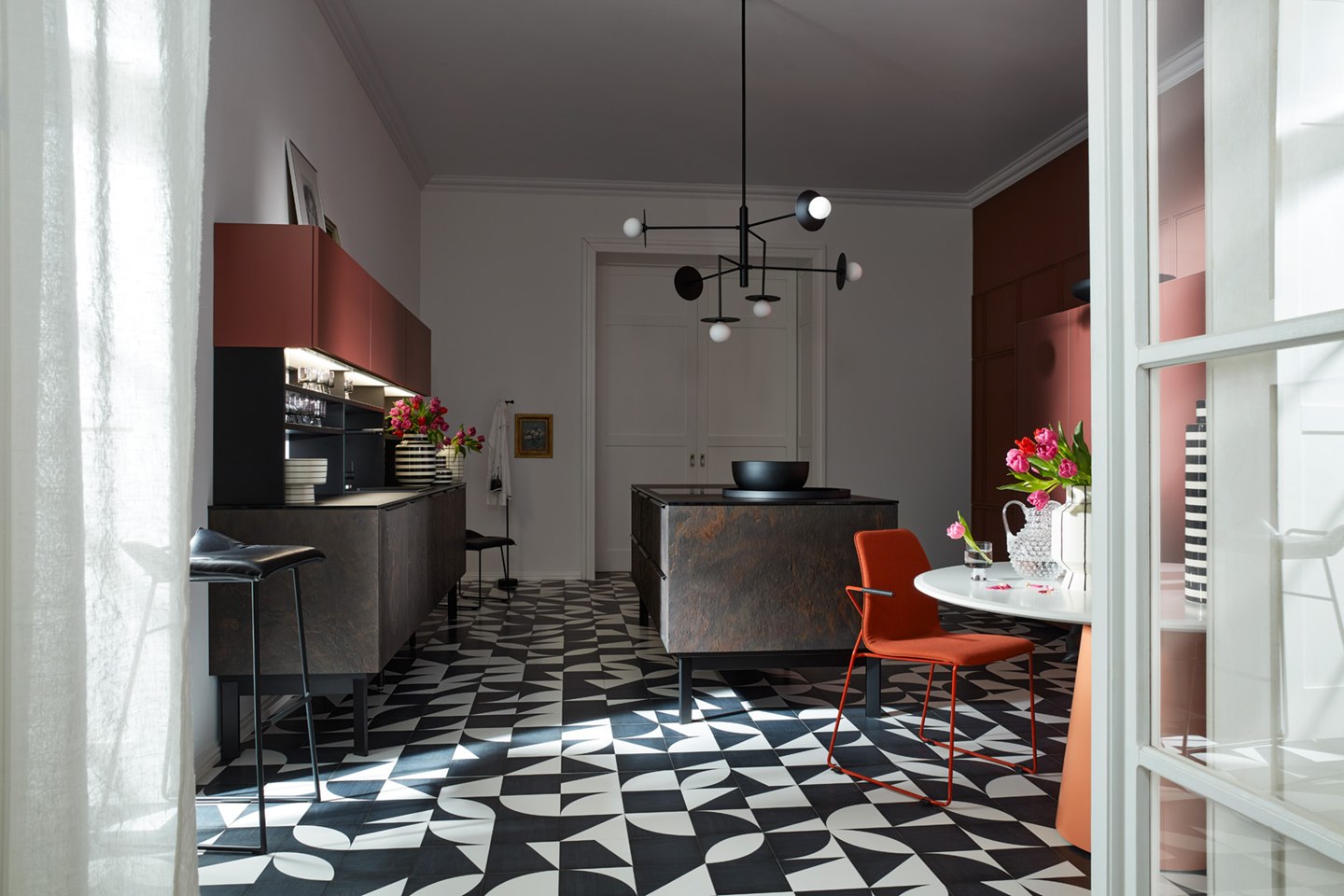 Highlights
neoSLATE front in black rosato slate | Plinth support in black aluminium for unit rows or island solutions | Visible sides in any chosen finish | neoSLATE side claddings in black rosato slate | Soft Lack front in henna red soft mat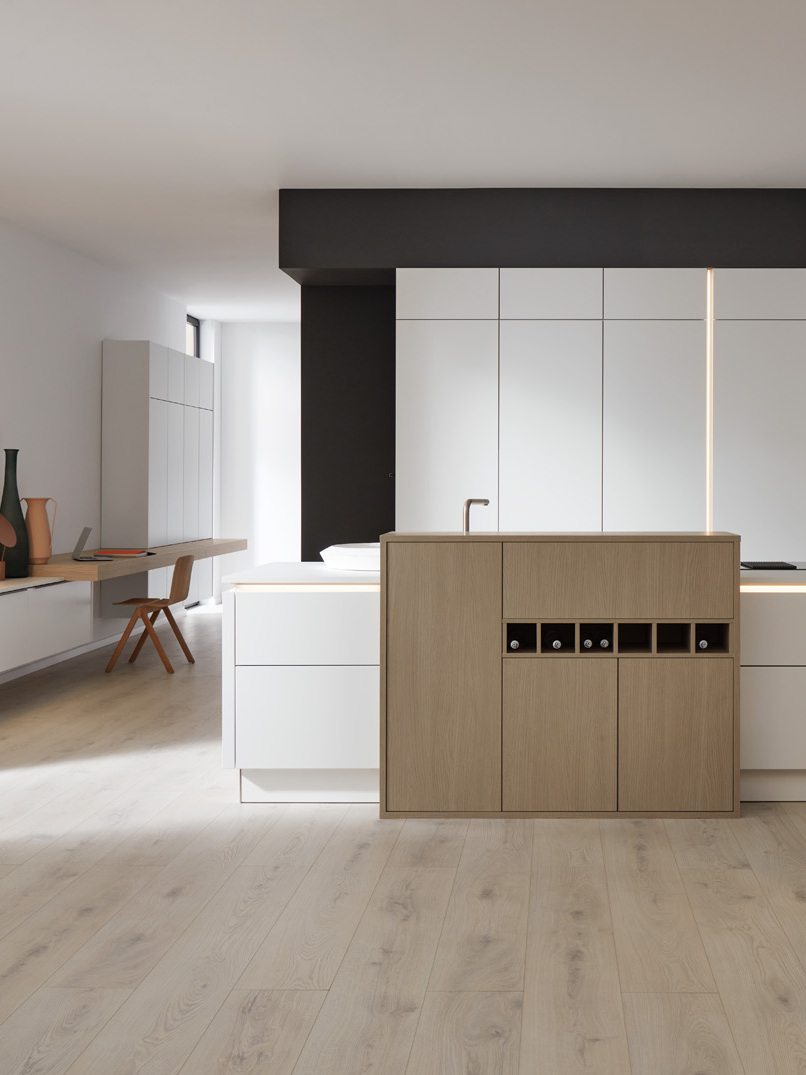 Simply delightful
Kitchens with light-coloured fronts are as popular as ever because they integrate well into different spatial concepts, are discreetly understated and easily complemented with all sorts of designer elements. Exclusive nolteneo products offer a comprehensive range of planning options to feature precisely those detail solutions you want your dream kitchen to have.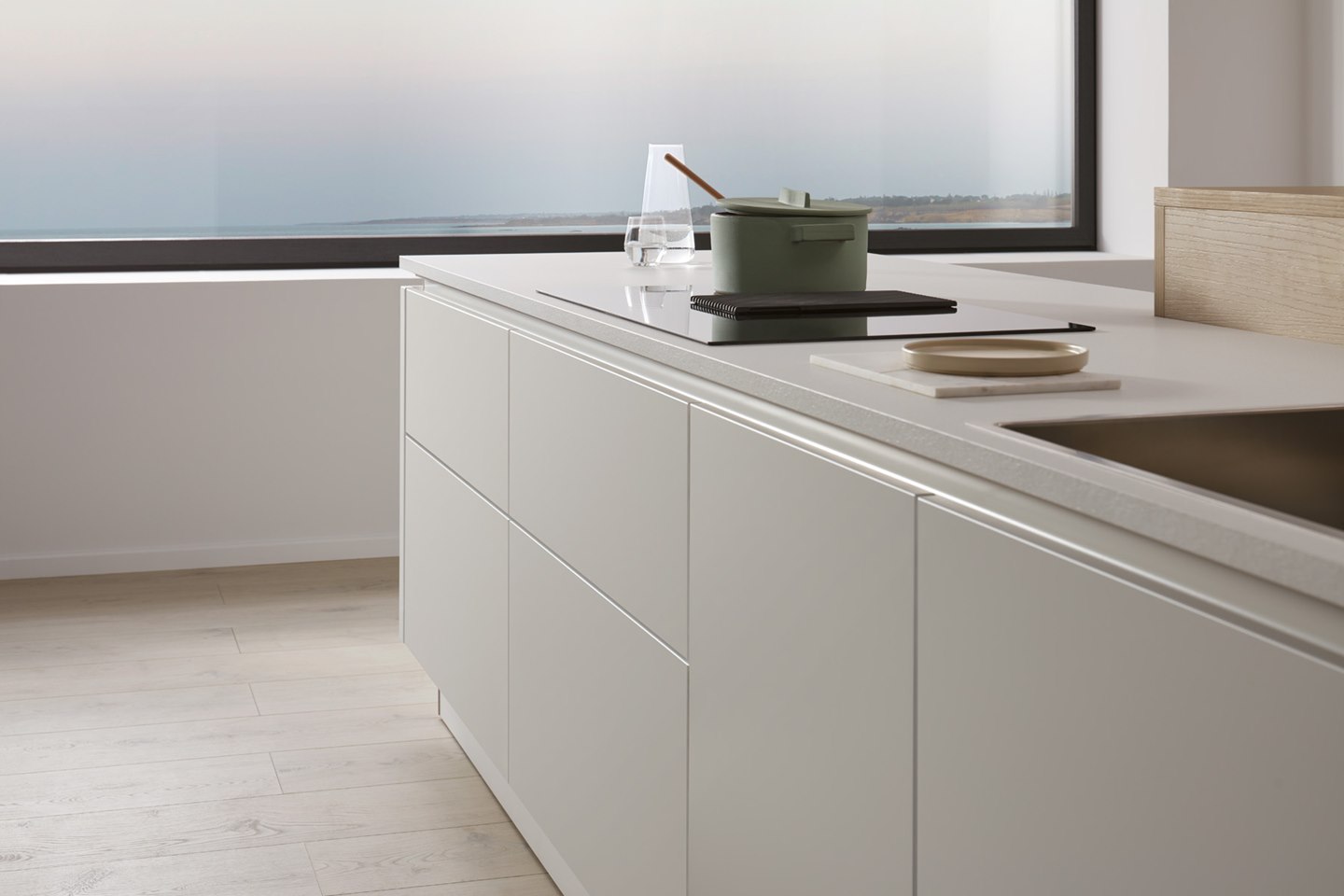 Matrixart one
In this kitchen, the MatrixArt ONE handle trim profile forms a lovely contrast with the classic white soft mat front and the white worktop in stone look. Particularly in the evening, the handle trim profile with integrated lighting can be a stunning eye-catcher and also add a good measure of warmth to lighter-coloured kitchens.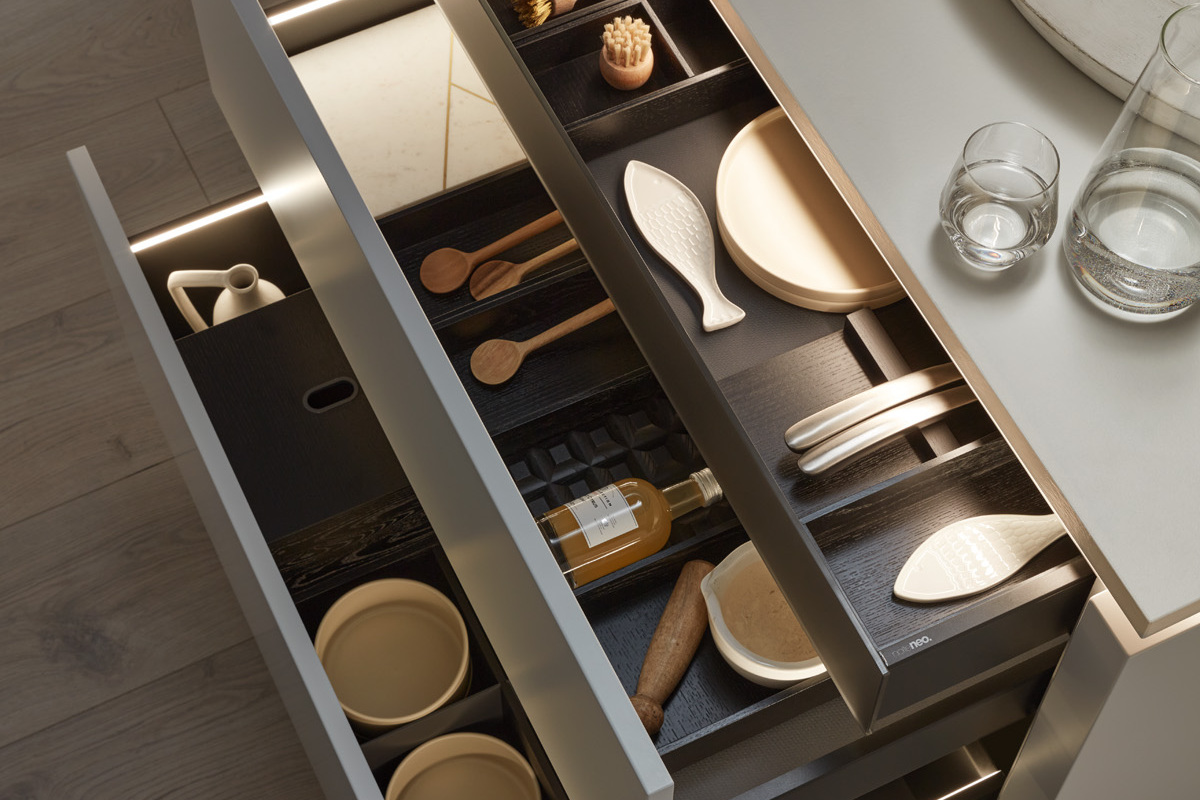 Interior organisation
Everything in order in the kitchen – true to this motto, nolteneo also gives you a wide range of options for practical interior organisation solutions to go perfectly with your kitchen. From saucepans to tableware, from cutlery to sorting waste – not only are drawers and pullouts perfectly organised with nolteneo, they can also be provided with optional lighting at the side. Fitted on the right and left of the drawer side frame, the LED lighting strip conjures atmosphere and shows where everything is when the drawer is opened. The system automatically switches off on closing, which means that the rechargeable battery (included) only needs recharging after around 450 – 700 opening cycles.
Highlights
neoLEAF front in sand ash | MatrixArt ONE | MatrixArt ONE with PUSH-TO-OPEN for pull-outs | Soft Lack front in white soft mat