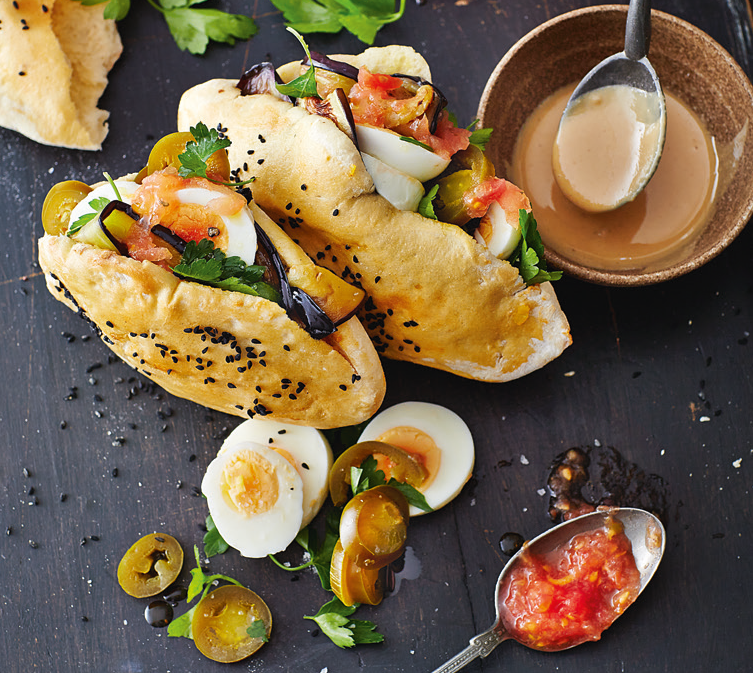 Recipes
Aubergine tahini sabich sandwich
Oriental-style sandwich, refined with the best ingredients from this diverse culture.
For the recipe you need:
3 eggs
10 stems parsley
2 aubergines (600g)
150ml oil
70g tahini
4 tbsp lemon juice
½ tsp sugar
sea salt, pepper
2 tomatoes (150g)
4 pittas
16 slices pickled jalapeño peppers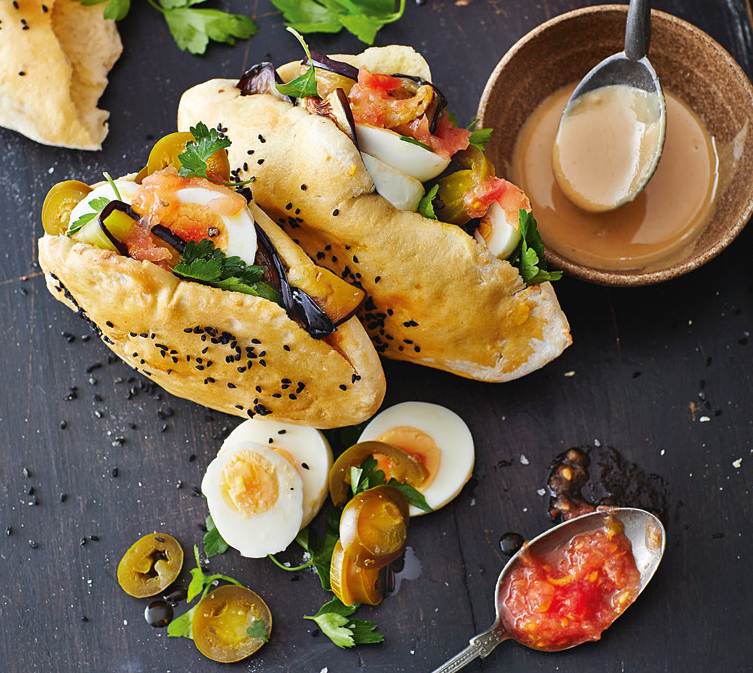 Preparation:
Boil the eggs for 8–10 minutes until hard-boiled, rinse under cold water and set aside. Wash and pat dry the parsley, pull the leaves off the stems and chop them. Wash the aubergines and remove the stem ends, then cut them lengthways into ½cm slices.
Heat half the oil in a frying pan, then fry the aubergines in batches over high heat on both sides, adding the rest of the oil as required. Drain the slices on kitchen paper.
Combine the tahini, lemon juice, 2 tbsp water, sugar, a pinch each of salt and pepper to make a dressing. Wash and halve the tomatoes, remove the stem ends, then coarsely grate the flesh. Shell and thinly slice the eggs.
Cut the pittas in half but not all the way through and open them as pockets. Fill each pita with 3 tsp of the tahini paste, 1 tbsp chopped parsley, 4 slices jalapeños, 2 slices aubergine, 4 slices boiled egg and 1 tbsp grated tomatoes.
We wish you a lot of fun making them!