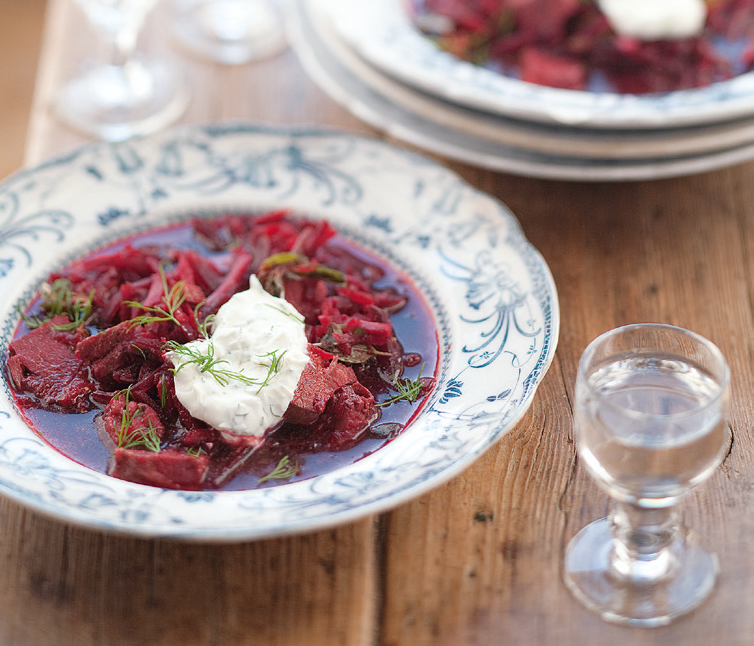 Recipes
Borscht
The soup is particularly widespread in Eastern and Eastern Central Europe, traditionally prepared with beetroot, which not only gives it a very nice color, but also makes it taste very delicious.
For the recipe you need:
750g lean stewing beef
2l meat stock (or water)
2 onions
1kg beetroot
3 fat carrots
1 parsley root
½ bunch marjoram (or 1 tbsp dried marjoram)
3 tbsp butter
2 tbsp plain flour
2 bay leaves
salt
white pepper
3 stems dill
200ml sour cream
3–4 tbsp white wine vinegar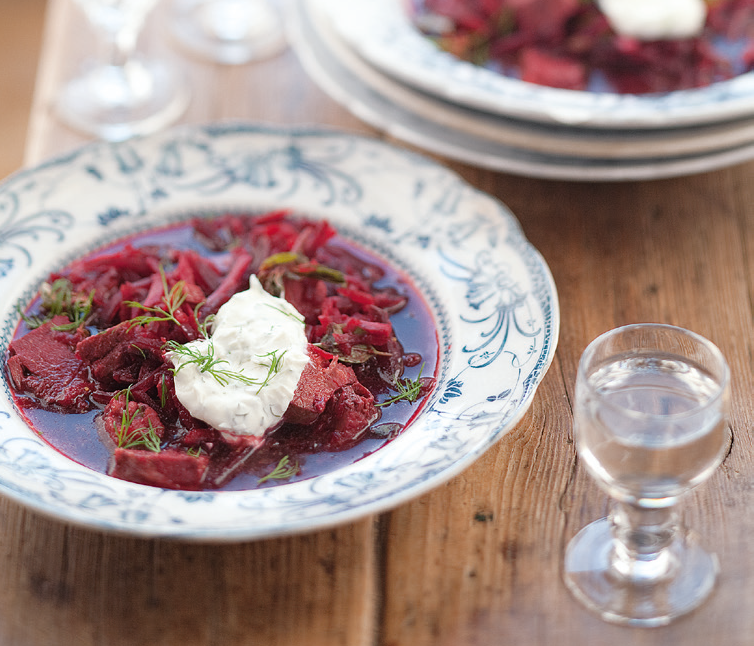 Preparation:
In a large saucepan, cook the beef in the broth over medium heat for about 1 hour. Peel and chop the onions. Peel and separately grate the beetroot, carrots and parsley root into strips. Pull the leaves off the marjoram stems and chop.
Melt the butter in a large pan with a lid. Add the onions and sauté over medium heat. Add the carrots and parsley root, and sauté for 2 minutes. Add the beetroot, dust with flour and sauté for another 3 minutes, stirring all the time. Pour in at least 1½ l stock (or water), add the meat, marjoram and bay leaves. Season with salt and pepper. Cover and simmer over low heat for 30 minutes.
Take out and chop the meat, then cook for another 10–15 minutes until tender. Pull the leaves off the dill stems, chop and stir them into the cream. Season the borscht with vinegar, salt and pepper. Divide the soup between bowls and garnish with a dollop of dill cream. Serve with bread or boiled potatoes
We wish you a lot of fun making it!