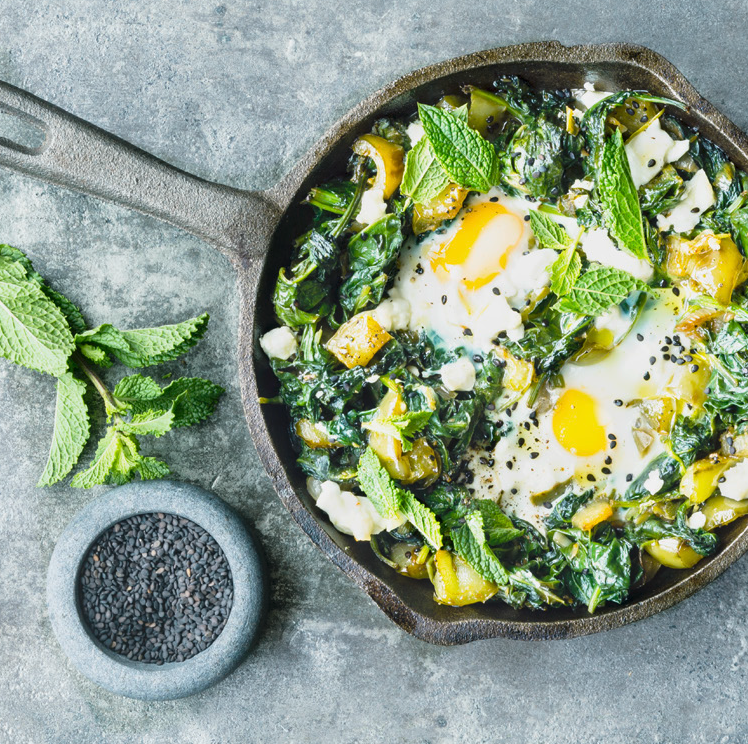 Recipes
Green spinach shakshuka
The Israeli national dish can be eaten for breakfast, lunch or dinner and tastes delicious no matter what time it is!
For the recipe you need:
1 green pepper
500g spinach
1 bunch spring onions
2 garlic cloves
1 organic lemon
2 tbsp olive oil
salt | pepper
1 tsp cumin
4 eggs
150g feta cheese
4 stems mint
2 tsp nigella seeds
Plus 4 ovenproof dishes (15cm diameter)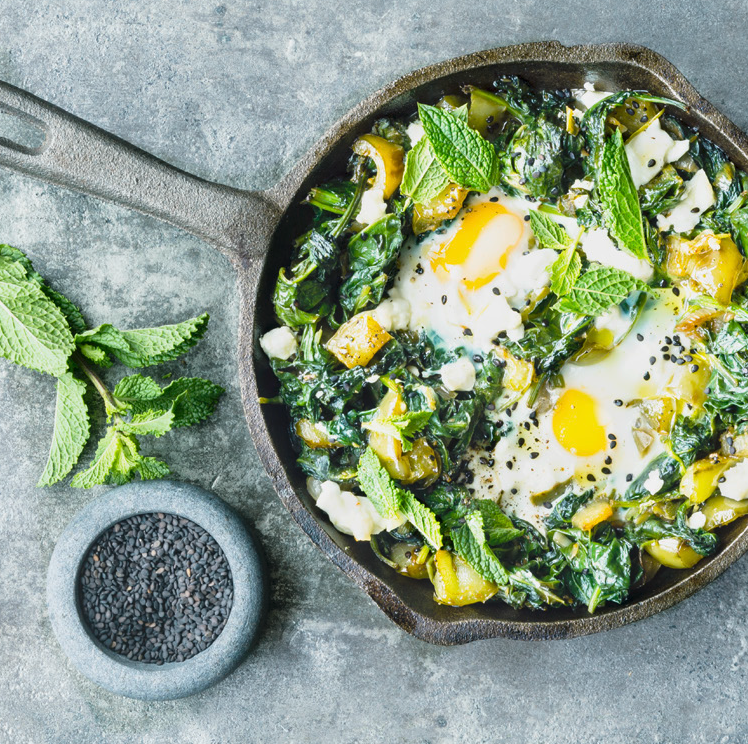 Preparation:
Wash and halve the pepper, remove the membranes and the seeds, then chop the flesh into small cubes. Wash and drain the spinach, then coarsely chop it. Trim and wash the spring onions. Cut the white and green parts separately into thin rings. Peel and finely chop the garlic. Wash the lemon under hot water, pat dry, finely grate the zest and squeeze out the juice of one half. Heat the olive oil in a frying pan. Add the pepper and the white spring onion rings and sauté briefly. Add the green parts of the spring onions, the spinach and the garlic, heat through until the spinach wilts. Season with salt and pepper, cumin, lemon zest and 1–2 tbsp lemon juice to taste.
Preheat the oven to 200°C. Divide the vegetables between the four dishes. With a tablespoon, make a hollow in the sauce, beat the eggs and divide them between the hollows, season with salt and pepper. Crumble the feta over the top. Bake in the oven (centre) for 10 minutes until the eggs are set. Wash and shake dry the mint, pull off the leaves. Sprinkle the shakshuka with mint and nigella seeds
We wish you a lot of fun making it!