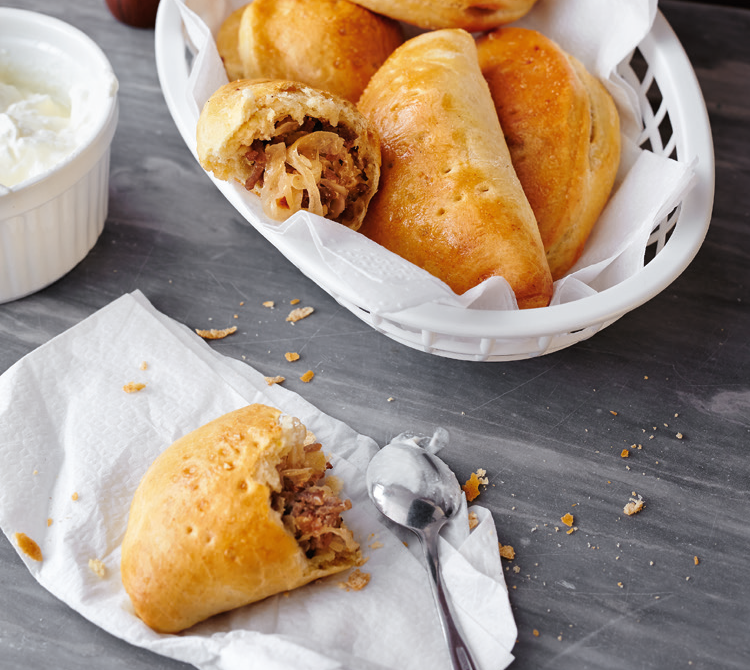 Recipes
Minced meat pierogi
The filled dumplings can be served as a sweet dessert or a hearty main course, depending on your preference. You can find the hearty version with minced meat in this recipe.
For the recipe you need:
250g strong plain flour
½ tsp salt
½ cube fresh yeast (about 20g)
3 tbsp softened butter
1 egg
1 garlic clove
1 onion
2 tbsp sunflower oil
200g minced meat
100g sauerkraut
¼ tsp caraway seeds
1 tsp sweet paprika
3 tbsp sour cream
salt, pepper
flour for the work surface
1 egg yolk
250g sour cream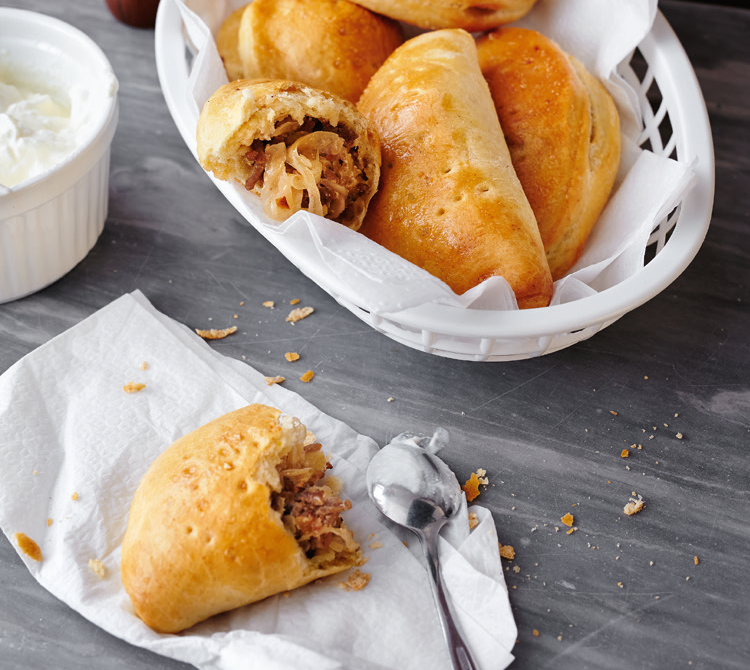 Preparation:
Combine the flour and the salt. Crumble the yeast into 80ml lukewarm water and leave to dissolve. Add to the flour, together with the butter and the egg. Knead everything to a smooth dough with the kneading hooks of a hand blender. Cover and leave to rise in a warm place for 45 minutes. Peel and crush the garlic. Peel and finely chop the onion. Heat the oil in a large pan, add the garlic and the onion and sauté for 2 minutes. Add the minced meat and fry for 3 minutes. Squeeze out the sauerkraut and add to the meat with the caraway seeds and the paprika. Leave to cool, then combine with the sour cream and season with salt and pepper.
Preheat the oven to 220°C. Line a baking tray with baking paper. Knead the dough, roll out ½cm thick, then cut out 12 circles (10cm diameter), brush with a little water. Place the filling in the middle and fold over the dough, pressing down the edges. Prick with a fork and place on the baking tray. Stir the egg yolk with 1 tbsp water and evenly brush the pierogi with the mixture. Bake in the oven for about 20 minutes until golden brown. Serve with the sour cream.
We wish you a lot of fun making them!