Recipes
Japanese root vegetable kinpira
In just 20 minutes this Japanese dish and thus the Asian flair in your kitchen!
For the recipe you need:
100g lotus root (from an Asian store, or 8 slices frozen lotus root)
1 tbsp white sesame seeds
100g carrots
100g parsnips
2 tbsp dark soy sauce (koikuchi)
2 tsp sugar
1 tsp sake (rice wine)
1 tbsp sesame oil
shichimi togarashi (hot pepper paste, or chilli flakes)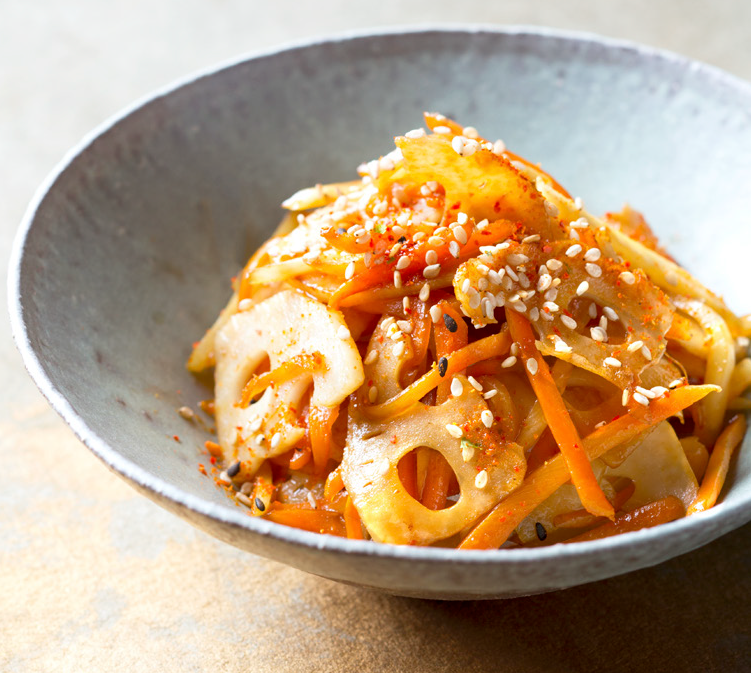 Preparation:
If using frozen lotus root, leave to thaw for about 30 minutes at room temperature, then pat dry and cut into bite-size pieces. If using fresh lotus root, peel and cut it into thin slices, then into bite-size pieces.
In a non-stick pan, dry-roast the sesame seeds, then take out. Peel and trim the carrots and the parsnips, then cut them into thin slices. Stir together the soy sauce, sugar and sake.
Heat the sesame oil in a frying pan and fry the parsnips and the lotus root for about 30 seconds, add the carrot and fry for another 1 minute until all the vegetables are firm to the bite.
Pour in the soy sauce mixture and toss the pan. Continue frying until all the liquid has evaporated. Add the sesame seeds and toss the pan again. Divide the kinpira between four bowls, sprinkle with shichimi togarashi and serve.
We wish you a lot of fun making it!