Recipes
Garlic naan
Vegetarian lifestyles shape is a part of the diverse food culture in India. And so this bread from India is a popular accompaniment to warm dishes.
For the recipe you need:
400g strong plain flour
1 tsp dried yeast
½ tsp sugar
1 tsp salt
120ml milk
3 tbsp ghee (clarified butter; or oil)
100ml yoghurt (3.5% fat), at room temperature
5 stems fresh coriander
2 garlic cloves
Plus flour for the work surface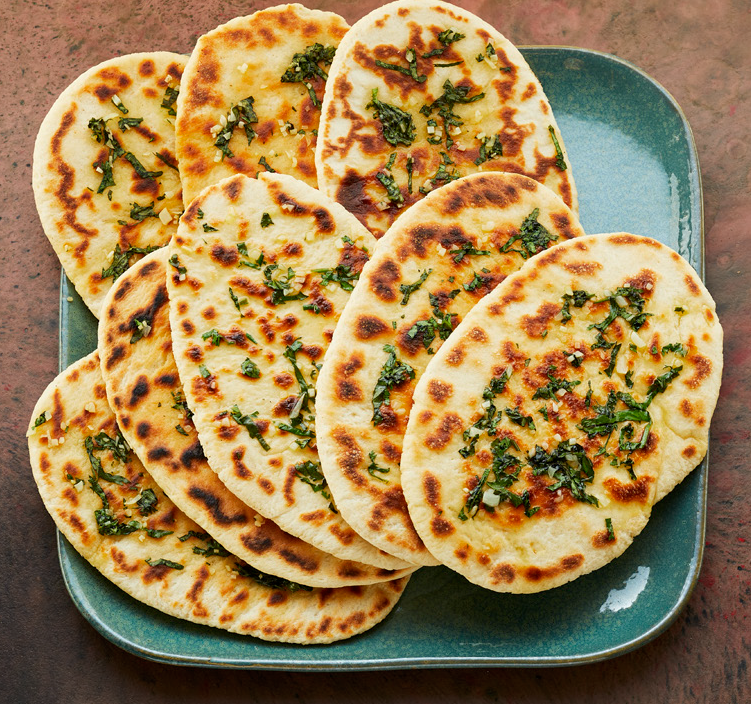 Preparation:
In a bowl, combine the flour with the yeast, sugar and salt. Heat the milk with 2 tbsp of the ghee until lukewarm. Add to the flour mixture together with the yoghurt and knead for 5–10 minutes until you have a smooth dough. Cover and leave to rise in a warm place for about 1 hour.
To make the spice mix, wash and shake dry the coriander, then chop with the stems. Peel and chop the garlic. Melt the remaining ghee in a saucepan and sauté the garlic for about 1 minute. Take off the heat and stir in the coriander.
Divide the dough into eight pieces and roll out on a floury surface to make flat breads of about 18 × 12cm. Cook the naans separately in a hot frying pan without fat for about 3 minutes, or until bubbles appear. Turn the naans over and press down with the spatula, then cook for another 3 minutes. Take out, spread the tops with the spice mix and wrap the breads in a clean cloth to keep them warm.
We wish you a lot of fun making them!