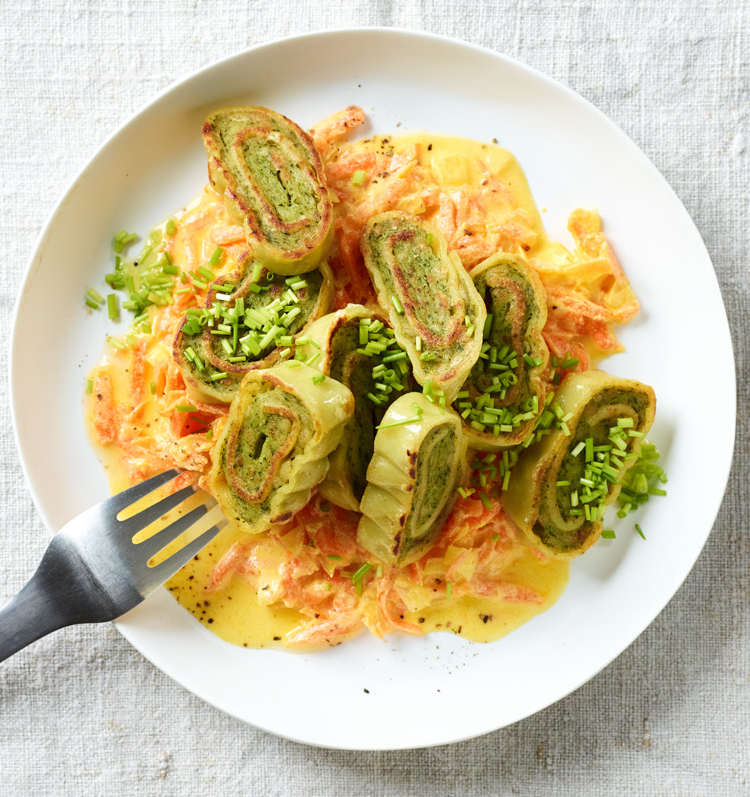 Recipes
Swabian dumplings with carrot sauce
Nowadays you can enjoy the filled dumpling in a wide variety of variations far beyond the Swabian borders. For example refined with a delicious carrot sauce.
For the recipe you need:
8 Swabian dumplings (about 800g; from the chiller cabinet)
4 tbsp rapeseed oil
2 Spanish onions
600g carrots
1 bunch chives
300ml crème fraîche
200ml vegetable stock
salt
pepper
Preparation:
Cut the dumplings into 1cm slices. Heat the oil in a non-stick frying pan and fry the slices over medium to high heat for 3–5 minutes on each side until golden brown. Meanwhile, peel and chop the onions. Trim and peel, then grate the carrots. Wash and shake dry the chives, then cut them into thin rings.
Take the dumpling slices out of the pan, cover and set aside. Put the carrots and onions into the pan and sauté over medium heat for about 5 minutes until soft, stirring frequently. Add the crème fraîche and the stock, stir well to combine and cook for another 1–2 minutes. Season with salt and pepper. Divide the sauce between four plates, arrange the dumplings on top and sprinkle with the chives.
We wish you a lot of fun making them!