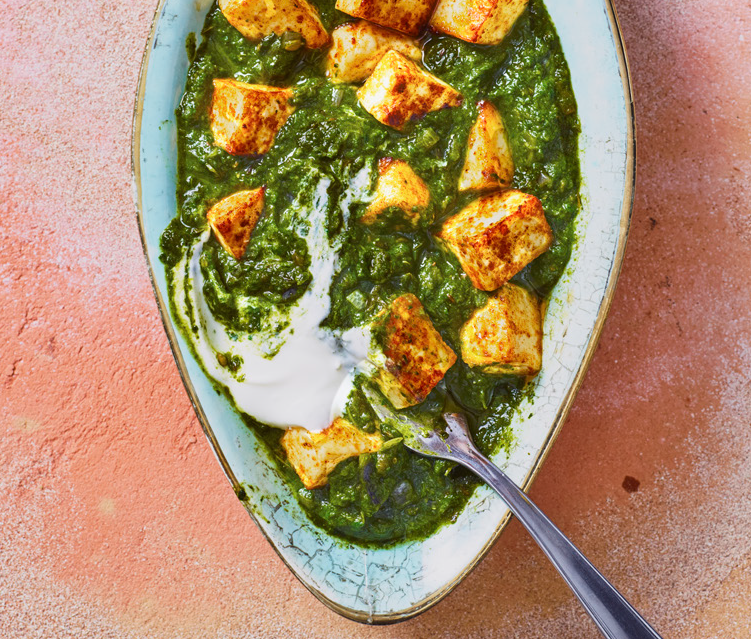 Recipes
Palak paneer
This recipe also emphasizes the popular vegetarian lifestyle in India! In addition, it is prepared super quickly.
For the recipe you need:
400g frozen spinach
1 tomato
1 onion
½ tsp coriander seeds
5 tbsp oil
500g paneer
a pinch of garlic powder
a pinch of Kashmiri chilli powder
½ tsp cumin seeds
1 Indian bay leaf
50g ginger and garlic paste
½ tsp garam masala
1 tbsp dried fenugreek
1 tbsp full-fat yoghurt
salt
cornflour (optional)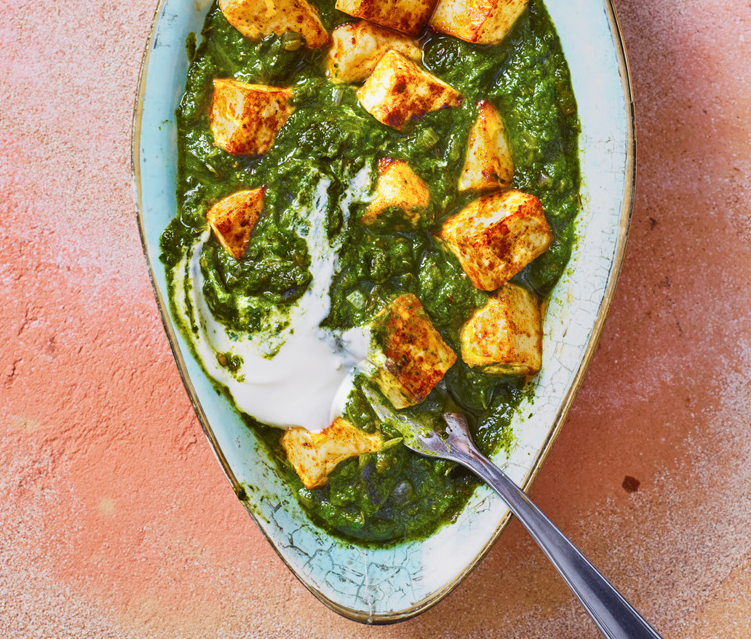 Preparation:
Thaw, then finely purée the spinach. Make a crossways cut in the tomato, put it into a small bowl of boiling water for 1 minute, rinse under cold water and skin. Remove the stem end and chop the flesh. Peel and finely chop the onion. Lightly crush the coriander seeds.
Heat 2 tbsp of the oil in a frying pan. Cube the paneer and season it with garlic and chilli powder. Fry the paneer over medium heat until golden yellow on all sides, then set aside. Heat the remaining 3 tbsp oil in the pan, add the coriander, cumin and bay leaf and fry for about 50 seconds, until they release a scent. Add the onion and fry until translucent. Add the tomato, ginger and garlic paste and garam masala, and fry for 2 minutes. Stir in the puréed spinach. Crumble the fenugreek between your fingers and sprinkle it in.
Season the sauce with salt and yoghurt, adding a little cornflour to thicken if liked. Turn off the heat, add the paneer to the sauce and leave to warm through in the residual heat for 5 minutes. Serve with basmati rice, naans or chapatis.
We wish you a lot of fun making it!