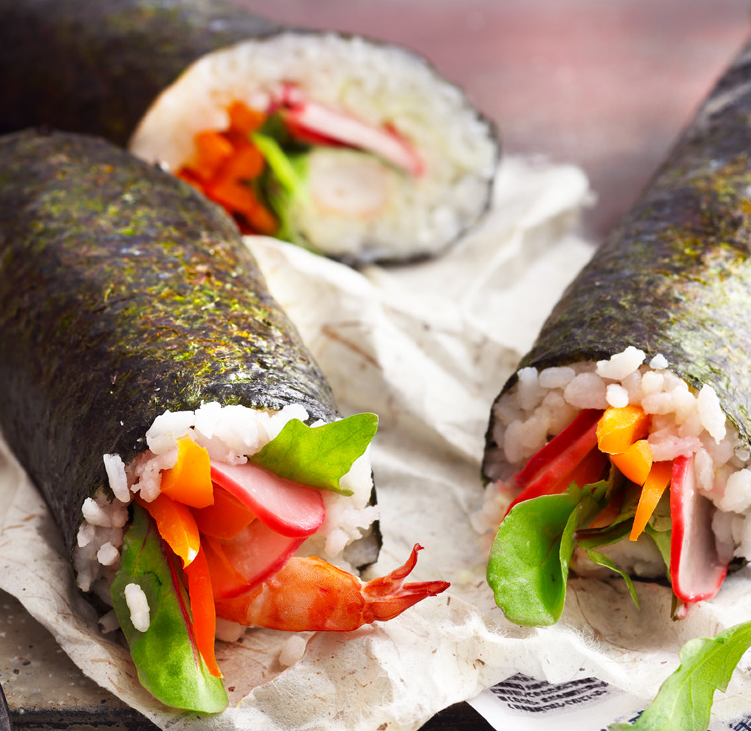 Recipes
Sushi wraps
Sushi is a dish from Japanese cuisine and is now popular everywhere, whether in the sushi restaurant, as a snack or now in your kitchen!
For the recipe you need:
125g frozen prawns (ready to cook)
150g sushi rice
125g radishes
2½ tbsp rice vinegar
5 tsp sugar
2 tsp toasted sesame oil
salt
½ orange pepper
1½ tbsp lime juice
1 tsp wasabi paste
2 tbsp mayonnaise
a handful of mixed lettuce leaves
2 nori sheets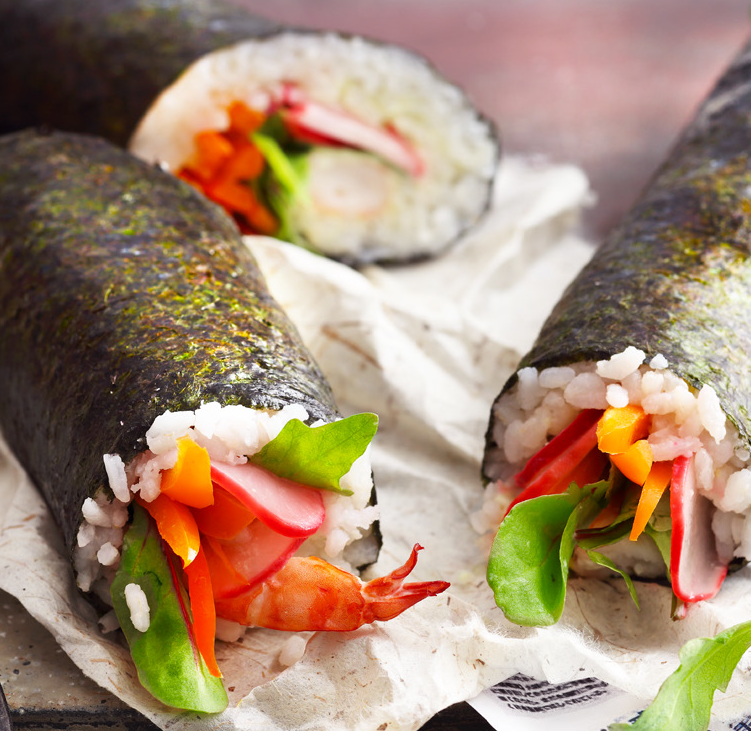 Preparation:
. Leave the prawns to thaw for 1 hour. Bring the sushi rice to the boil in 300ml water, cook uncovered for 2 minutes. Cover, turn off the heat and leave to absorb the water for 20 minutes. Wash, trim and slice the radishes; marinate in 1 tbsp vinegar, 2 tsp sugar, sesame oil and salt. Trim and wash the pepper, cut into thin slices. In a frying pan, sauté the prawns over low heat for 4 minutes; season with salt and ½ tbsp lime juice. Combine the wasabi, the remaining lime juice, 2 tsp sugar and mayonnaise. Wash and spin-dry the lettuce.
In a saucepan, heat the remaining vinegar and sugar as well as ½ tsp salt. Stir until salt and sugar have dissolved. Arrange the rice on a large platter, drizzle with the mixture and leave to cool.
Place the nori sheets with their rough side up on two plates and arrange the rice on top, leaving a 1 cm edge free. Arrange in a strip in the middle the radishes, mayonnaise, prawns, pepper and the lettuce. Roll up the nori sheets, spread the free edges with radish marinade and press down.
We wish you a lot of fun making it!