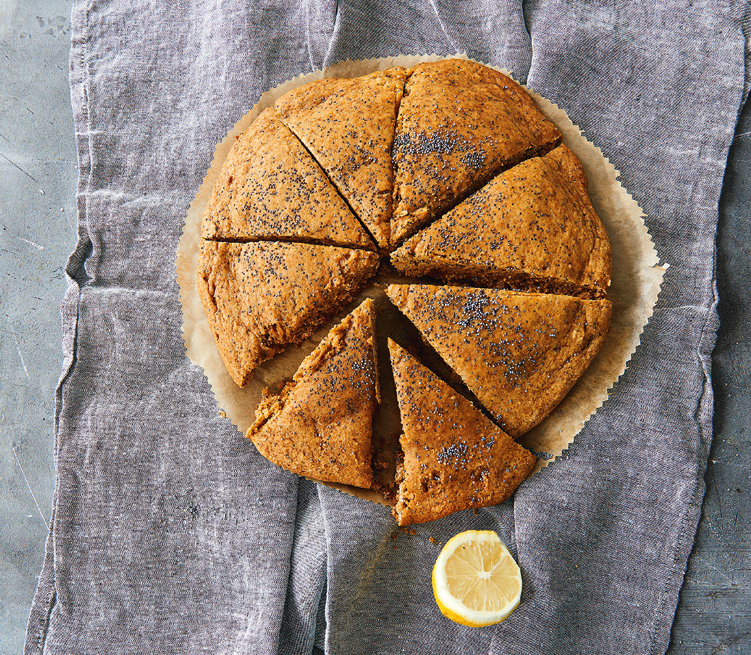 Recipes
Lemon poppy seed scones
Scones are an essential part of English Afternoon Tea. And from now on it will also be an integral part of your recipes!
For the recipe you need:
½ organic lemon
120g yoghurt
2 tbsp coconut blossom sugar
4 tbsp rice syrup
a pinch of vanilla powder
100g wholemeal spelt flour (alternatively wholemeal kamut flour)
80g wholegrain rice flour (alternatively wholegrain spelt flour)
½ tsp bicarbonate of soda
salt
2 tbsp poppy seeds
2 tbsp butter
Preparation:
Preheat the oven to 175°C. Line a baking tray with baking paper. Wash the lemon under hot water and pat dry, then finely grate the zest and squeeze out the juice. Stir both into the yoghurt, coconut blossom sugar, rice syrup and vanilla.
In a bowl, combine both types of flour with the baking soda, a pinch of salt and the poppy seeds. Cut the butter into small pieces and add. Add the yoghurt mixture and knead everything with the dough hooks of a handheld blender.
Shape the dough into a ball, place it on the baking tray and press to make a 1cm thick circle. Dip a sharp knife into water, then cut the dough circle into 8 pieces. Put the tray into the oven (centre) and bake the scones for 10 minutes until golden brown. Take out and leave to cool.
We wish you a lot of fun making them!