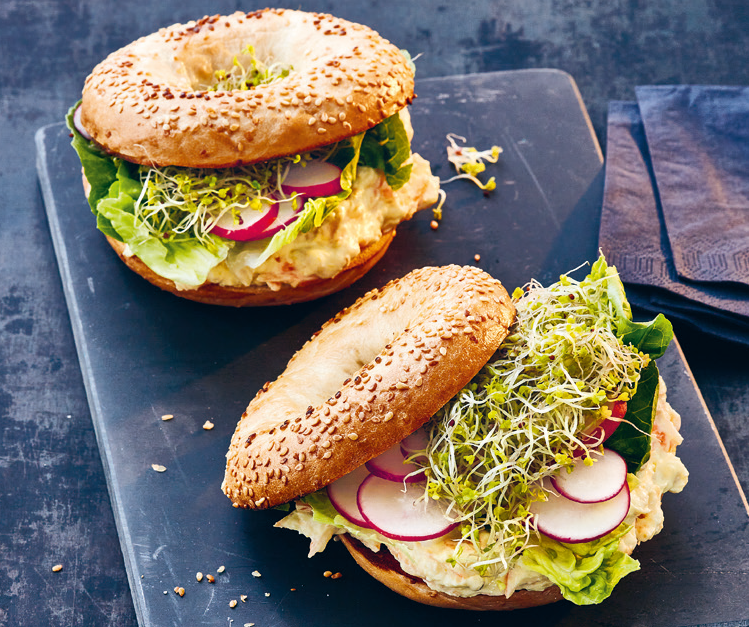 Recipes
Bagels with carrot cream cheese
A Bagel is more than just a bun with a hole in the middle! With this recipe also you will succeed with this traditional american pastry
For the recipe you need:
2 small carrots (about 150g)
2 tsp olive oil
80g cashew nuts
300g cream cheese
2 tbsp mineral water
4 tsp horseradish (freshly grated or from a jar)
salt, pepper
1 tsp grated zest of an organic orange (optional)
8 small lollo rosso or frisée lettuce leaves
8 radishes
2 small handfuls alfalfa or other sprouts
4 sesame bagels (or bread rolls)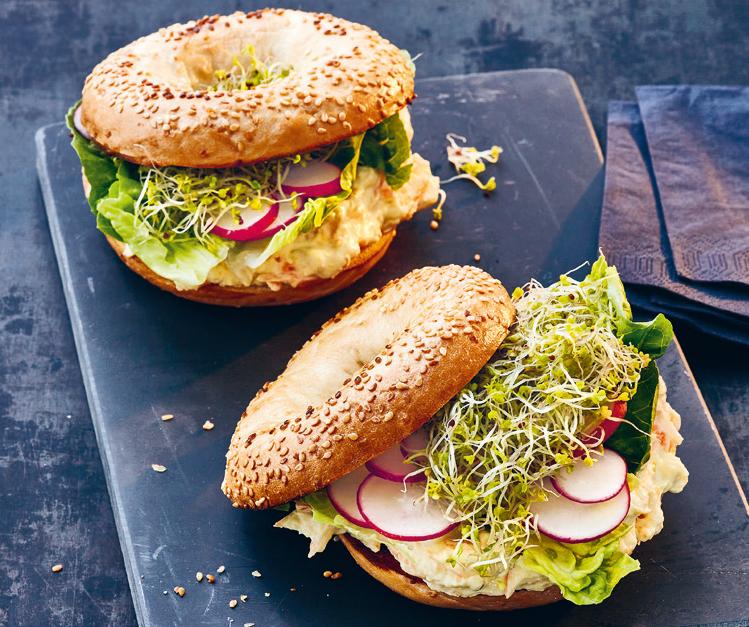 Preparation:
To make the carrot and horseradish cream cheese, trim and peel the carrots. Finely grate or cut them into strips, then stir into the olive oil. Crush the cashew nuts in a pestle and mortar or grind medium-fine in a spice mill. Stir the cream cheese together with the mineral water until creamy. Stir in the grated carrots, cashews and horseradish. Season the mixture with salt, pepper and orange zest, if using.
Wash and pat dry the lettuce leaves, tearing them into smaller pieces if necessary. Wash and trim the radishes, then cut them into thin slices. Rinse the sprouts in a sieve and drain or pat dry.
Halve the bagels across the middle. Spread both halves with the carrot and horseradish cream cheese, if you like. Top the lower halves with lettuce, radishes and sprouts, cover with the bagel tops and serve
We wish you a lot of fun making them!