Recipes
Chicken club sandwich with papaya
Anyone can make a club sandwich. How about a little more variety? With our club sandwich recipe with papaya, you can quickly turn something normal into something exciting!
For the recipe you need:
2 chicken breast fillets (about 350g)
2 eggs
salt, pepper
1 tsp ground turmeric
8 tbsp sesame seeds
2 tbsp rapeseed oil
12 slices wholegrain toast
4 iceberg lettuce leaves
300g papaya
2 spring onions
2 organic limes
1 small red chilli
6 tbsp sour cream
1 tsp agave syrup
Plus 8 wooden cocktail sticks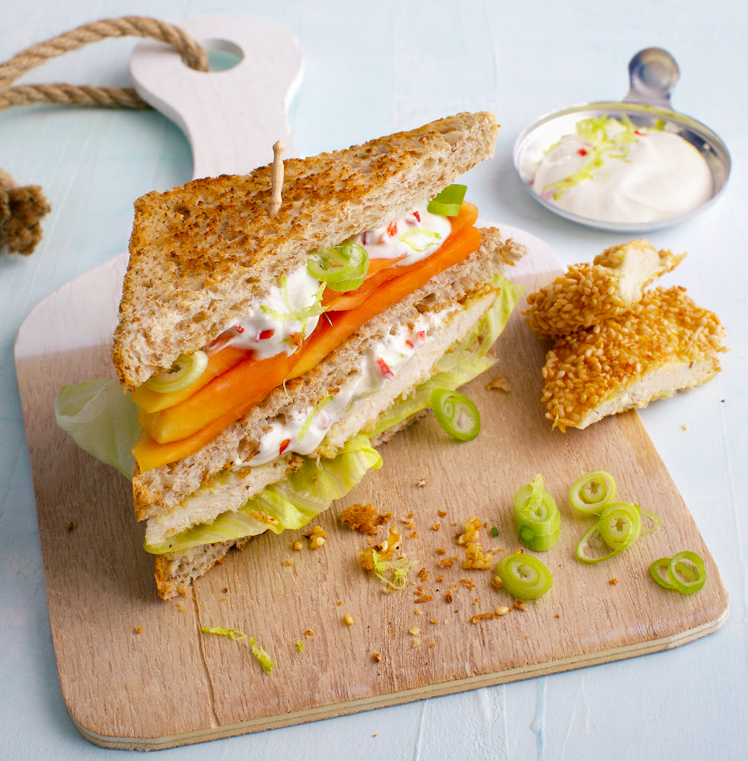 Preparation:
Cut the chicken breasts into about 1cm thick slices. Whisk the eggs with the salt, pepper and turmeric. Spread the sesame seeds on a plate. Turn the chicken slices first in the egg mixture, then in the sesame seeds. Heat the oil in a large frying pan, add the chicken and fry over medium heat for about 5 minutes on each side.
Toast the bread. Trim and wash the lettuce leaves, then tear them into pieces. Peel and stone the papaya, then slice the flesh. Trim and wash the spring onions, then cut them into rings. Wash the limes under hot water and pat dry, then grate the zest and squeeze out 2 tsp juice. Halve and deseed the chilli, chop. In a bowl, stir together the lime zest, 2 tsp lime juice, chili and agave syrup, season with salt.
Top 4 bread slices with lettuce and chicken, cover with a little sour cream. Place 1 bread slice on top and top this with the papaya, remaining sour cream and spring onions. Cover with the remaining bread slices, halve each sandwich; secure with cocktail sticks.
We wish you a lot of fun making them!