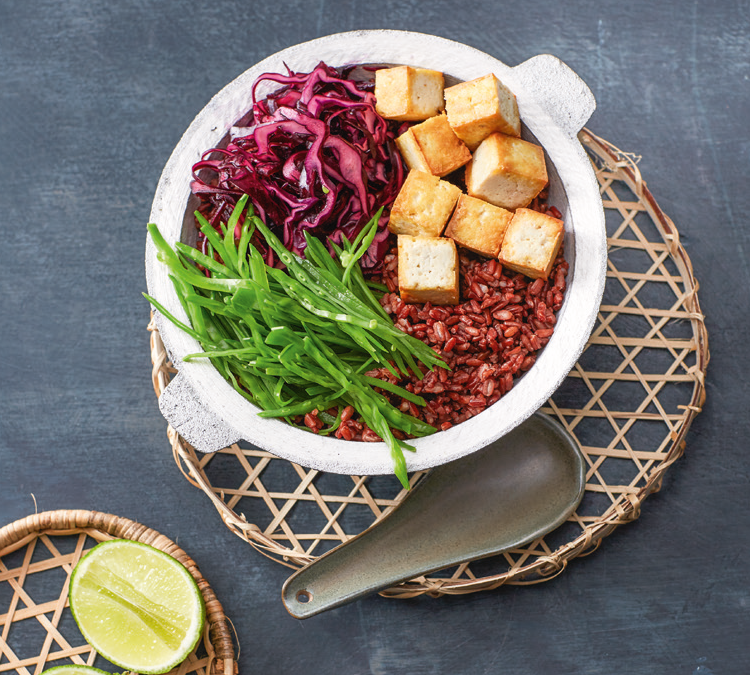 Recipes
Thai Buddha bowl with tofu
The Asian cuisine is known for the mix of lots of vegetables, which is also reflected in this dish. A delicious bowl made up of many different types of vegetables and tofu.
For the recipe you need:
250g red rice (or wholegrain or brown rice)
salt
200g mangetout
400g red cabbage
300g tofu
2 tbsp groundnut oil
100ml vegetable stock
200ml coconut milk (from a tin)
60g peanut butter
2 tsp Thai red curry paste
2 tbsp lime juice
pepper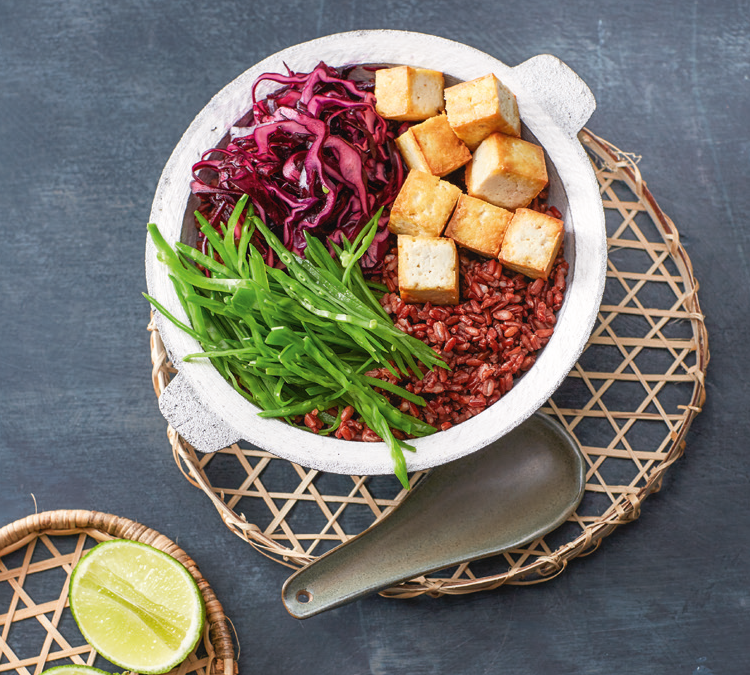 Preparation:
Cook the rice in 500ml lightly salted water for 30–40 minutes. Drain and leave to cool for about 10 minutes.
Wash and trim the mangetout, blanch in boiling salted water for about 15 seconds. Rinse under cold water and drain, cut into thin lengthways slices. Trim and wash the red cabbage, cut into thin slices. Season with salt and knead thoroughly with your hands for 2 minutes. Pat dry the tofu and cut into 1½ cm cubes. Heat the oil in a frying pan and fry the tofu over medium heat for about 5 minutes, turning frequently, until golden. Cover the tofu and keep warm.
In a small saucepan, heat the stock and the coconut milk. Stir in the peanut butter and the curry paste and simmer over medium heat for 2–3 minutes. Take the sauce off the heat and season with lime juice, salt and pepper. Divide the rice between four bowls. Arrange the mangetout, red cabbage and tofu on top. Drizzle with half the peanut and coconut sauce, and serve with the rest of the sauce.
We wish you a lot of fun making it!