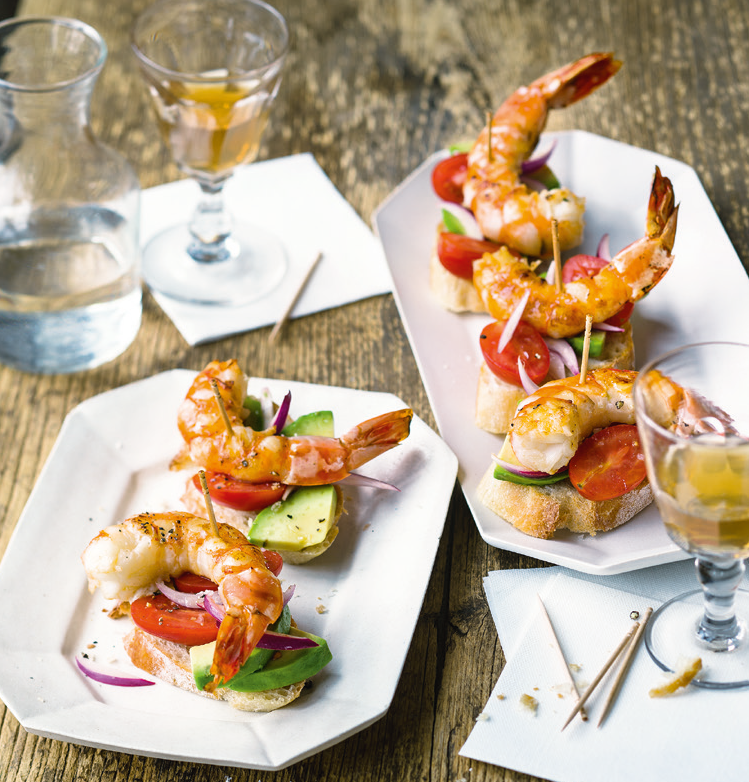 Recipes
Basque pintxos
Pintxos are an essential part of the local food culture of the Basque people, but are also perfect as finger food here.
For the recipe you need:
200g frozen prawns (peeled, ready-to-cook; with MSC seal)
4 tbsp lime juice
2 tsp honey
3 tbsp olive oil
½ tsp cayenne pepper
½ tsp ground cumin
salt
pepper
1 red onion
2 garlic cloves
150g cherry tomatoes
1 avocado
½ baguette
Plus 12 small wooden skewer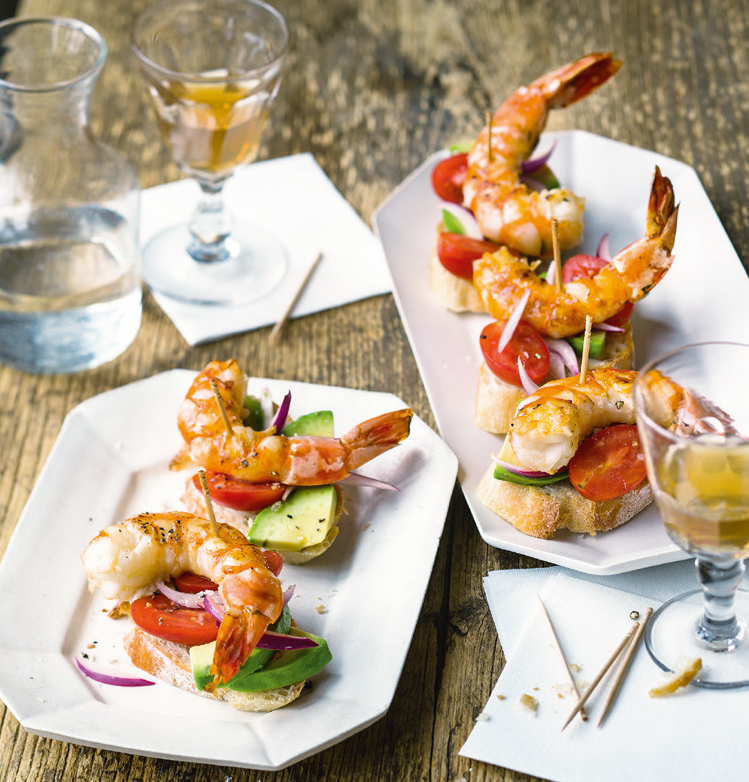 Preparation:
Rinse the prawns under cold water, then drain and set aside until they started thawing. Combine the lime juice, honey and 2 tbsp of the oil, then stir in a little cayenne pepper and the cumin. Season with salt and pepper. Peel the onion and cut it into strips, then place in the marinade for about 10 minutes.
Peel and slice the garlic. Heat the remaining 1 tbsp oil in a frying pan, add the prawns and fry for about 4 minutes until lightly browned and almost cooked; add the garlic after 2 minutes.
Wash and halve the tomatoes. Halve the avocado; remove the stone. Peel the halves, halve again, then slice crossways. Combine the tomatoes and avocado with the marinated onions. Season everything to taste with salt, pepper and cayenne pepper.
Cut the baguette into 12 slices and spread with the avocado and tomato salsa. Place the garlic prawns on top of the salsa and fix in position with a wooden skewer.
We wish you a lot of fun making them!