Recipes
Paella in a flash
Known and loved everywhere! You can now cook the national dish of the Valencia region and the Spanish east coast at home in a flash!
For the recipe you need:
400g peeled frozen organic prawns
200g roasted, skinned peppers (from a jar)
2 beefsteak tomatoes
2 garlic cloves
4 spring onions
500g chicken breast fillets
4 tbsp olive oil
500g precooked risotto rice (with saffron)
800ml fish stock (from a jar)
400ml vegetable stock
160g frozen peas
4 tbsp roasted red pepper paste
salt, pepper
2 organic lemons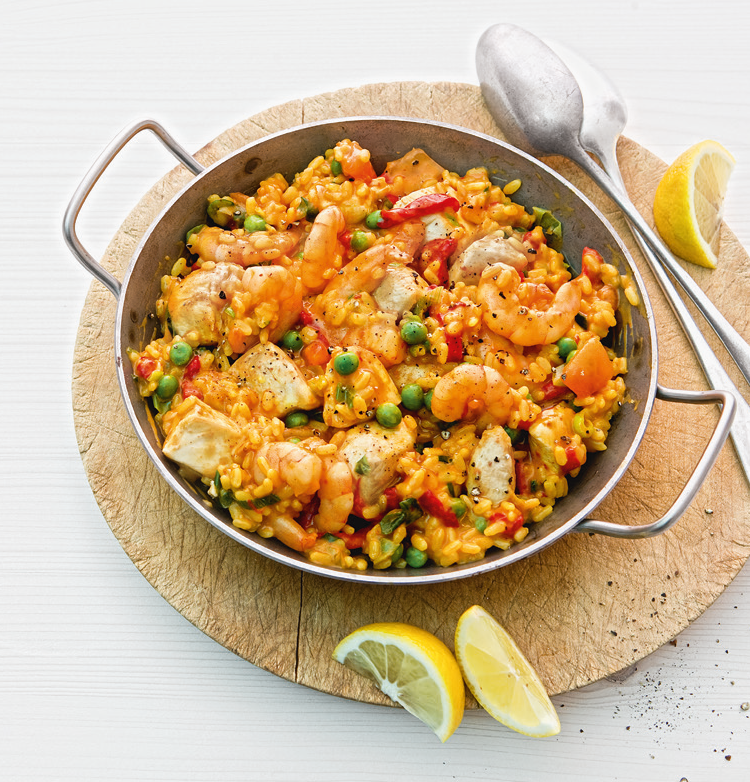 Preparation:
Rinse the frozen prawns in a sieve and drain. Drain the roasted peppers, then cut them across into thin strips. Wash the tomatoes and quarter them lengthways; remove seeds and stem ends; then coarsely chop the flesh. Peel and finely chop the garlic. Wash and trim the spring onions, then cut them into thin rings. Pat dry the chicken breasts with kitchen paper; remove the skin and sinews. Cut the flesh into 2 cm cubes.
Heat the olive oil in a wok. Add the garlic, spring onions and chicken and stir-fry over medium heat for 2–3 minutes. Add the pre-cooked saffron risotto rice, fish stock and vegetable stock and stir to combine. Add the peppers, tomatoes, prawns and the frozen peas; stir well. Cook the rice over medium heat according to packet instructions for about 12 minutes, stirring well two or three times.
Stir in the ajvar and season the paella with salt and pepper. Cut the lemon into quarters and serve with the paella.
We wish you a lot of fun making them!