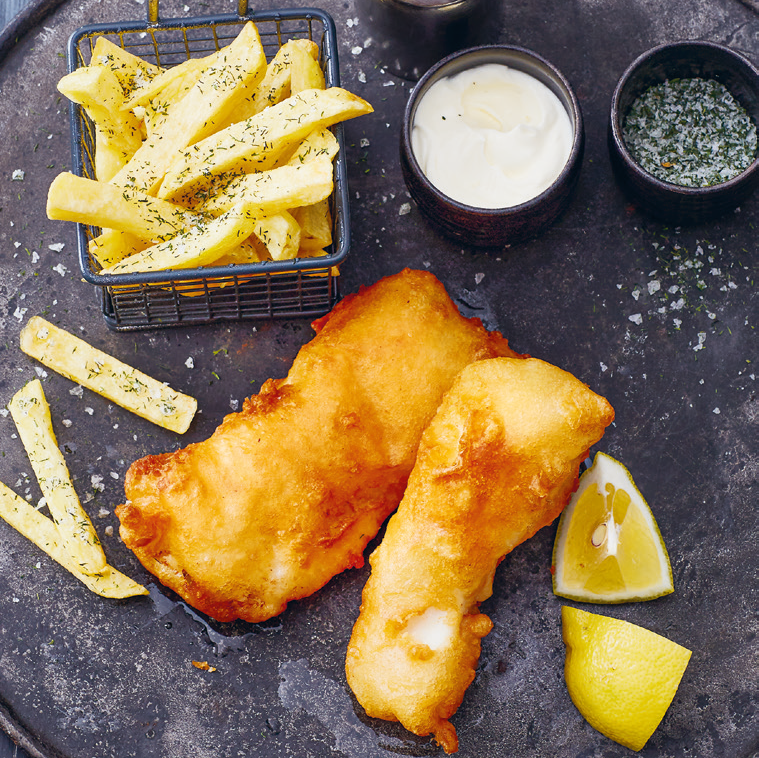 Recipes
Fish and chips
What do you think of when you think of England? With fish and chips of course! Bring English flair into your kitchen with this recipe.
For the recipe you need:
800g waxy potatoes
salt
1 tsp dried dill
125g plain flour
175ml light beer
1½ tsp baking powder
1 tsp runny honey
4 cod fillets, skinned (500g)
pepper
1.5l oil for deep frying
4 tbsp mayonnaise
Plus flour for dusting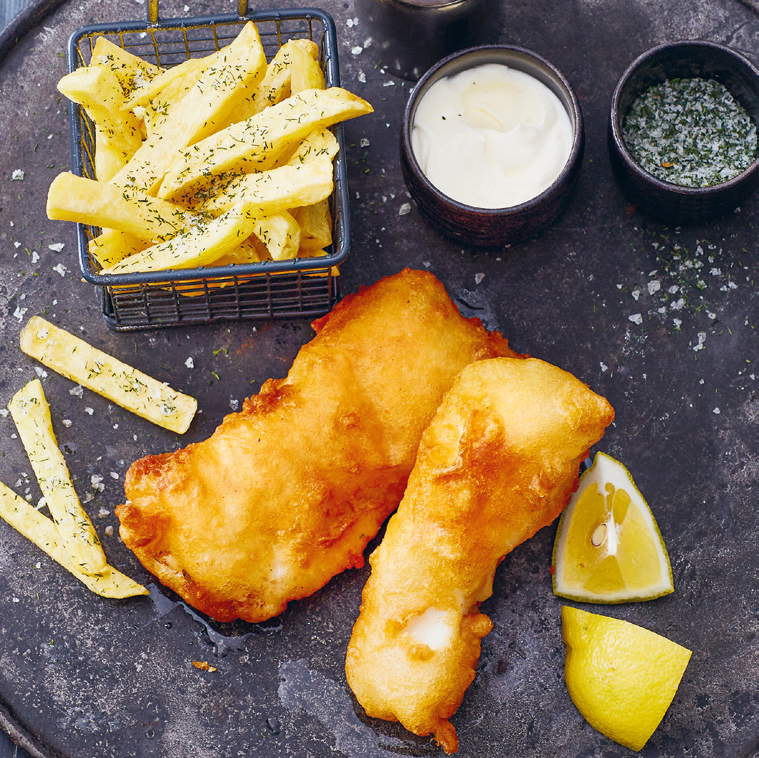 Preparation:
Peel the potatoes and cut into sticks 1cm thick. Cook in boiling water with 1 tsp salt for about 5 minutes, then drain. Stir together the dill and 1 tsp salt. In a bowl, combine the flour with the beer, baking powder, honey and ½ tsp salt until you have a smooth batter. Put the bowl into a cold water bath and stir until the batter is cold.
Rinse and pat dry the fish fillets, then turn them in the flour; season with salt and pepper. Heat the oil in a deep-fryer or a saucepan to 180°C – it is hot enough when bubbles rise on a wooden skewer held into the oil. Now turn the fish in the beer batter until completely covered. Drain then deep-fry in the oil for about 2 minutes. Lift out, dip in some more batter on the lightly fried fish and deep-fry for another 3 minutes. Lift out and drain on kitchen paper.
Deep-fry the chips in the hot oil for 12–15 minutes, then drain. Combine with the dill and salt mixture, then serve with the fish fillets and the mayonnaise.
We wish you a lot of fun making them!