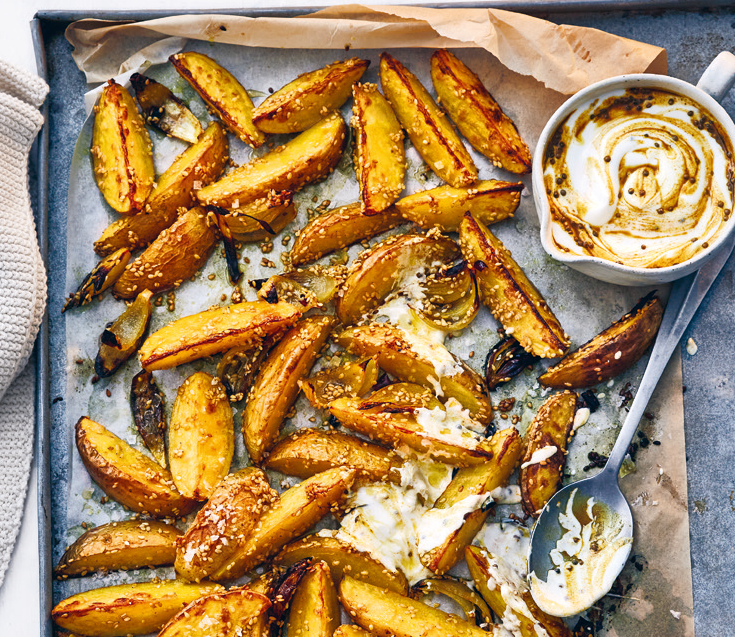 Recipes
Potato wedges with spiced yoghurt
With this recipe you interpret the potato in a completely new way! This is how the classic becomes a special highlight quickly and easily
For the recipe you need:
600g yoghurt
2 tbsp + 6 tsp oil
1 tsp black mustard seeds
1 tsp + 2 pinches of ground turmeric
2 pinches of ground cumin
salt
pepper
chilli powder (optional)
1kg waxy potatoes
2 onions
2 tbsp coarse sea salt
4 tbsp sesame seeds
2 small dried chillies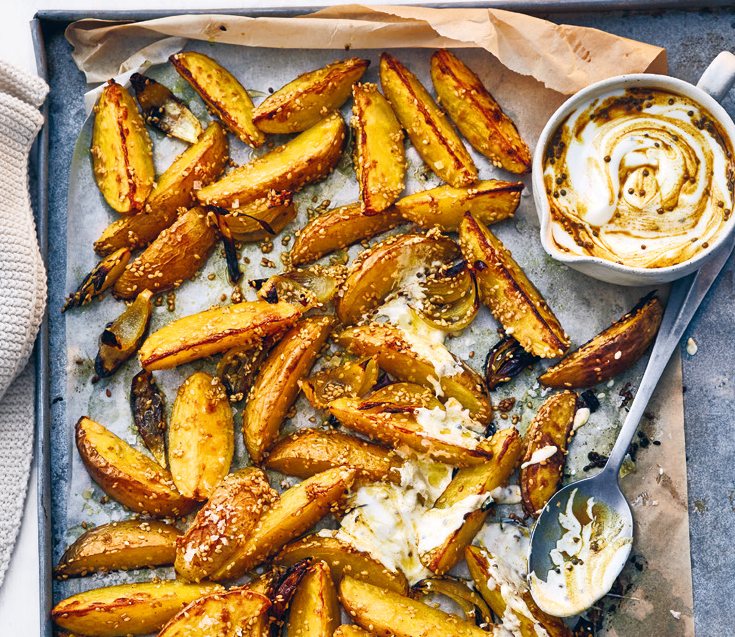 Preparation:
Preheat the oven to 200°C. Line a baking tray with baking paper. Put the yoghurt into a small serving bowl. Heat the 2 tsp of oil in a small frying pan, add the mustard seeds and fry until they start to pop, then stir them into the yoghurt. Stir in the 2 pinches of turmeric and the cumin, then season to taste with salt and pepper. Dust with a little chilli powder, if you like, and chill.
Wash the potatoes under cold water, pat dry and halve lengthways. Cut lengthways into 1cm wedges, leaving the skin on. Peel the onions and cut them lengthways into wedges.
In a bowl, combine the 6 tbsp oil with the sea salt, sesame seeds and 1 tsp turmeric. Break the stem of the chillies, shake out the seeds, if preferred, and crumble into the oil. Baste the potato wedges with the oil and place them onto the baking tray with the onions. Bake in the oven (centre) for about 25 minutes until they are golden brown, crisp on the outside and soft inside. Serve with the yoghurt.
We wish you a lot of fun making them!